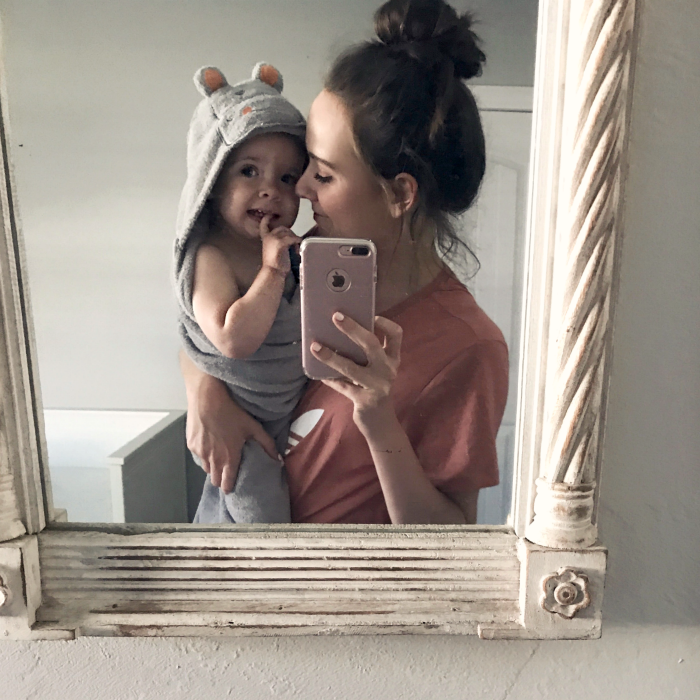 So, our sweet Sophie girl had developed a rash on her legs that wasn't getting any better, so we took her to the doctor and sure enough: she has eczema! Sweet thing. I swear, it's always something with these little ones, is it not?!
Right after finding this out, I turned to social media (as you do) and asked my friends on Instagram for their best tips and tricks for treating eczema.
And, guys. I was absolutely BLOWN AWAY by the response I received! My inbox was flooded with messages from fellow eczema mamas (and literally I always do IG stories and sometimes it honestly feels like I'm talking to myself… so getting all of this interaction and having conversations with you all was kind of the best thing ever!! More of that, please!). Now, I'm not one to keep all the good stuff to myself, when I get tons of good advice that I know will help others too, you'd better believe I'mma SHARE it all!!
So that's what I'm here to do. Share all of the amazing tips for treating eczema! I hope you find this helpful! And please remember, I am not a medical professional and it's always best to check with your doctor before trying anything new.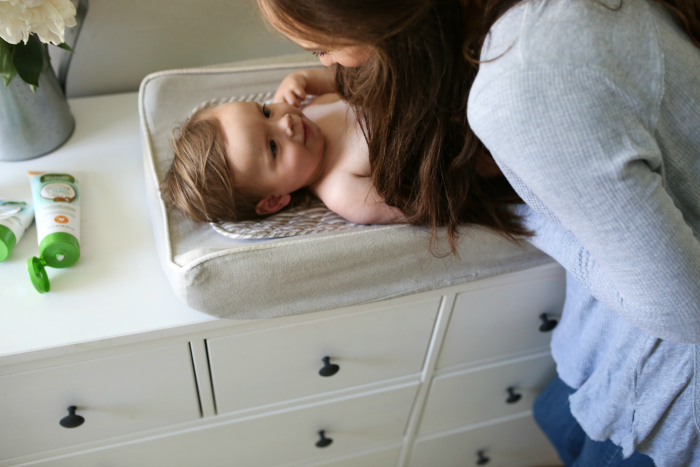 ALRIGHT, SO LET'S SEE WHAT REAL MOMS HAD TO SAY, SHALL WE?
|| Our ped prescribed Triamcinolone ointment, .1%, to apply to the problem areas.
|| The climate we live in here in California (dry) does NOT help, so we could move to Georgia (haha) orrrr we actually just got her a humidifier and will be using that! ;)
|| Short and cooler/lukewarm baths (5-7 minutes, reason is that cooler baths help the skin not become inflamed since hot water opens the pores and makes them more susceptible to irritation), pat dry (not completely! Keep the skin damp!), and then moisturize immediately upon getting out of the bath! You can't let the skin dry completely, so you can lock in moisture!
|| Fragrance-free everything: lotion, detergent, hand soap.
|| Cotton clothing.
|| Coconut oil in the bath.
|| Dairy is a common trigger for eczema, so you could try almond milk and keeping dairy to a minimum. Another possible trigger is gluten, so gluten-free diets can work for some.
|| Aloe vera gel with lavendar and camomile oil.
|| Use lotion at every diaper change!
|| Epsom salt with baking soda baths can help reduce the redness and help the skin heal
|| Oatmeal baths.
|| Vaseline tends to be most effective for babies with extremely sensitive skin.
|| For the oily mamas: 1/2 cup unrefined coconut oil mixed with 20 drops lavender essential oil + 5 drops melaleuca essential oil.
|| Check all of your bathing soaps/shampoos, sunscreen, laundry detergent, etc. because all of that can effect their skin.
RECOMMENDED PRODUCTS:
Eucerin eczema lotion
Cerave baby wash and lotion
Aquaphor ointment
Aveeno Eczema Therapy nighttime balm
Neosporin Eczema Essentials Moisturizing Cream
Eucerin Baby Eczema Relief Body Creme
Free and Clear laundry detergent
Tubby Todd All Over ointment
Honest Co. Healing Balm
California Baby Calendula Cream
Phew! I hope this helps you if you've found yourself in an eczema predicament, like us. Let me know if I missed anything and you have something you swear by! And please share with anyone who might find this helpful! :)
xo