First off, anything with a French name automatically has my heart.
I first heard of this store when I lived in Paris, and my Canadian roommate told me how it reminded her so much of myself! This sparked my interest, and I swore I would find this place soon so I could see what she was talking about.
Fast forward a few months, and I was back home, and finally got to step into my first brick & mortar Anthropologie store. Needless to say, I fell head over heels. I'm not going to lie, though, the price tags can be shocking. So when there is a sale, I get ver ver excited! And, guess what, a new round of sale items were just introduced tuesday!
Going to Anthro always has to be a special trip, since the closest one is about 45 minutes away. I usually just order online, but I can't get myself to do that unless there's free shipping (paying for shipping is just something that irks me, and I really don't get why all retail stores don't ALWAYS offer it!) Since there's no free shipping deal going on now, my wishlist online is practically bulging, and the hubs has agreed to make a trip to Roseville (and the greatest mall in our area) today! I am one excited girl!!
Here's a few items I'm hoping to snag: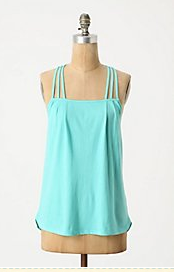 Ternary Strap Tank, $19.95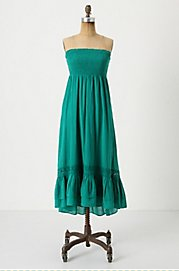 Smocked Gauze Dress, $59.95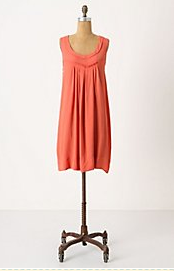 Sunbaked Shift, $39.95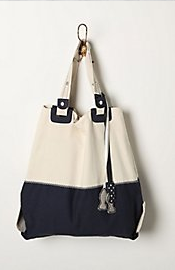 Tackle Box Tote, $39.95
And, even though they're a little rich for my blood, a girl can dream, right? :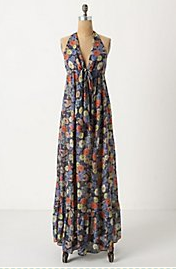 Mementos Maxi Dress, $99.95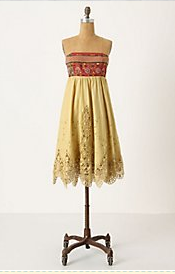 Indira Dress, $199.95
Are you kidding me?! ELEPHANTS!!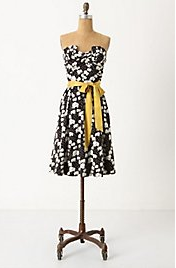 Cirque A-Line, $148
I'm obsessed.
Do any of you share a love affair with this store? Any sale items catching your eye??