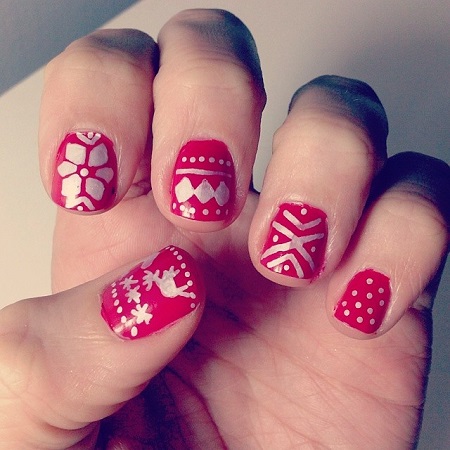 Hey guys! Welcome to my Saturday Series, "Some Things I'm Loving!" It's a weekly round-up of things that have made you smile this week, in an effort to always look on the bright side of life and find the good things. There are always good things. :) If you want to join me, feel free to link up below and we can all share with each other what we've been loving this week!
Song: "Say Something" by A Great Big World ft. Christina Aguilera. I heard this first on the X Factor, and immediately downloaded it and haven't stopped listening to it since. Pretty lyrics, check. Piano, check. Strings, check. Everything I love about a song.

Beauty: I painted my nails in fair isle (as seen above) and I was pretty happy with the result! I just used my trusty Sally Hansen nail art pen, a steady hand and some patience, and voila! ;) Now I'm ready to bust out the Christmas decor!
Workout: Stationary bike. It's been my BFF lately. Love how easy it is to just hop on and ride until I feel like stopping. I don't have to think about the weather outside or what time it is or any of that. It's pretty great.
Thoughts: I just realized I will be pregnant on Thanksgiving this year. Sucks because I won't get any wine, but awesome because I get to eat and eat and eat everything I want. And it's okay. Because I'm pregnant. It's practically expected of me.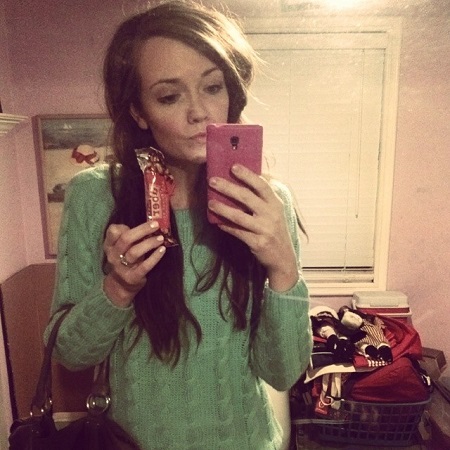 Food: Speaking of eating… I've really been loving my Larabars lately. We bought a box of them at Costco, and yummmm they are just the perfect snack for me to carry around and munch on whenever I'm out and about and need something. Which, let's be real, is often. The ingredients list on these is so great. It's always a low amount of ingredients, and all things you can pronounce and that you know, like almonds and apples. Super healthy and the perfect snack! #notsponsored
xo
Wanna link up with some things you're loving? Just add your link below! :) Please link back to me in your post! Grab the link-up button too, if you'd like. (To grab button, simply click in the box below and copy all of the html, then paste into the html part of your blog post!)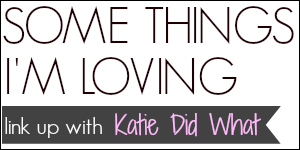 Read More on Katie Did What