It's that time of year again: time for another HUGE Shopbop sale, now through March 5th at 11:59pm PST! This is a tiered sale, meaning the more you buy, the more you save. Exclusions apply.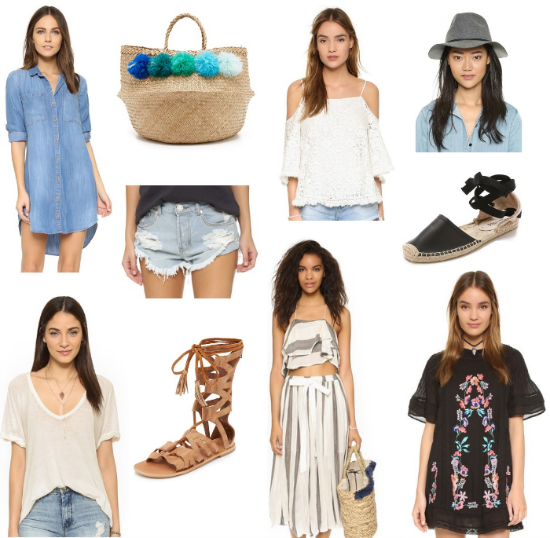 denim dress | tote bag | lace top | hat | shorts | espadrilles | tee | gladiators | striped dress | embroidered dress
I already took advantage of this awesome spring sale, as the best designers that never go on sale are on massive sale now, YAY! :) I picked up another of my favorite tunics (in eggplant!), these super cute gladiators and some one teaspoon shorts– ready for spring/summer!
SALE DETAILS:
15% off $250
20% off $500
25% off $1000

with code BIGEVENT15
These are my picks and some items that I got at the sale that I am SO excited about! What do you have your eye on?
**********************************************************
Annnd now it's time for Man Quotes! I watch The Bachelor with my hubby and write down our commentary. Hilarity ensues, as usual.
Katie: The old Bachelor classic – when there's too much silence and things are awkward, just make out.
Caila: "It's funny that you noticed that I was being weird today."
Zack: What?
Katie: Nah, it was pretty obvious.
Katie: That bathing suit leaves nothing to the imagination.
Zack: Why would it? She's trying to win a game show.
Ben: "I've known that I've been in love with you for a while…"
Katie: Wooo! Go Ben! Breaking alllll the rules!!
Ben: "I love you."
Katie: Hmmm… Okay, now this is a very sticky situation.
Ben: "Everything makes sense."
How does everything make sense when you just told the second woman that you're in love with her?
Ben: "I wish there was some kind of guide for this kind of thing."
Zack: Here's a guide: Don't fall in love with two women.
Ben: "I don't know what I'm going to do. I don't know what's going to happen."
Katie: Clearly.
JoJo: "What happened last week? I know it was weird…"
Zack: Yeah, your brothers were weird. That's what was weird.
JoJo: "I can see myself telling him I love him for many many years to come."
Katie: At least ten.
JoJo: "It's just nice knowing he's just as crazy about me as I am about him."
Zack: And just as crazy about Lauren as he is about you!
Ben: "I'm not excited about saying goodbye to Caila."
Zack: Just have Chris Harrison do it.
Ben: "To Jamaica and love."
Katie: Lots of love.
Zack: So much love.
Okay, let me know! Who's your pick?? I'm going with Lauren.
xo