As we come to the end of our 2022-2023 school year (just a few more readings/lessons left, as we've been slowing down in the summer but not stopping completely), I thought it'd be fun to dive into our homeschool year and talk about what was changed, what we loved, what worked and what didn't! A sort of "how it started vs how it's going: homeschool edition," if you will.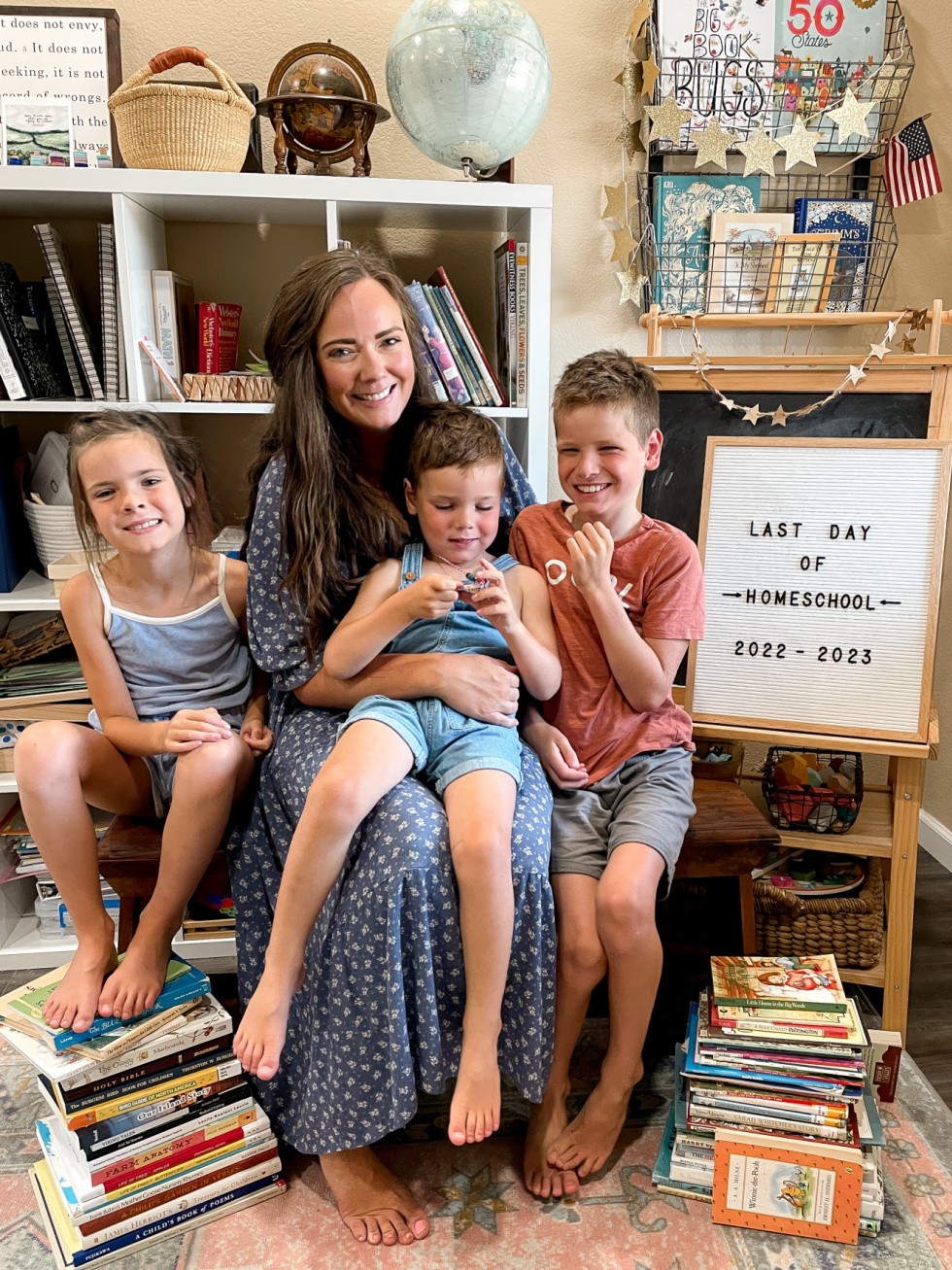 We were kind of all over the place at the start of this homeschool year, which makes sense due to the fact that it was the first all-in homeschool year for both Sophie and Sam. It was a lot of figuring out what curriculum we wanted to follow, and just a lot of learn-as-you-go, figuring out the right fit, lots of trial and error. I stumbled upon AmblesideOnline, which is a free curriculum that truly resonates with my soul and our family. At the start of the year, we were just kind of dabbling and picking and choosing from Ambleside, and picking from different places (Peaceful Preschool, Playful Pioneers, American Girl History, The Good & the Beautiful, etc). After much praying and thinking and looking over all of the materials, I just kept coming back to Ambleside, because the living books are just so rich and good, and it's a very anti-textbook mentality, because you retain so much more information from real stories vs regurgitating and memorizing facts that go in one ear and out the other. I don't know about you, but maybe I've been personally victimized by my own education, but I'm making sure that my kids get a rich and beautiful education.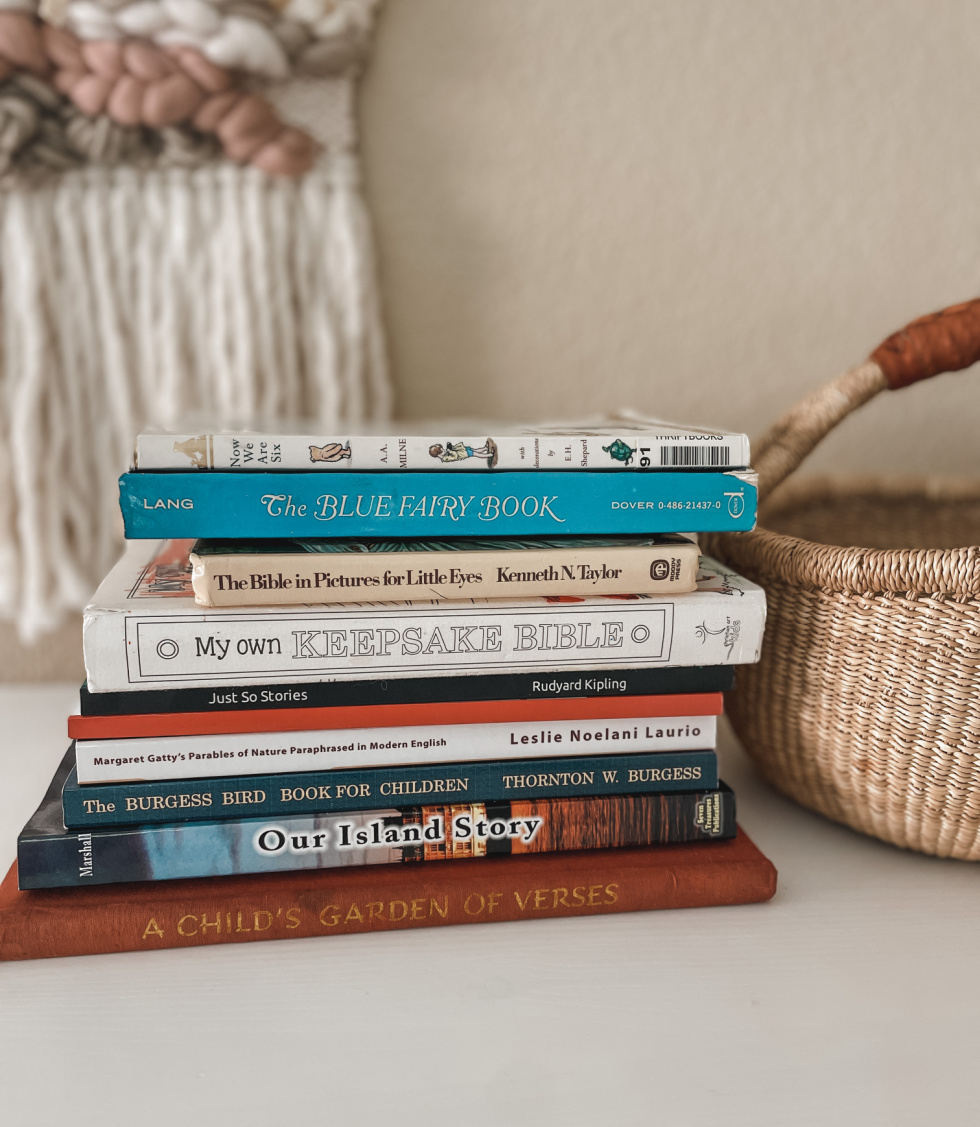 AMBLESIDE ONLINE
So, we are a bit behind the actual year schedule, we have decided later on to go all in with the Ambleside schedule. Sophie is in Year 1 (which is basically 1st grade), but you can figure out where your child fits. This is the cool thing about homeschool, there truly is no one-size-fits-all and you can find where you should be. We've been doing more of an accelerated schedule thatn typical this year, so we are caught up to Year 2 in the fall. We will be schooling through summer because of this, which we enjoy so much and is a part of our daily rhythm anyway, so it works beautifully with our family. We read lots of good books (there are booklists on the website for each year and subject) and they are all so good. We go through the free reads at bedtime as a family, which we love so much.
Each month, there is also a new folk song to sing and enjoy and learn, and a new hymn. I just make a playlist with them all and play them throughout our days. The kids and I have learned them all through simply playing them . They are all so great and there is so much richness in learning these old songs, so much history and a sweet connection to the past. It tethers a piece of you to the past, which is so important because we learn so much from the past. I feel closer to my heritage through these songs, imagining my great-great grandparents sitting around and singing them together. So sweet.
We do an exam at the end of each term (totally optional!) but there are exam questions on the website, and it's nice to just go over and see what she knows. We kept it casual and fun and just sat together on the couch and I just asked her questions about the term, her favorite bible story, fairytale, and it was just amazing how much she remembered, and how much has truly stuck with her. It was cool to see that this is working and she is retaining so much! The whole philosophy of learning is Charlotte Mason, which is reading living books which tells things through living books, and after every scheduled reading, the child narrates it back, or tells back what was read. This helps so much with sticking with you and retention. I also love the idea of the exam questions is to see what the child KNOWS, vs what they don't know/get wrong. So much better for retention and also for confidence!
Linking the books we use for Ambleside, what I would consider our "spine":
Our Island Story
Aesop's Fables
The Blue Fairy Book
50 Famous Stories Retold
Parables from Nature
Just So Stories
Viking Tales
HANDWRITING
For handwriting, we love The Good and the Beautiful handwriting notebook. She really enjoys it and I love that it includes art, I'll have it out for independent work for her each day.
We also love Draw Write Now (she's my little artist, so especially loves this one)! It's super fun. Teaches a simple tutorial on how to draw something and then a few sentences for copywork. Done!
Handwriting Without Tears is another great one!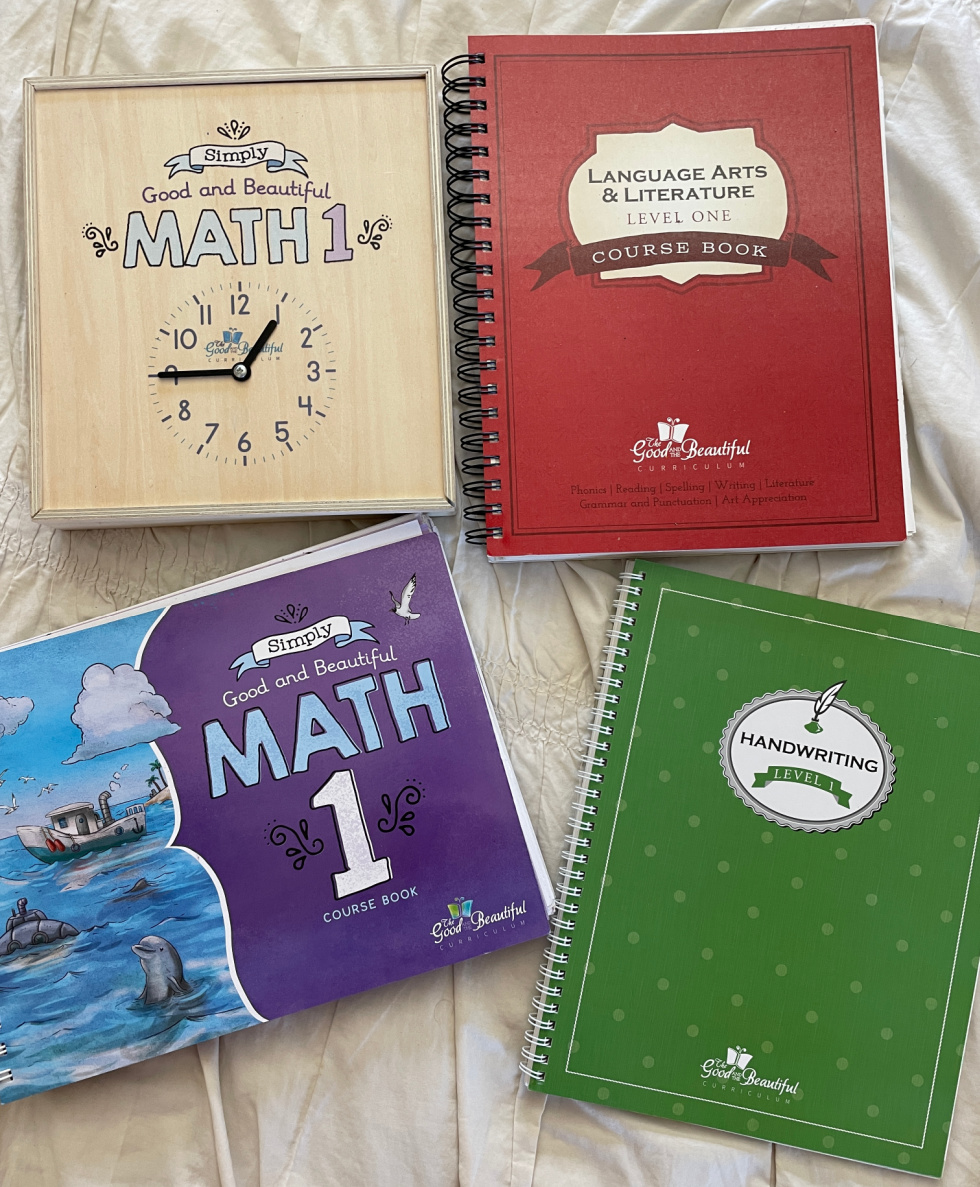 MATH
For math, we use The Good and the Beautiful level 1 for 1st grade, comes with a box of manipulatives and we loved it so much this year, we got the level 2 for next year. It's a spiral curriculum which keeps reviewing throughout, instead of mastery which you master one concept and move on. Make the curriculum work for you- do not be a slave to the curriculum! Each section has a review page, and I'll just use it as it works for us. If she needs extra review, we'll spend more time on it, sometimes if I know she's got something down we will skip the review, or just choose a few problems from the review page, so as not to overdo anything. Do what works best for you and your child!
We also add in Life of Fred. It's a series of math told in a story format, which is SO engaging and quirky and most importantly, FUN! She actually loves doing math now when we "do Fred" and I love it too! Highly recommend! Check if your library has it, as it can get quite pricey. Found it on Amazon here!
READ ALOUD
Reading together before bed every night has become part of our family culture, and I absolutely adore it. We always have a family read aloud going, largely thanks to the AmblesideOnline curriculum and book lists! They are amazing, full of wonderful stories that are not to be missed! This year we have read, as a family: Little House in the Big Woods, Farmer Boy, Little House on the Prairie, Pinnochio, St George and the Dragon, Winnie-the-Pooh, House at Pooh Corner, Paddington, Sarah Witcher's Story, Peter Pan, and a favorite- Charlotte's Web. And all have been cherished and loved by all of us! I'm always excited to start a new book together.
Phew! There you go! Wrapping up Year 1, and feeling good about what we're doing and where we're headed! I'll be back soon to share our curriculum choices and plans for next school year!
xo
Read More on Katie Did What