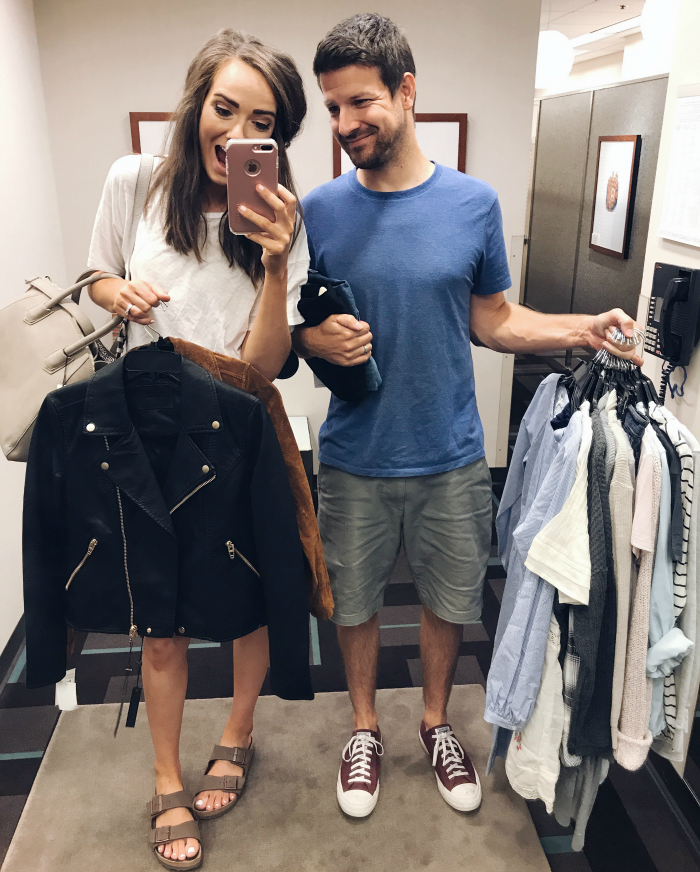 Hey guys. Phew! Yesterday was a LONG and exciting day!! It was the first day of Early Access for the Nordstrom Anniversary Sale (open to cardholders only until 7/21, when it opens to everyone!), and you best know that we HIT THAT ISH UP. It was SO fun. I was running on little sleep, thanks to staying up super late working on THIS POST (so please check that out!!!), so we grabbed some coffee and then we were ready to go. And obviously I have to share my dressing room photos with all of you! SO much cute stuff, guys. SO MUCH.
Remember: you can only shop these items if you have a Nordstrom debit or credit card, otherwise you'll have to wait until July 21st to shop! Hurry, because things WILL sell out (but hopefully they'll restock by the start of the public sale! Fingers crossed!).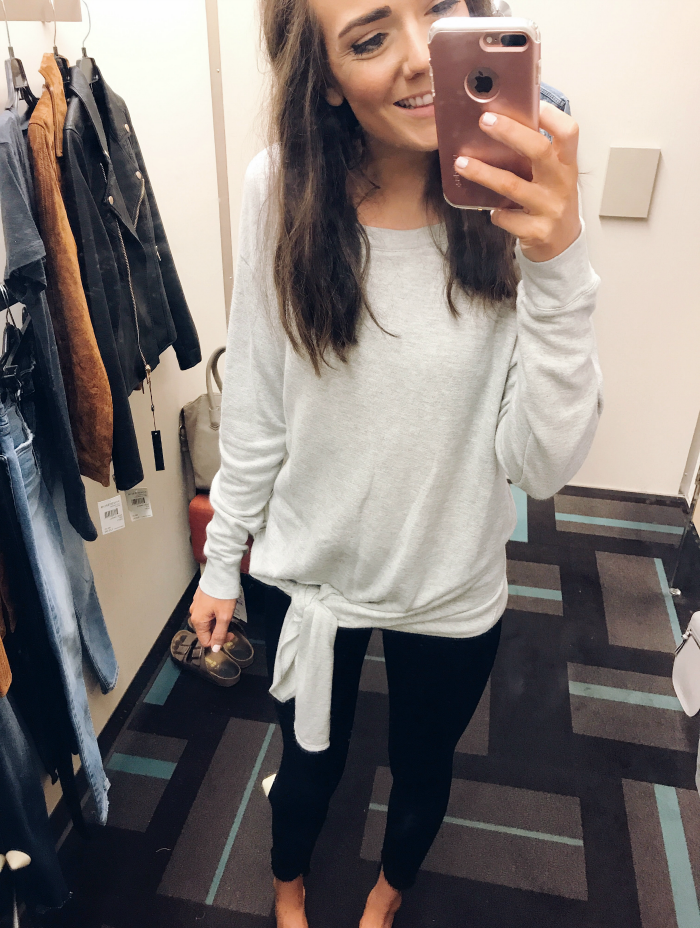 Tie Front Sweater (tts) (identical here!)
Black Skinnies (slim-fitting, may want to size up depending on how tight you like your jeans; the best jeans I've ever worn- pricey, but worth it and on major sale!)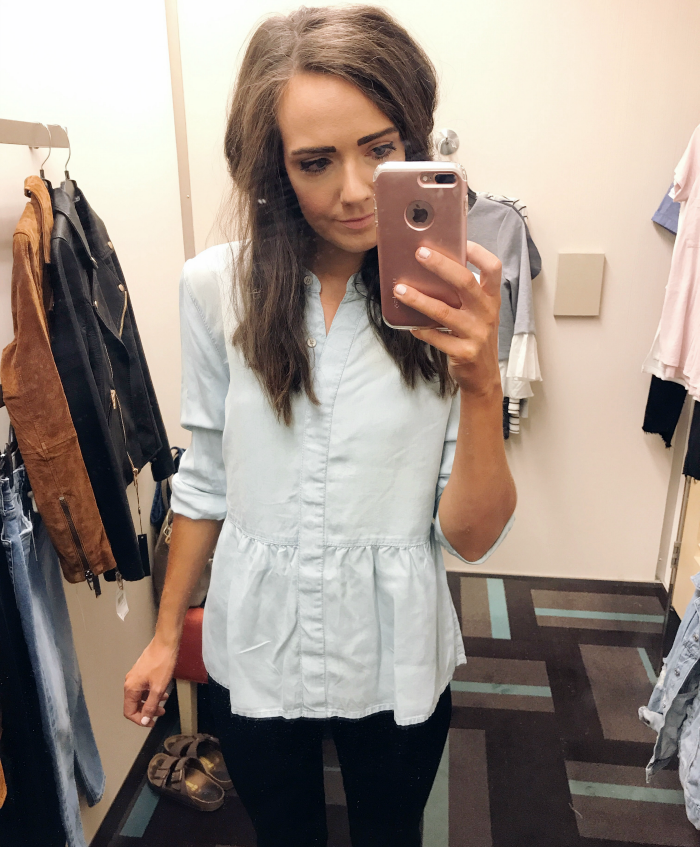 Literally me in a top: chambray AND peplum. OBSESSED. True to size.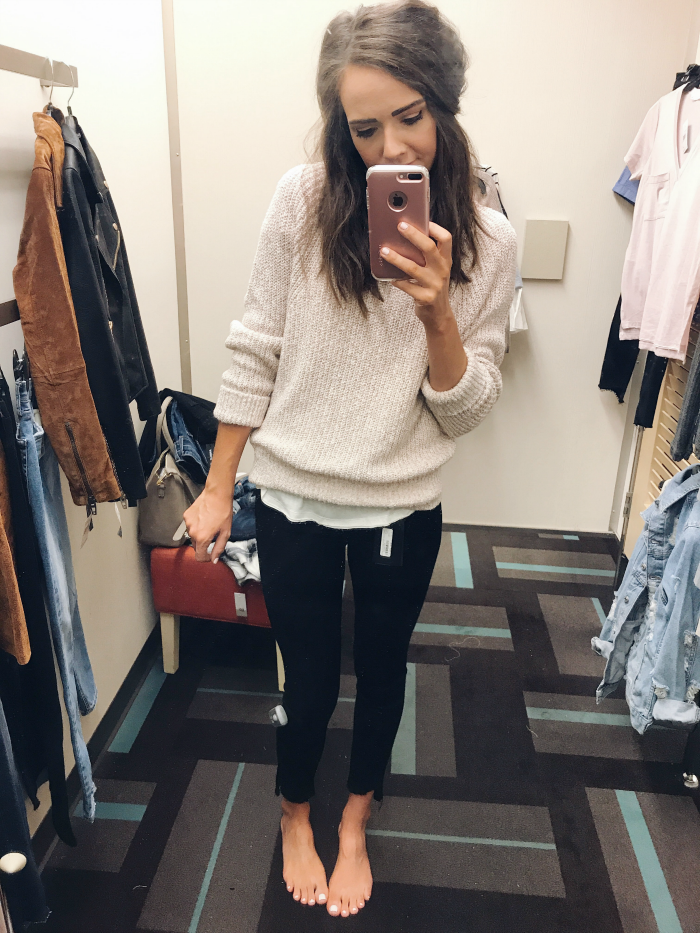 sweater (love the chunky knit! Perfect for fall! This one runs small, so size up!
Tee (tts) | Jeans (tts)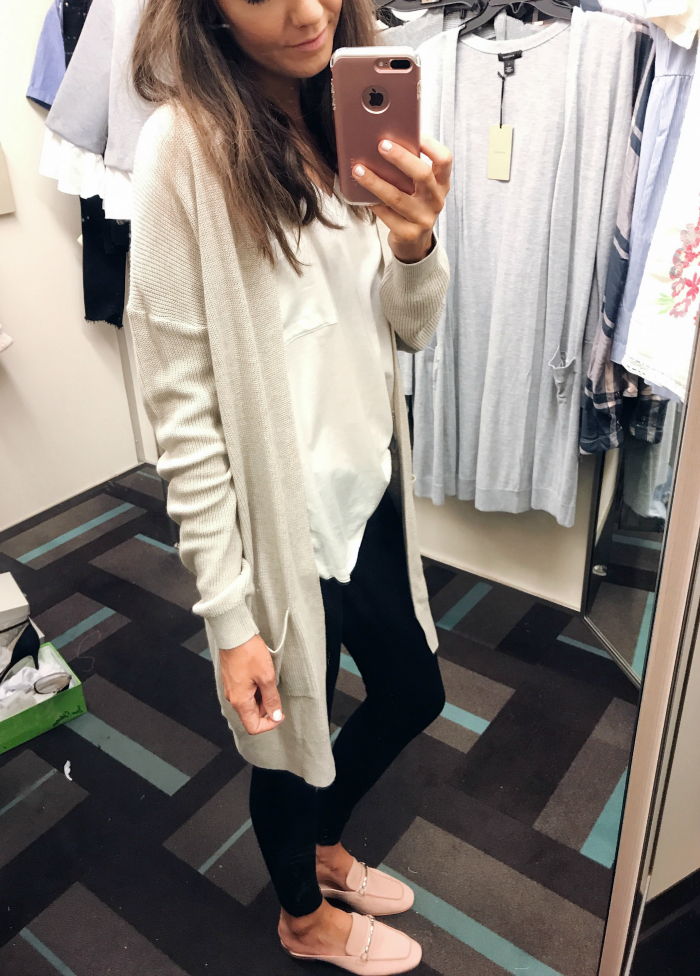 This cardigan is LIFE. I may have gotten two colors, it's that good (I did- I got the grey)
tee | leggings (only $12! And they're a great thickness!) | mules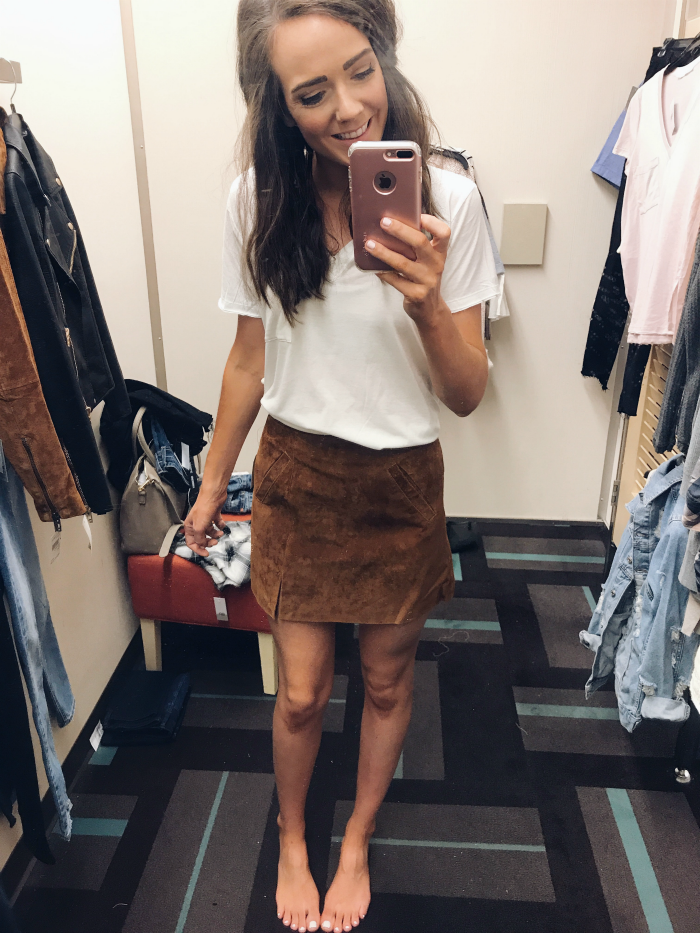 This suede skirt is one of my favorite finds- how perfect is that color for the fall?! (tts) | tee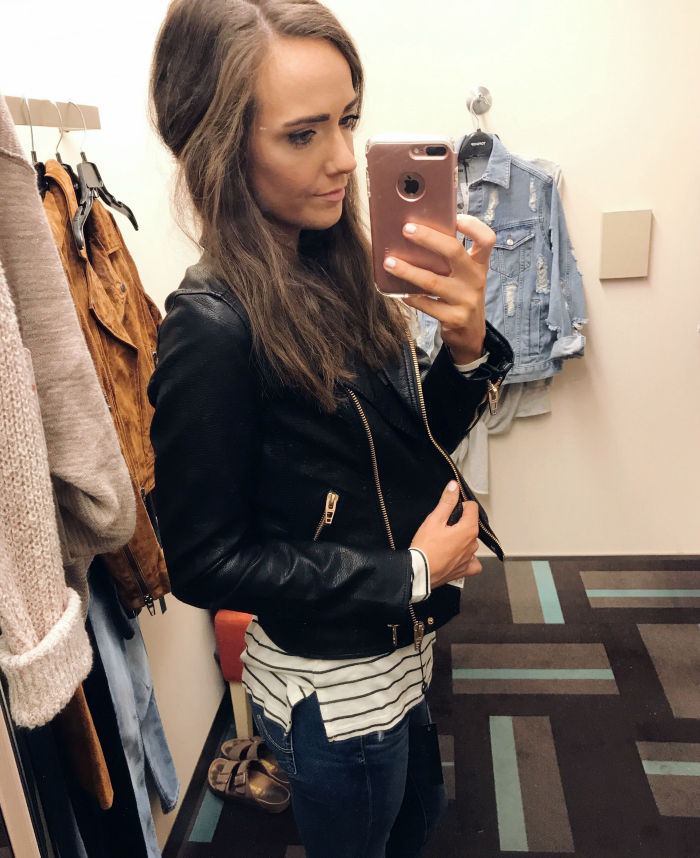 Literally the best faux leather jacket I've worn. SO good. Buttery soft and don't even get me started on the gold detailing- this one is going to sell out! Fits true to size!
Top (tts) | Jeans (some of my favorite jeans ever, fit tts)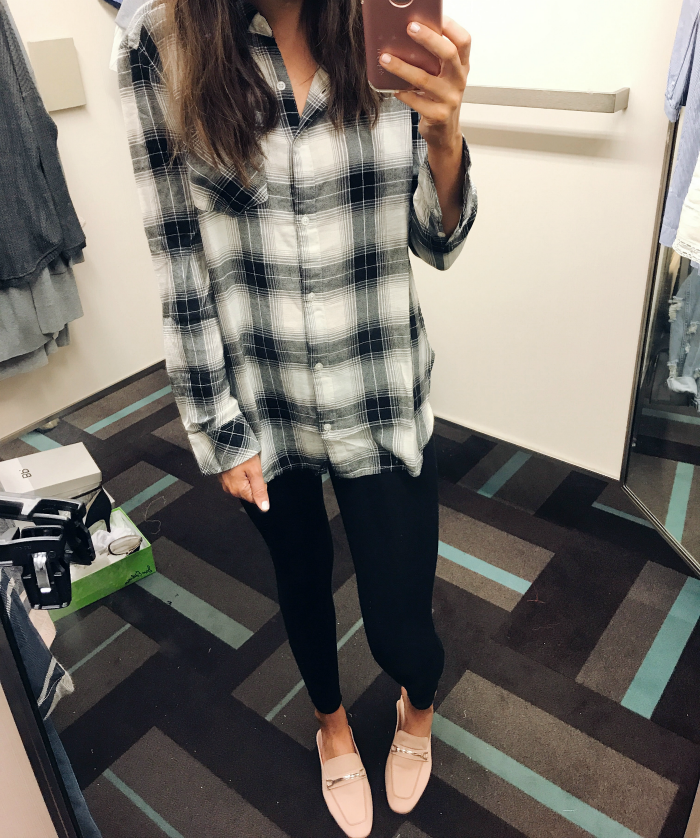 Okay, that's it. I'm done. I will be LIVING in this plaid top for fall. The best part? The back is longer! Can you say, perfect legging top?! Fits true to size! | leggings (such a steal!) | mules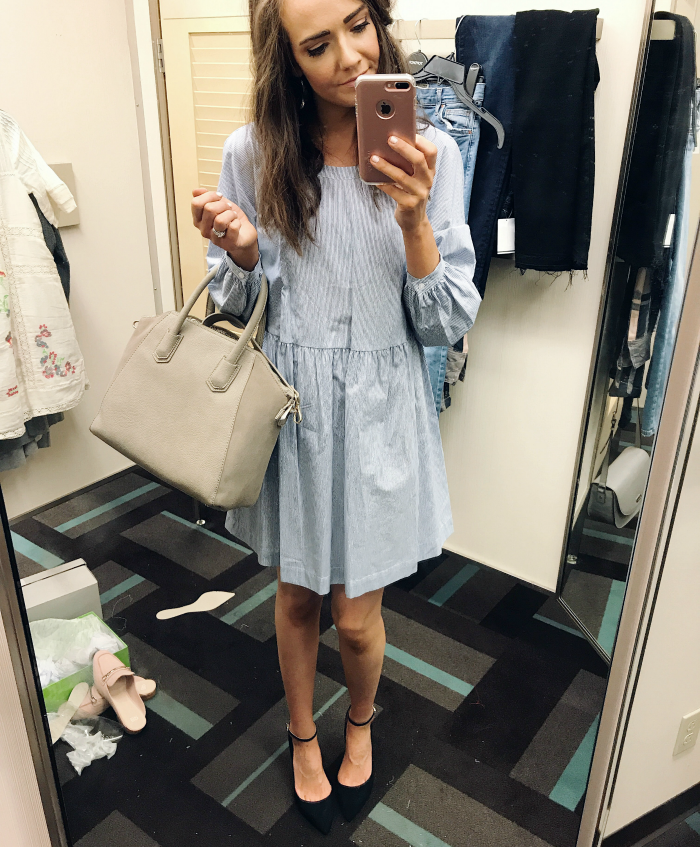 Annnnd for a little dressier option: this dress is SO cute! You can't see in this picture, but it has a bow in the back of the neck to tie it all together. Runs big, size down! I'm wearing a xs. Also, side note, NO clue why they call this a tunic? It is clearly a dress! I'm 5'9″ and it's plenty long!
This bag is a new favorite! Goes with everything and just $50! The two-tone is so much better in person than online!
Dying over these ankle strap pumps– and they're SO comfortable and easy to walk in! True to size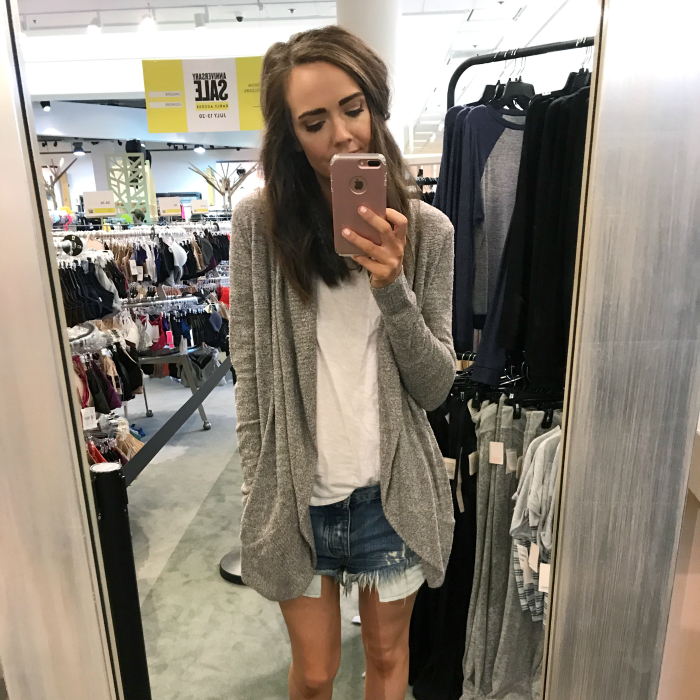 the most comfortable/softest sweater of my LIFE– I am never taking this off! I sized up to a Medium for a slouchy fit- LOVE!
Shorts (tts) | Tee (size up)
Alright, friends. HAPPY weekend, annnnd happy shopping! ;)
Let me know what you're picking up from the sale in the comments- and as always if you're looking for anything in particular, let me know! I'm always here to help!!
xo
Read More on Katie Did What