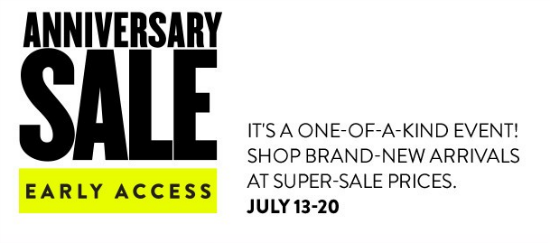 It's here, guys!!! I am SO excited, today is the first day of Early Access for the Nordstrom Anniversary Sale, aka the BEST sale of the year! Wooo! I stayed up until… let's just say… way too late last night, picking my favorites from the sale, and I've got them all linked here for you to easily shop!
Why is this sale the best, you ask? Simple: It's all of the brand new items and top pieces for fall, on SALE! All of these items will go back to regular price in a couple of weeks, soooo basically it's a no-brainer to snatch them up NOW! Another reason it's a no-brainer? Nordstrom offers free shipping (on ALL orders, no minimum!) AND free returns! So, don't like something? No problem. Return it, no questions asked. BOOM. That's how you do it.
Now, this is the Early Access to the sale, meaning it's only open to card holders. You can open a Nordstrom credit card HERE so you can get access and start shopping the deals now! I recommend it, since a lot of the most popular items will sell out pretty quickly! Early Access goes until 7/20, when the sale opens to the public.
These are some of my favorite finds, but I have a page here that I'll be continuously updating and adding to throughout the sale. Definitely keep checking there and my Facebook page for all of my latest finds!
Alright, grab a cup of coffee and let's go shopping…
Again, to see ALL of my picks, and for a constantly updated page, GO HERE.