Hey friends! I hope you had a great weekend! Ours was BUSY but so much fun.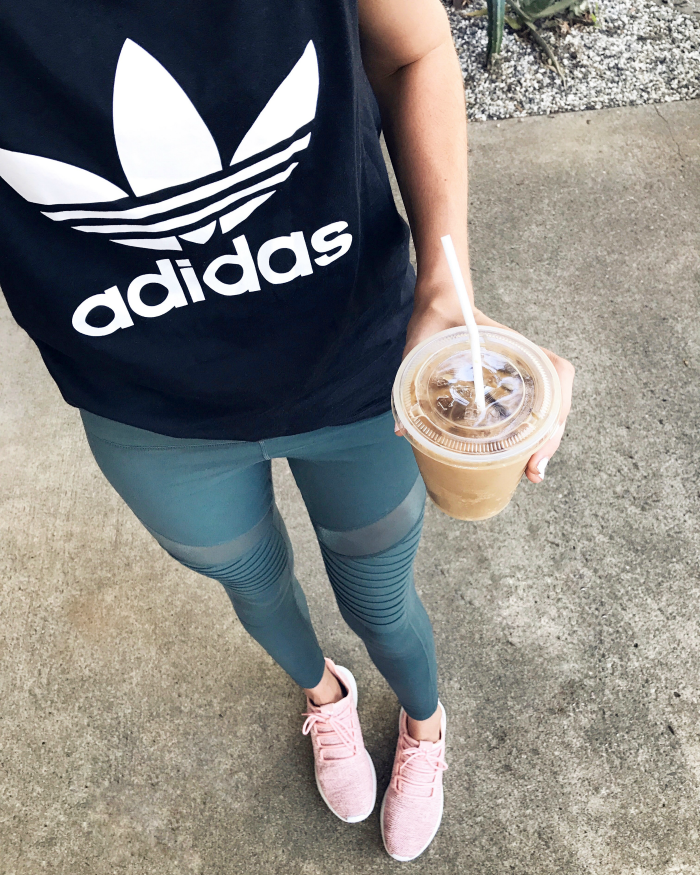 top (runs big! I'm wearing a small here but could have sized down)
leggings (tts and omg the BEST!)
shoes (run 1/2 size big!)
This NSale madness has been taking up all of our free time (you know, mainly once the kids are napping/with friends/in bed) annnnd it's been pretty amazing! Have you shopped yet? Be sure to see our fave picks HERE! There's a lot, so I went ahead and picked the best stuff there. It's GOOD. Real good. In case you missed my Nordstrom Anniversary Sale posts so far:
NORDSTROM ANNIVERSARY SALE PICKS
DRESSING ROOM DIARIES (with sizing info!)
AND one of my personal favorites:
NORDSTROM SALE PICKS FOR EVERYONE
(If you DON'T have a card and can't shop the sale yet, we found the best of sale items that EVERYONE can shop!! Card or no card! YAY!)
And if you aren't following along on
Facebook
, that's where we are posting frequently all about the sale, with favorite picks and new restocks and lots of good stuff, so be sure to "like" and
follow along!
So… What else is new in our world BESIDES the sale, you ask? ;) Wellllll…
I've been working out a lot with my mama fitness group, which is AMAZING and if you have one in your area I highly recommend checking it out! It's called Fit4Mom aka Stroller Strides, although I feel like that gives the impression that it's easy… it's anything but! Intense HIIT workouts, mixed with some Barre and cardio/strength training… Oh it is goooood! AND, after our workouts, the babies all get to play and the mamas get to talk! It's the best. Sophie has a good time, too. ;)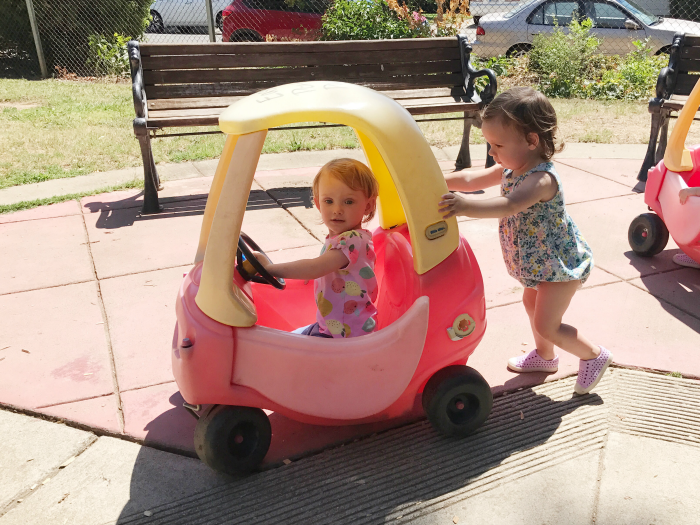 I MEAN. Little friends are the cutest! Sophie literally pushed her friend Edie around in that car for a solid 10 minutes. Hilarious.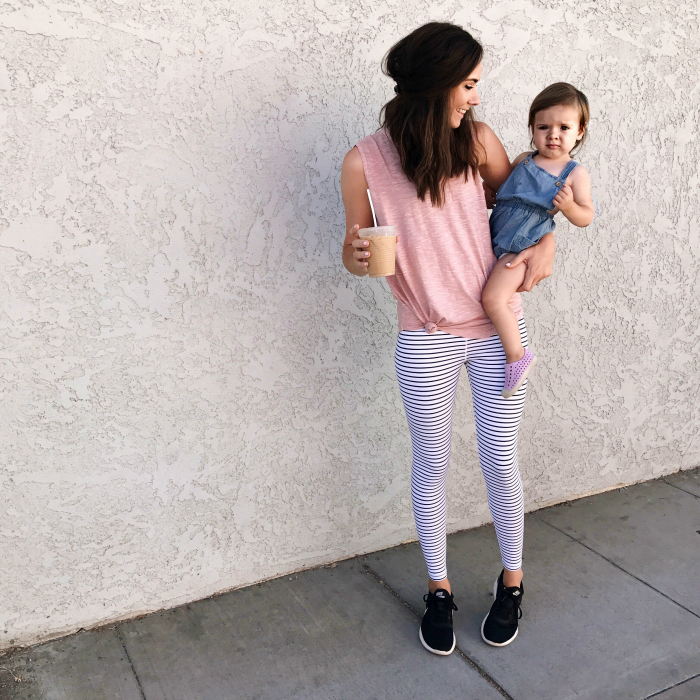 I got my second monthly box from Wantable, a fun new company I just started working with! It's basically a monthly subscription box for WORKOUT CLOTHES! Can I get a "Hallelujah"!? Seriously, the CUTEST stuff, guys. And if you're like me, and like to pick out your own clothes, they have a feature where you can browse their clothes and request the ones you want. Obviously, I did that, and also I have an awesome stylist (shoutout Kati!) and this month's box KILLED it. I'm so excited to wear everything! This super cute top and these amazing striped leggings (seriously, I'm obsessed!) are two of the items that came. LOVE! And SO me!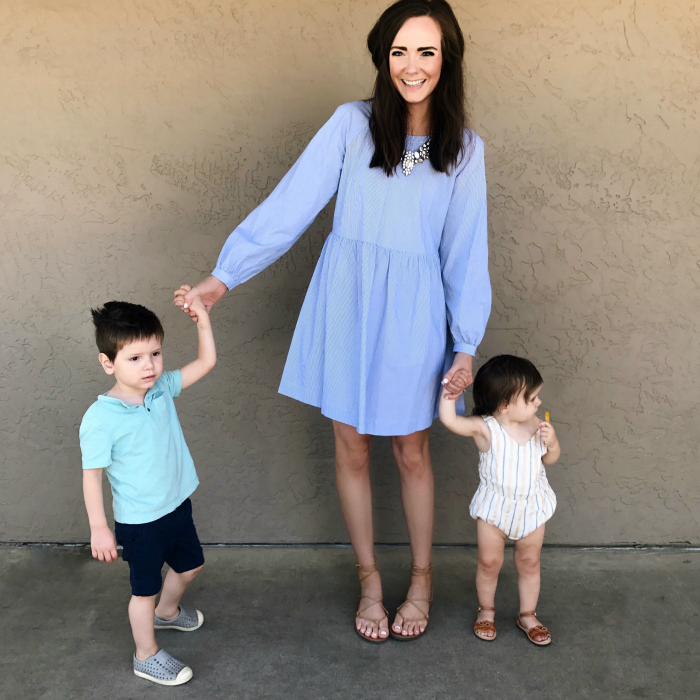 dress | sandals | Sam's shoes
My little cuties, after church yesterday. And this dress has a BOW on the back so clearly it's the most precious thing ever. It's on sale right now at the Nordstrom Sale and for some reason they call it a tunic, even though it's clearly long enough to be a dress on my 5'9″ self, sooooo… Not sure about that one, BUT. It's the cutest. You need it. Period.
I also get asked about the kid's shoes ALL the time! They are these ones, and they are the best! Easy slip on and off and even easier clean up! Just wash and go! Yesssss.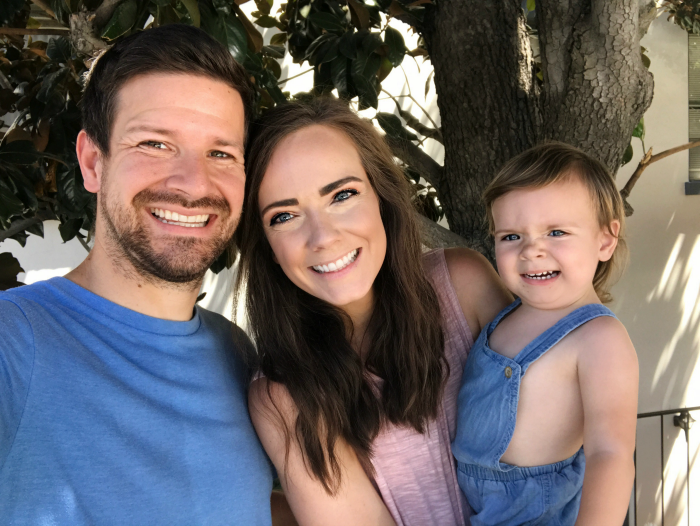 A little fam selfie (minus Sam, he was playing with friends). And a little gratitude: Thank you all so much for reading my blog, for following me on social media, for emailing me and messaging me, for leaving me the sweetest comments! It all just means the world to me, and I don't say thank you enough. This blog is a huge part of our livelihood (which I still pinch myself about on a daily basis- I never knew that was even possible!!!) and none of it would even be happening without all of YOUR support!!! Every message and comment and "like" and click- they all mean more to me than you even know. I am just so grateful for you all!
Okay. Have the best Monday ever!!!
xo
Read More on Katie Did What