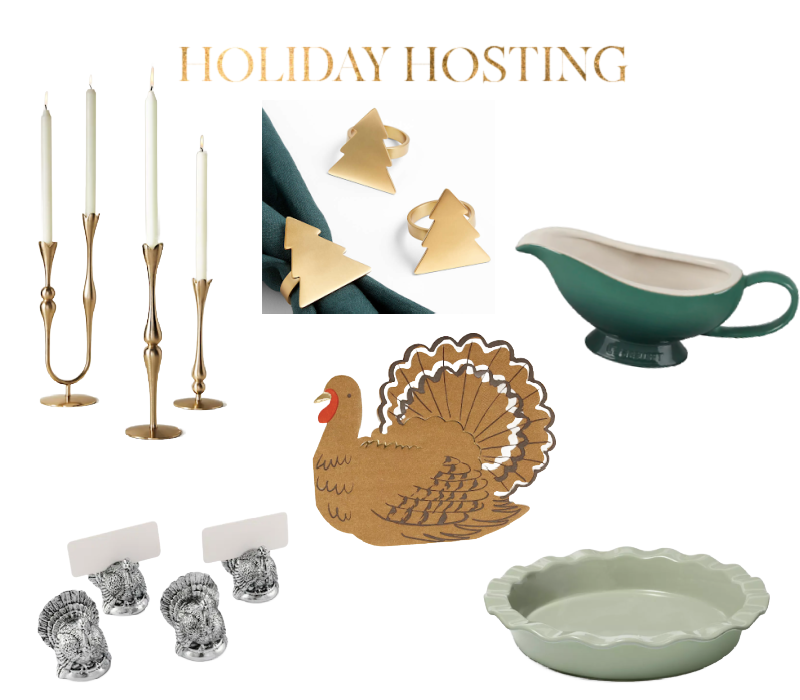 candle holders || napkin rings || gravy boat || place card holders || turkey napkins || pie dish
One thing that we loooove to do is host during the holiday season! It started more out of convenience, because let's be honest, in our situation, with three little ones and one being on the autism spectrum, going to other houses that aren't familiar and packing up everything that comes with it (especially in the baby stages!), all of the hustling and bustling, the newness, the change of routines- it was all more disaster than not. SO. We decided to start hosting at our home more often than not, and we found out that we actually LOVE it so much! So. Thank you, kids, for that discovery! ;) Yes, we learned it the hard way, but that's okay. We love being in our home so Sam has a place to go if he needs a break from the craziness, he has his bed so we can do bedtime when he's ready for it, and not break routine in that way, also. Everything is familiar, and it's comforting and makes for smoother holidays! We used to go to two separate houses on Thanksgiving (dinner at my family, dessert at Zack's) and it was just SO MUCH. Thankfully we came to our senses and for the past few years, we've had everyone come here. We do a potluck-style meal, delegate different courses to different people, and it all works out beautifully!
What are some must have dishes for Thanksgiving in your family? Here's our go-to menu, that we don't really stray from, each year. It's tried and true, everyone has their specialty, and it just works so well. Thanksgiving truly is one of my favorite days of the year. The tradition of morning cozies while watching the parade, cinnamon rolls and turkey pancakes (that is, pancakes and fruit assembled to look like turkeys, of course), the dog show, football and family coming over, and we always watch "Christmas Vacation" the night of Thanksgiving, with a leftover turkey sammy and piece of pumpkin pie (extra whipped cream). The official kickoff to Christmas season!! Gah, I love it so much.
Turkey – Cheesy potatoes – Brussels Sprouts – Broccoli Salad – Rolls – Cheeseboard – Pumpkin Pie – Apple Pie (homemade by Zack's mom, yum) – Rice Krispies Treats (my aunt always makes for the kids) – Homemade Cranberry Sauce (so good)
So, nothing groundbreaking, but that's what Thanksgiving is all about, right? Tradition, classic food, good company, and being grateful for it all. :)
And now for a roundup of some fun Holiday Hosting needs for Thanksgiving!

xo