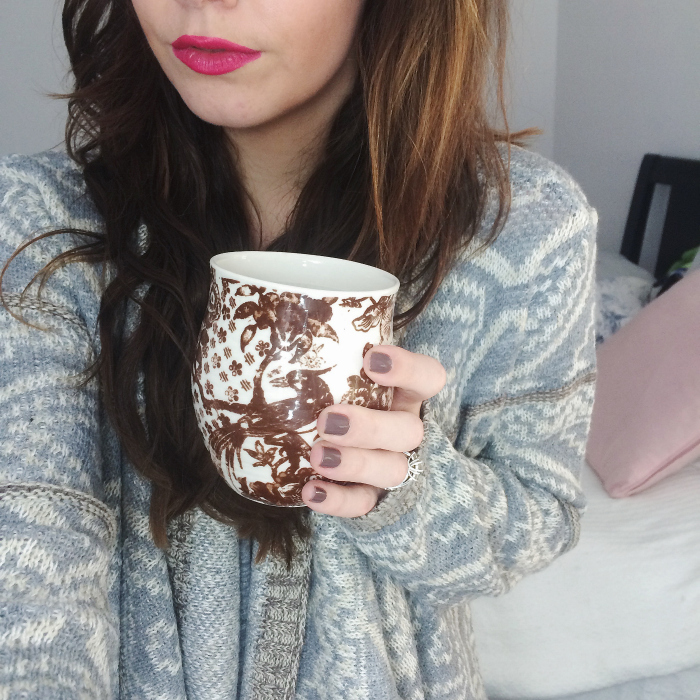 sweater: c/o riffraff // lipstick: rimmel // nails: OPI "You Don't Know Jacques" // mug: anthropologie
So I thought it'd be fun to start doing this each month, a roundup of my favorites from the previous month. Let's begin with my favorites from October!
MOVIES
About Time. I just am head over heels for this movie. It is so sweet and funny and heartwarming and yes, I bawled my eyes out. It's just the best. I wrote more about it HERE.
Gone Girl. I read the book and loved it, and declared while I was reading it, "Oh this would make SUCH a good movie!" and then I found out they were making a movie. And not just any movie, but a movie with Ben Affleck. *swoon* So yes. It was everything I though it would be. SO good. And dark. And twisted. Watch it. But also read the book. :)
BOOK
Redeeming Love. My friend Pam lent this to me a while ago and I just now got around to reading it. I'm hooked. It's such a great story and is so romantic. I love when I find a book to read for pleasure that also feels like spending time with the Lord (it's a Christian book)- two birds, one stone! I haven't finished yet, but definitely recommend it to anyone looking for a new good read!
MUSIC
I've had a few favorite songs, on repeat, this month:
"Riptide" by Vance Joy
"I See Fire" by Ed Sheeran
"I'm Not the Only One" by Sam Smith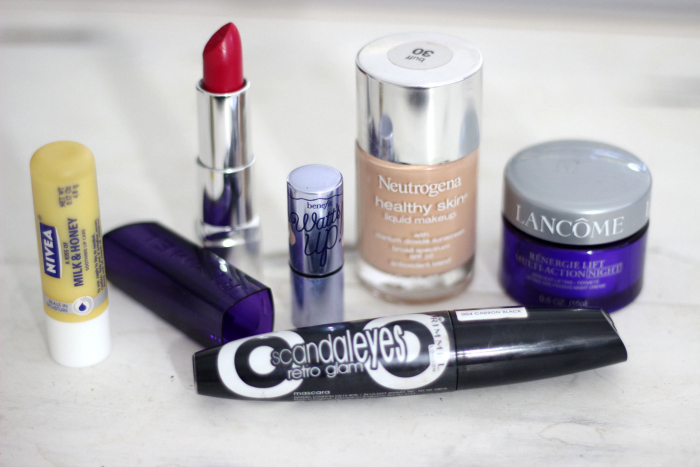 MAKEUP
Nivea milk and honey lip balm. I'm always a fan of Nivea lip products, and this is just the latest that I'm LOVE-love-loving. It's smooth and nourishing and I've been basically addicted to it.
Rimmel lipstick in "As You Want Victoria"– such a fun, bold color that I'm loving lately.
Rimmel Scandaleyes mascara– I reached for this mascara more times than not the past month. I love how dramatic it is. The formula is very wet and so it goes on generously and is a bit messy to take off, but it is WORTH IT. You want your eyes to pop? You get this mascara, in the blackest black. It's dramatic and so good.
Benefit Watt's Up highlighter. I apply this to my cheekbones, and love the pretty dewy glow it gives my skin. A little goes a long way, too!
Neutrogena Healthy Skin foundation. OBSESSED with this foundation. It's sensitive, great for your skin, leaves it looking it's best and it's a great price! All things I can get behind. I'm been using this foundation non-stop all month and will continue to do so next month, it's just so good. The coverage is super build-able and works great with or without powder. It's a win in my book!
Lancôme Rénergie Lift night cream. Zack got me some Lancôme products for Valentine's Day (I KNOW) and this was one of them. I've been applying it each night, and it leaves my skin feeling nice and smooth and firm when I wake up.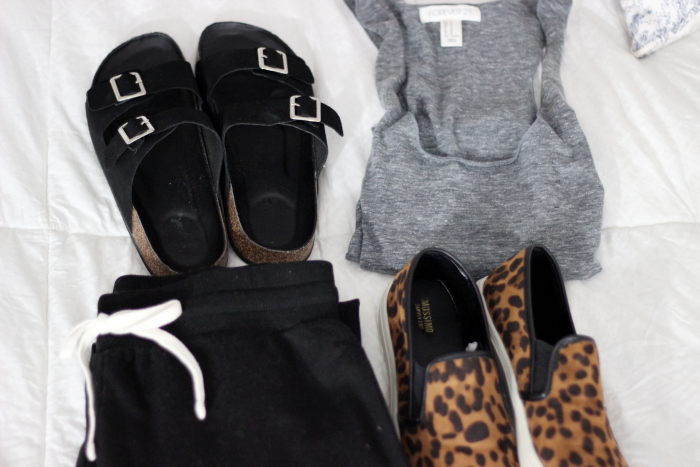 sandals // tank top // sweatpants // leopard flats
FASHION
These leopard flats from Target and Birk knock-offs from Riffraff (use code katiedidwhat10 for 10% off!) are my faves at the moment! Also LOVING these Forever 21 joggers (they're SO cheap!) and this tank top has been on repeat- it's super comfy, looks and feels way more expensive than it is and goes with everything. And seriously, the price is on point. I suggest stocking up.
FOOD
I'm really obsessed with Quest bars this month. They've been my go-to snack and post-workout protein. They're so easy and convenient to just grab and go, and it doesn't hurt that they taste amazing too! (p.s. enter my Quest bar giveaway HERE!)
And there you have it! My favorites from October.
What were you loving in October?
xo