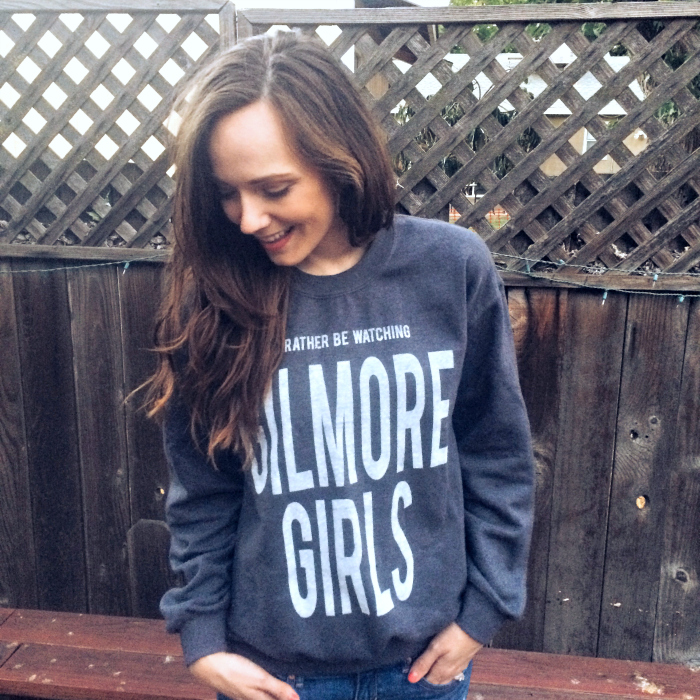 sweatshirt: c/o arsenic & lace
First and foremost, I CONVINCED ZACK TO FINALLYYYY WATCH GILMORE GIRLS WITH ME! As I professed in this post, I am a die hard GG fan. It is my number one favorite show in the history of ever, and I own every season already, but something about it coming to Netflix this past weekend just got me all sorts of excited about it, and so we have started watching, from the beginning. Zack had never seen a single episode, and it's kind of like, um hi if you're married to me, you have to watch my favorite show, you know? It's just one of those things. It's like, if you watch Gilmore Girls, we will connect on a whole other level, which is not to say we don't already connect on many different levels, it's just. It's different. It's GILMORE GIRLS. Tell me you understand?! Anyway. Watching my favorite show ever with my husband- my favorite person on this planet- just makes me all warm and fuzzy and happy inside. And in celebration of Gilmore Girls, I had to put on my favorite sweatshirt, le duh.
YAY.
Related: see another outfit that I styled with this Gilmore Girls sweatshirt <---- here. We watched About Time this weekend. In a word, it was life changing. Okay, so two words. It is just the sweetest story, full of hope. The message spoke right to me- to live life each day (REALLY live life) and to see the beauty even in the seemingly mundane- and the plot went somewhere that created a huge lump in my throat for the last third of the movie. It was beautiful. It touched me. It made me feel all of the feels. And it's from the director of Love, Actually, which I mean, that's all you need to hear, right? And it's quirky and British, so the humour was just so so good. And it has Rachel McAdams, whom I love. And the main character is a ginger, and I have a soft spot in my heart for gingers- my oldest brother is one. :) And the actor is hilarious and sweet and adorable and now I'm googling other movies he's in, because I want to see them all. (p.s. he played Bill Weasley in Harry Potter, so that makes him even better in my book). Okay then.
Speaking of gingers, I've renewed my love of Ed Sheeran. All of his music is just so good for the soul. I'm a sucker for lyrics, and his are always on point. Plus, the music is just beautiful. Don't just listen to "A Team" and "All of the Stars"- although those are both really good- listen to all of his music. Fireflies, Little Bird and Give Me Love are just a few of my favorites.
Okay.
Happy new week!
Tell me some beautiful things you have been loving lately!
xo