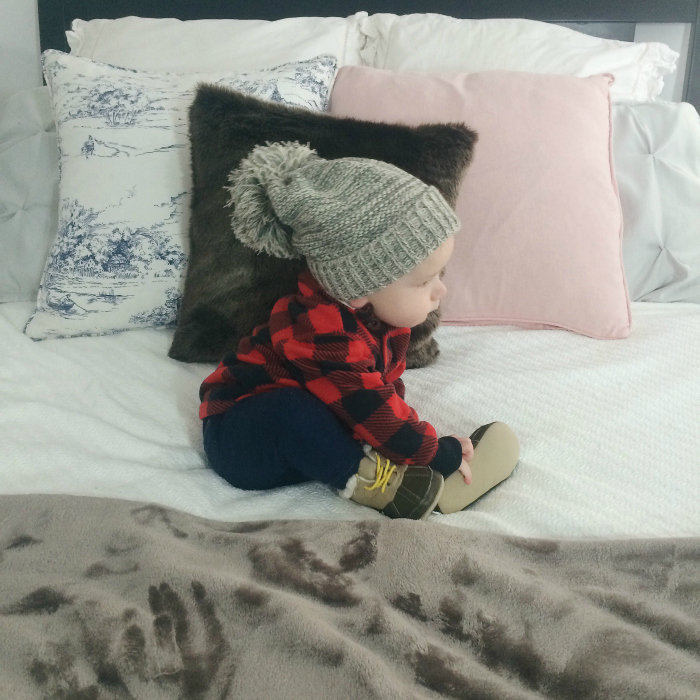 beanie: forever 21
This weekend consisted of more Christmas festivities and baking cookies! Finally! I won't be doing the Norwegian 7 cookies tradition that I did in the past with my mama (that's just a lotttt of cookies haha) but I did make three kinds. I think that will suffice. I made these Coconut Cranberry Chews that are probably my favorite. Ever. And I also made Andes mints cookies (ummm amazing) and s'mores cookies. Yeah. It's been a cookie party this weekend over here.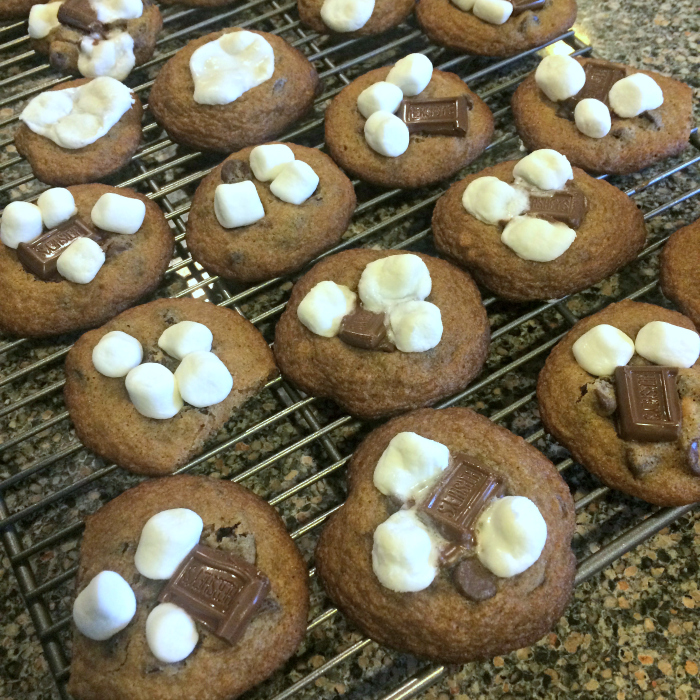 I've cried a lot this season, I guess I should mention that, too. It's the second year without my mom, and it's not any easier than the first, let me tell you. It is better than the first, thanks to little Sam, who reminds me to smile and thank my blessings whenever I feel like sobbing and cursing the world, so that's good. But it's still HARD. Grief is a funny thing, and it's something that just kind of always lingers there. I'll never not miss my mom. I'll never not feel her absence at every family gathering and holiday and Christmastime. Oh, Christmastime. Christmas was my mom's thing. She is the one who made it so special every year. She baked all of the cookies and sang all of the songs and made it all magical for everyone. I read that one way to feel close to a loved one you have lost is to do something that they did or that you did together, in their honor. And so that is why baking cookies at Christmas is something that is so special to me. It was something we did together every year. Baking cookies isn't just a fun thing to do at Christmas for me. It isn't something I do just so we have delicious desserts in our house (although that is definitely a bonus). It means more than that. It's a way for me to have a piece of her here, with me, even when she can't be. It's my own little salute to my mama, up in heaven. And I can feel her in the kitchen with me when I bake. And that is something that means so much to me.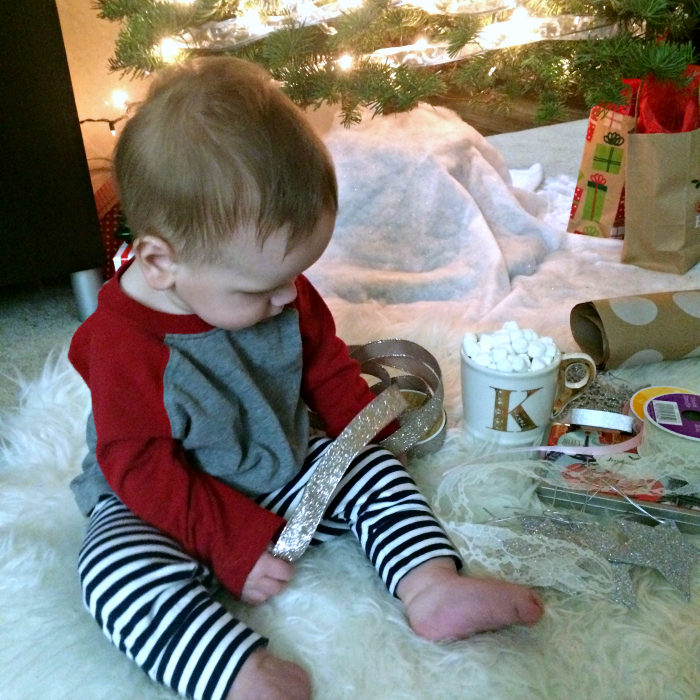 mug: anthropologie
We wrapped some presents this weekend, too. Fire, hot chocolate, wrapping paper and a cute little baby playing by my side. Oh, and lots and lots of Christmas music and maybe a viewing of Sleepless in Seattle, at which I cried, because that movie just gets me every time. It's just so good. "Harses harses harses!" We also watched Scrooged, Elf, Christmas Vacation and Home Alone 2. It was quite the productive weekend.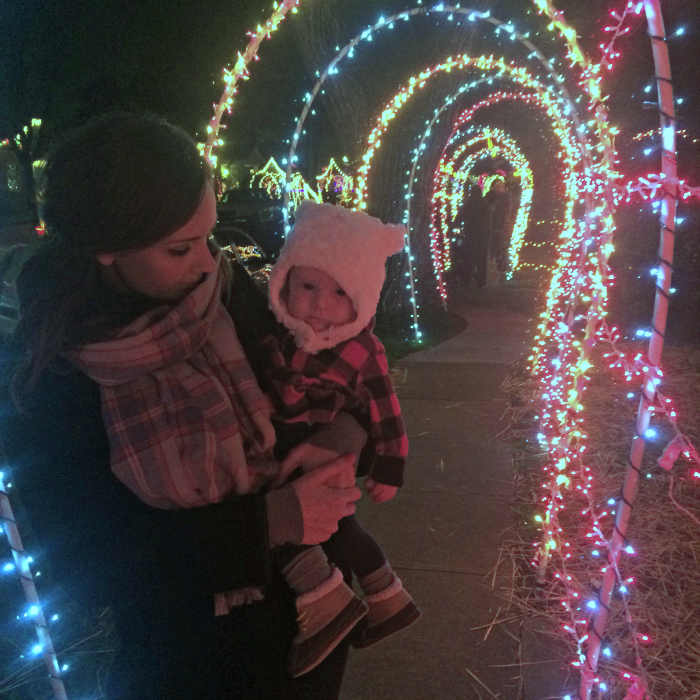 We drove around and looked at lights, too. One of my favorite traditions! We got out and walked for some of them, which was so cute with Sam. He was just wide eyed and in awe the whole time. Experiencing Christmas with him is just so fun and makes it all so exciting again.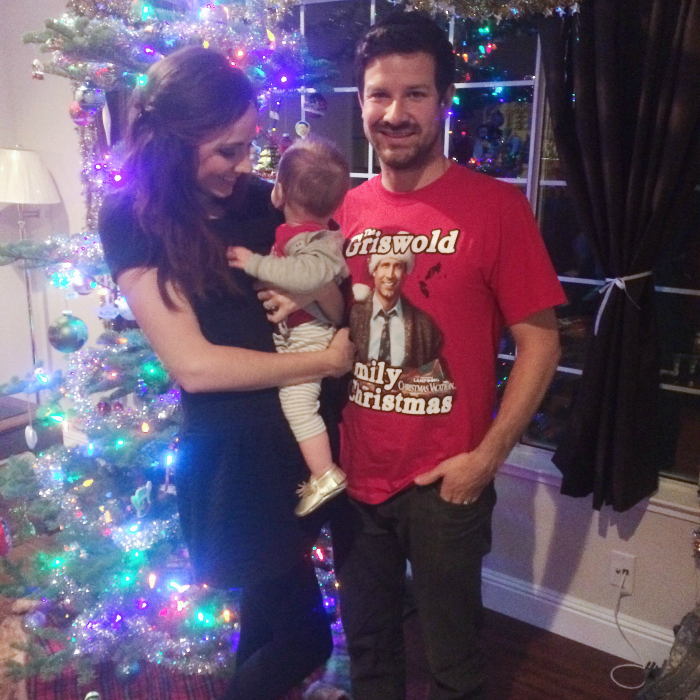 Saturday was the annual Christmas party at a good friend's house. Sam came along and charmed everybody's socks off and was fascinated by their pretty tree the whole time.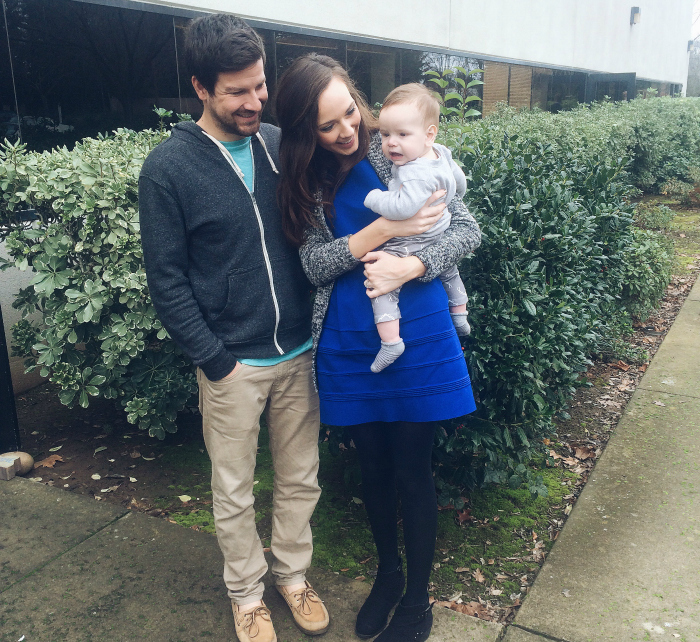 dress: madewell via thredup (sign up using this link for $10 off your first order!)

Sunday we went to church and sang Christmas songs and were reminded of the true reason for the season. :) True love was born in a stable.

And that concludes our weekend! I hope your weekend was a special and fun one, too! I can't believe Christmas is this week! Ahhh! I'll be soaking up every minute of it.

xo

p.s. Some articles I've written elsewhere:
Stop Stressing Over Baby's First Christmas
Mom and Baby Holiday Outfit Inspiration
Twelve "Ugly" Christmas Sweaters Worth Rocking