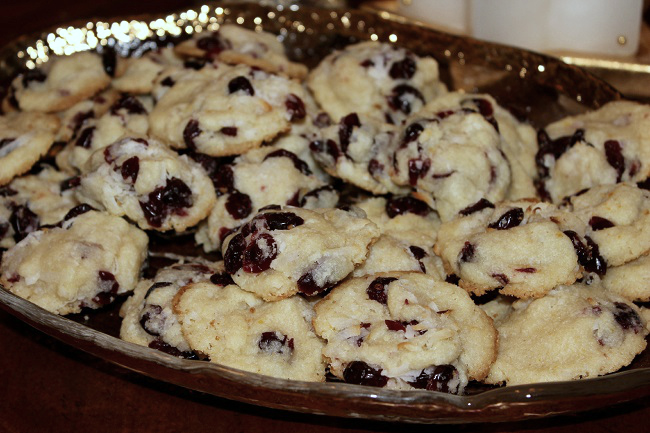 My mom found this cookie recipe for Coconut Cranberry Chews in an issue of Sunset Magazine a few years ago, and it has become a staple in our house for the holidays. I made these last night, by myself for the first time, and I'll just say this: Zack kept coming back for more. And more. And more. Yes, they are amazing and according to my husband, the best cookies I've ever made. And so. I highly recommend trying these out- you know, if you like coconut, and orange, and dried cranberries, and happiness.
Ingredients:
1 1/2 cups butter, at room temperature
2 cups sugar
1 Tbsp grated orange peel (I used mandarins from our tree and it was delicious! Also, make that a heaping tablespoon, please. Trust me on this)
2 tsp vanilla (again, heaping. I like to double this usually in all cookie recipes, as a rule)
3 1/4 cups flour
1 tsp baking powder
1/4 tsp salt
1 1/2 cups dried cranberries (aka Craisins)
1 1/2 cups coconut flakes
Directions:
1. In a large bowl, with a mixer on medium speed, beat 1 1/2 cups butter, sugar, orange peel, and vanilla until smooth.
2. In a medium bowl, mix flour, baking powder, and salt. Add to butter mixture, stir to mix, then beat on low speed until dough comes together, about 5 minutes. Mix in cranberries and coconut. (I did this with my hands and it worked beautifully.)
3. Shape dough into 1-inch balls and place about 2 inches apart on buttered 12- by 15-inch baking sheets.
4. Bake in a 350° oven until cookie edges just begin to brown, 8 to 11 minutes (shorter baking time will yield a chewier cookie; longer baking time will yield a crispier cookie). Let cookies cool on sheets for 5 minutes, then transfer to racks to cool completely.
Enjoy and let me know if you try these out!
What's your favorite cookie to make for the holidays? Share the recipe if you have one! :)
xo