So, the Oscars were last night! AKA the awards show that makes me want to watch ALL OF THE MOVIES. From, like, ever. Anybody else always leave with that feeling? Just me…?
Anyway. I haven't seen any of the movies that won an award, except for Zootopia (yay! I knew one! lol), soooo I don't have much to say about the winners, except that now I really want to watch them all. Except for Manchester by the Sea because, sorry, I'm not a Casey Affleck fan, and also it's just way too depressing. But I digress. The real reason we're all here today… FASHION! I picked my Best and Worst Dressed because that's fun.
BEST DRESSED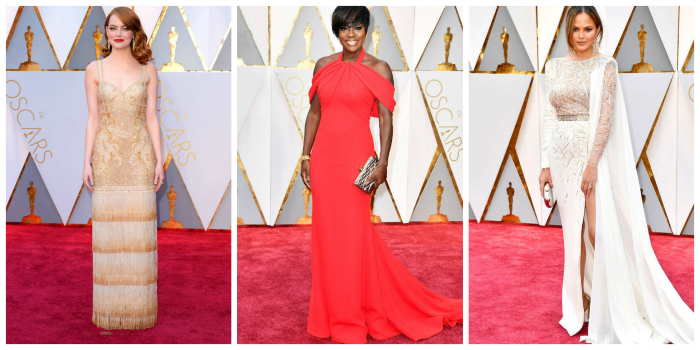 Emma Stone is such a beauty (I actually can't believe we haven't seen La La Land yet buuuut I blame #parenthood? ;) and this gold number is kind of the most perfect Oscars dress, ever. | Viola Davis is classy, beautiful and stunning in this simply gorgeous red gown. | Chrissy Teigen literally always KILLS it. Love her, love her look. Always. Annnnd her husband's voice is like BUTTAH. He needs to be in every movie soundtrack ever.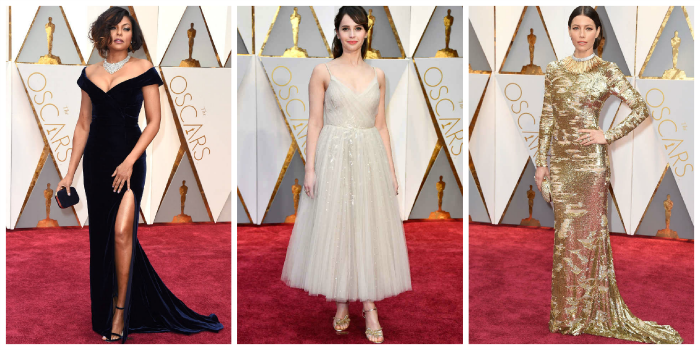 Taraji P. Henson is a serious babe. And I'm kind of obsessed with her haircut!!! Love it all. | I want Felicity Jones's dress! Just love love love it. And she is a doll! | Jessica Biel: Golden Goddess. Love love love.
WORST DRESSED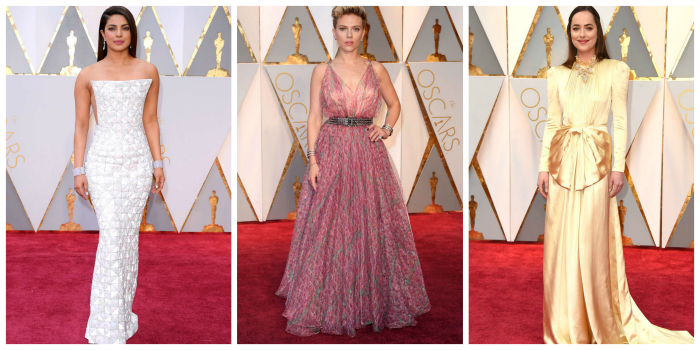 I almost like this dress, but the front is just confusing me. | Oh, Scarlett, no. The spikey belt? The rainbow sherbet colors? Just, no. This isn't a middle school dance. | This dress is just a big fat NO. It's like she wrapped herself up in the Oscars drapes.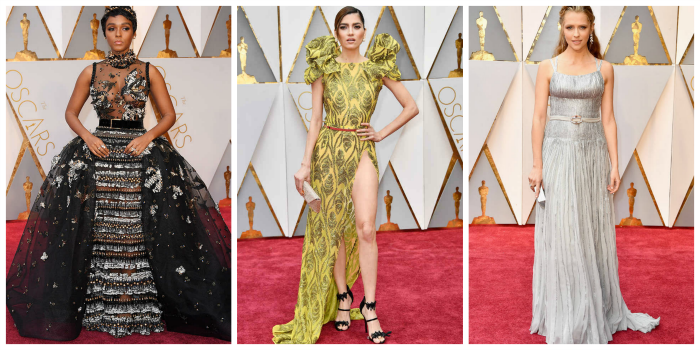 Marie Antoinette, is that you? I feel like this would be perfect for the MET Gala. It's more of a costume than a dress. | The sleeves! The print! The belt! I just… can't. | I think I'd like this if the top was less… medieval-esque? And the belt just does absolutely nothing for me (apparently I'm just really not digging belts lately haha)- I do like the skirt of the dress, so.. There's that?
AND CAN WE TALK ABOUT THE BEST PICTURE MISHAP?! OMG, soooo much secondhand embarrassment. I mean, how does that even happen?! All I could think was, where's Steve Harvey?!
What do you think? Who do you think was Best Dressed? Worst?
Have you seen any of the movies that were nominated? Recommend any of them?
xo