HAT | TEE (SIMILAR HERE AND HERE) | LEGGINGS | SHOES | PHONE POP SOCKET
Hey guys! So, if you've been following me for a while, you KNOWWWW my love for athleisure. Heck, if you've been following me for like 2 days, you know my love for athleisure. ;) It's kind of what I wear every. Single. Day. Which is totally why I can justify my large collection of pieces… Right?! RIGHT. I love me a good pair of leggings, a cute relaxed tee, knotted on the side of course, and some pretty sneakers. It's the best kind of outfit if you ask me: the kind that you can literally LIVE in, day in and day out, lounge around in, grab coffee in, run errands in, run after your kids in ;) and make people assume (whether or not it's actually true, it's fine) that you worked out too. BOOM.
Although, let's be real, running after kids IS a workout in itself, amen.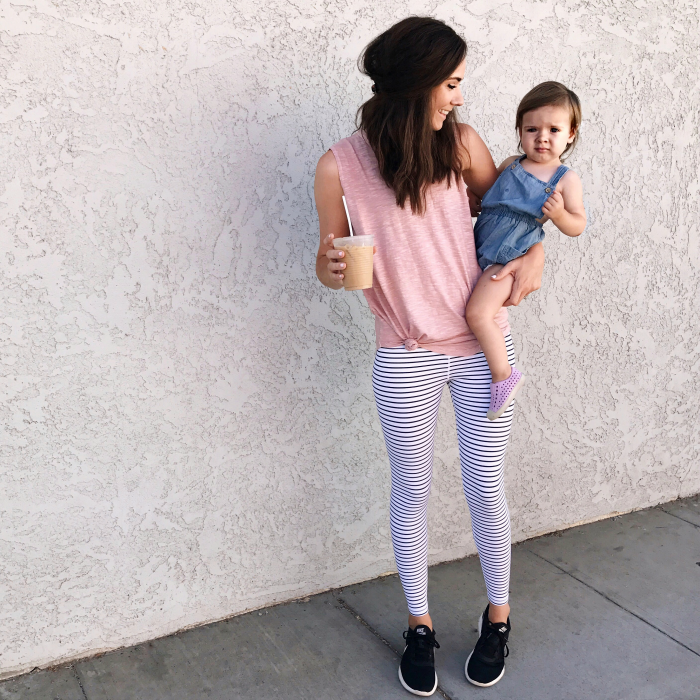 TOP | LEGGINGS | SHOES
Anyway! My workout apparel/athleisure wardrobe is ever-growing, and I thought I'd share my very favorite pieces of the moment with you here today! Because I'm assuming everybody else likes comfort and cuteness as much as I do, am I right in this? Gosh I hope so. ;) Alright, let's get to it.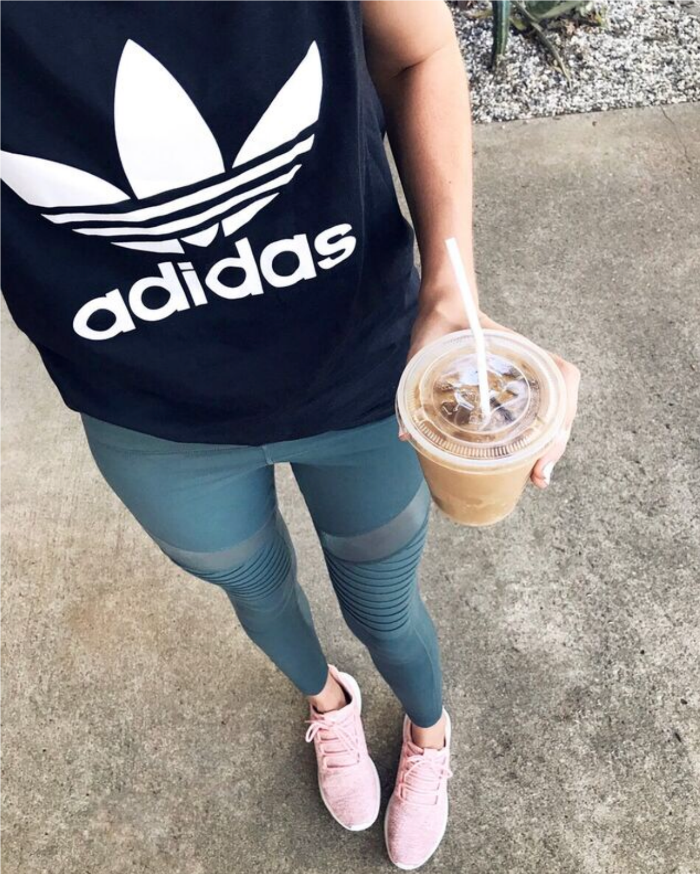 TOP | LEGGINGS | SHOES
LEGGINGS
Ahhh, probably my favorite type of clothing, ever. God bless the person who invented leggings, but for real. My all-time favorite brand is Zella, I just think they make the best quality leggings that also fit the best and are super cute. You really cannot go wrong- I recommend them ALL the time! The BASIC BLACK LEGGINGS are a must, as are the HIGH-WAISTED, THESE MOTOS (I have the olive color, actually called Grey Urban on the site- so pretty in person!) and I just got THIS MIDI PAIR which are a new favorite! I also love a cropped legging for working out in warmer weather- THIS PAIR is my go-to! And how amazing is THIS STRIPED PAIR?! I own and love them!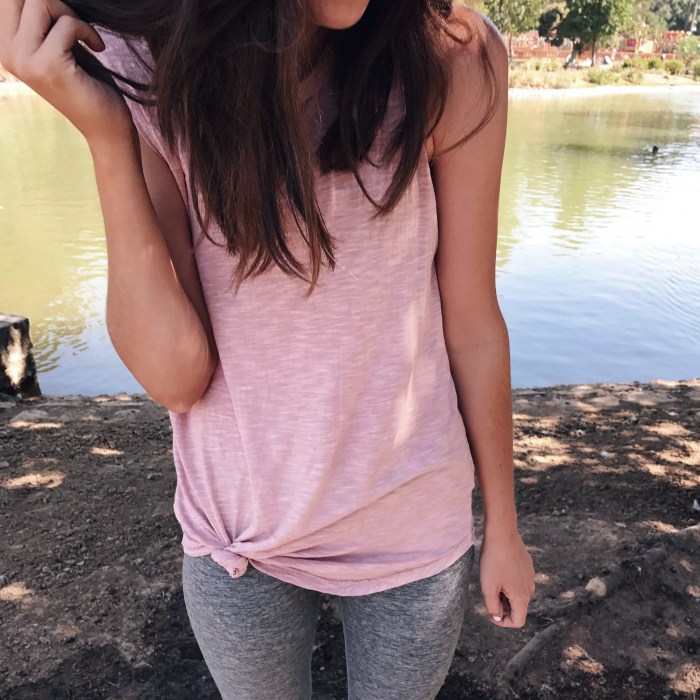 TOP | LEGGINGS
TOPS
For workout tops, I love them to fit loose. You will never see me in a form-fitting workout top, just not my style. I find the looser tops to allow me to move more and also look hella cute knotted to the side (kind of my go-to with my workout tops!). For more of an athleisure look (i.e. NOT working out), I'll just throw on one of my favorite basic tees: THIS ONE, THIS ONE, THIS ONE and THIS ONE. For tank tops, I love THIS ONE and THIS ONE. I own THIS TOP and it's my current fave for working out in and then grabbing coffee afterward! It transitions from workout to everyday life beautifully. Plus, the blush pink color is kind of my jam right now. THIS ADIDAS TANK is a classic piece that goes with everything.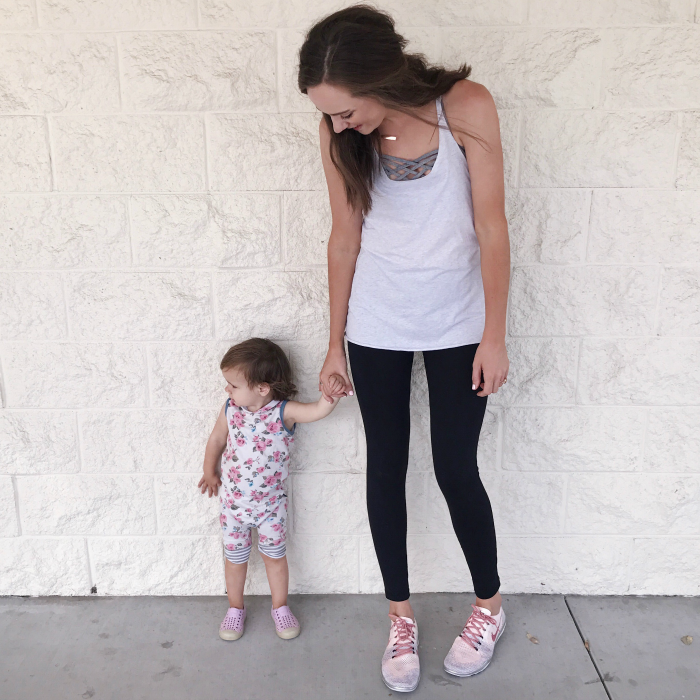 BRA | SIMILAR TANK (and HERE) | LEGGINGS | SHOES (ALSO HERE) | TODDLER SHOES | TODDLER ROMPER
SHOES
THESE are my current favorites (also HERE), but of course they are basically sold out EVERYWHERE. I'm usually a Nike girl through and through, and they don't get much more comfortable than these! I love THESE NIKE FREE'S so much that I bought another pair, because it feels like walking on clouds, which I think we can alllll get behind. THESE ADIDAS are some current faves as well- super cool to run errands in- I haven't used them to actually work out in and don't plan on it, but they are great "off duty" shoes! They run big, so you may want to size down- I got my normal size though and am happy with them! THESE are super comfortable and one sale for under $70 (and how cute is the grey?!), THESE are another fave of mine and the ones I work out in the most, and I am loving the gold on THESE ONES!
There you go! Some athleisure wear looks and pieces that I'm loving! I'll definitely be doing an updated post for the fall/winter, with more warmer and layering pieces! Hope you loved! Now go, and athleisure. Or something. ;)
xo