So the Oscars were last night, and I have to say, they were GOOD. Between the amazing performances by Lady Gaga (that girl can SING!) and John Legend/ Common (yes, it made me cry), the awareness brought to diseases including ALS and alzheimer's, suicide prevention, equality, and the genius hosting by NPH, it was just really enjoyable. Plus, the movies actually seemed good, which sometimes isn't always the case. Like, I actually want to watch all of the movies now. Although, my memory's probably failing me right now as I'm pretty sure this is the case every single year. So I guess we have some movie nights in our future. ;) Did you know I live tweeted last night? That was fun. I've got my highlights down below, plus my picks for Best and Worst Dressed. Let's do it.
/// BEST DRESSED ///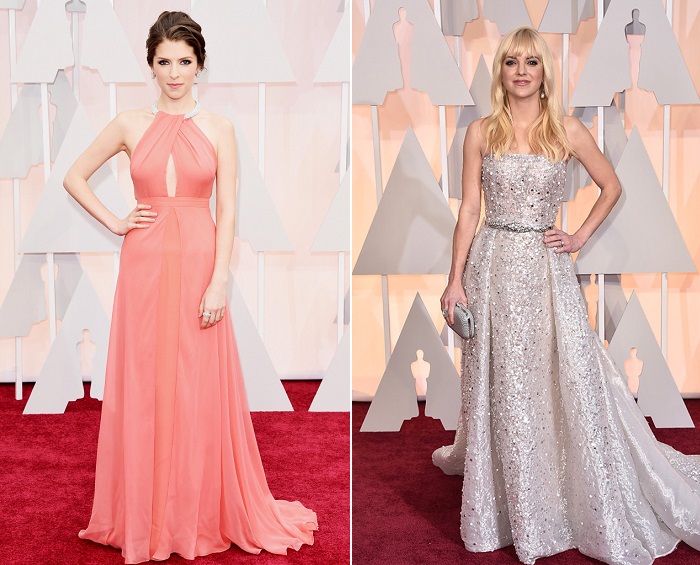 Anna Kendrick is absolutely STUNNING. I love the color, love the cut, love the elegance. It's just perfect.
Ana Faris! Gimme that dress NOW!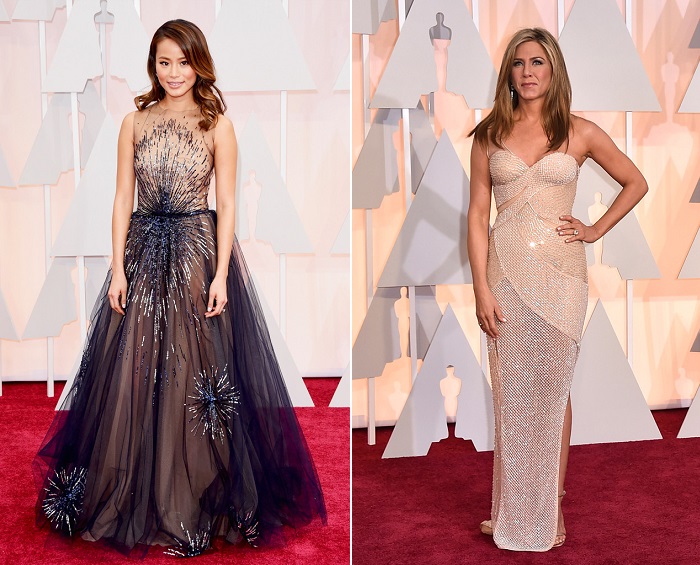 Jamie Chung. I'm obsessed with her gorgeous ball gown.
Jennifer Aniston does not age. And this nude gown is perfection.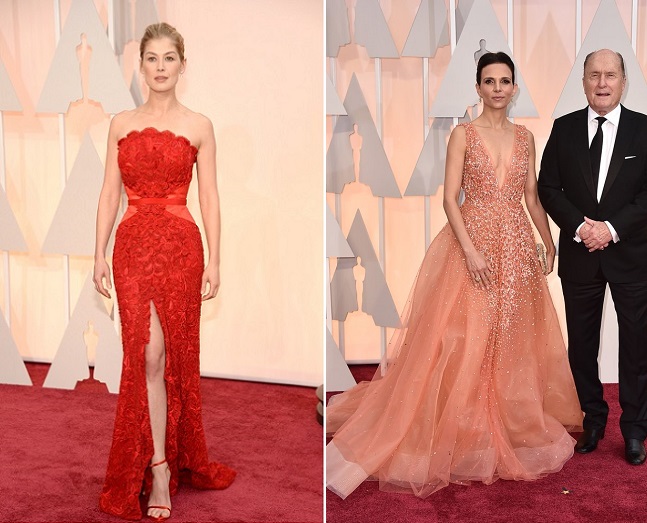 Rosamund Pike's red dress. So lovely!
Robert Duvall's wife's dress OMG. The sparkle! The color! LOVE it! (p.s. Zack called her "Roberta Duvall" haha)
/// WORST DRESSED ///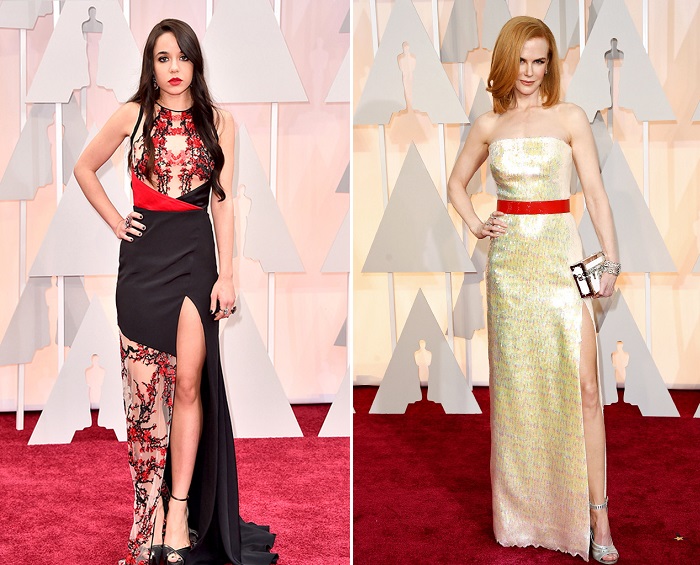 I just. I have no words. No.
Nicole Kidman, what is even happening here? The mismatched red belt. The shiny dress. MY EYES.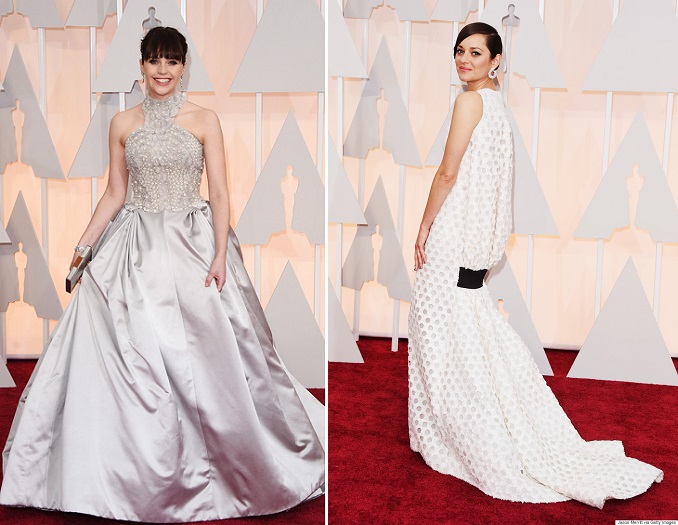 The front wasn't too bad on Marion Cotillard's dress, but THE BACK HAD SOME WEIRD BLACK BAR on it and it was just… not good.
I just don't get Felicity Jones' dress. I do love the bottom, but the color and the chain mail look? Not a fan.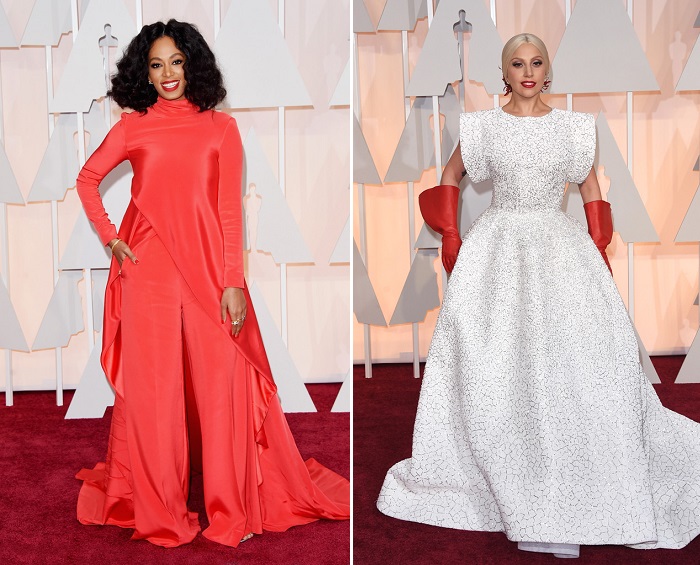 Lady Gaga always like to be prepared just in case she needs to do any dishes. You know how it is. Can't get those hands pruney! ;)
So I guess Solange Knowles just kind of rolled out of bed and wrapped her satin sheets all around her and was like "Well, this will do!"
And some highlights from my live tweets:
Who's that guy standing next to Faith Hill? (I don't think I've ever seen Tim McGraw sans his hat.)
"I think she's wearing an Alaia." An a-whatta?
OK if you're a man at the Oscars you're either wearing a dark navy suit with a bow tie or a black suit with a bow tie. #boring
Uhhhhh Khloe Kardashian is certainly no fashion expert. Whomp whomp.
Giuliana: "Khloe, any feelings on it?" WHO CARES.
Liam Neeson still needs to narrate my life… Gotta get on that.
Somebody needs to thank the Academy soon, or else I'm gonna be pissed.
RE: pockets. Dresses with pockets are EVERYTHING and I'd probably have my hands in them too because I never know what to do with my hands.
Meryl Streep walks in stage. Zack: "Who is this?" Me: OH NO YOU DIDN'T." #Oscars2015 (btw he was totally kidding. He knows who she is)
What are your picks for best and worst?
Have you seen any of the movies that won last night?
xo
(all images via eonline)