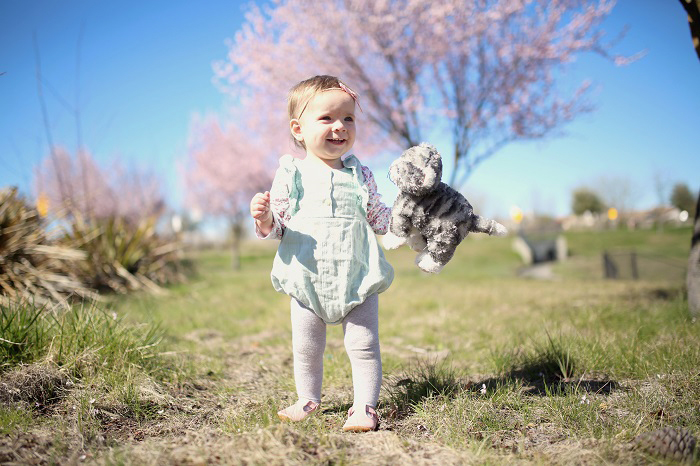 When we found out we were having a GIRL, I was elated!! Over the moon! Terrified (hey, a boy was all I knew!)! And so so so excited! And then I started to shop for her, and ummmm HI. Game changer. Shopping for both boys and girls each have their own perks, definitely, buuuut there's just something extra fun about shopping for baby girl clothes! My own little doll! :) I get asked this a lot, so I thought I'd share where I shop for Sophie's clothes!
I'd say, when it comes to little girl style, I like to keep it classic, whimsical and sweet. Just like my little girl. :) I love finding pieces that look more expensive than they are, but are also great quality and will last. I love mixing "heirloom" pieces with practical pieces, and also always, always keep in mind that she is a KID and kids get dirty. A lot. So, you know. My advice is to never spend too much on baby/kid's clothing. It's just not worth the heartache haha! And also, to always size up, simply because babies grow so quickly, so I personally like to get as much wear as possible out of their clothes!
So, where do I like to shop for her clothes:
Old Navy – I am always checking their inventory, because they KILL it with the cutest little pieces! I have found some of my favorite little outfits for her from here, and they always look way more expensive than they are! Score! The little outfit from our photoshoot here is from Old Navy!
Carter's – (Kohl's sells Carter's, and that's usually where I buy them, because they always have the best sales and coupon codes, plus Kohl's Cash, holla!). Carter's is another brand that we have a LOT of clothes from, because they tend to just "get it" as far as cute seasonal trends go. I love finding true gems, and the best part is the price, for sure! We also love their jammies- both fleece and cotton! Osh Kosh is another store that I like to find cute little trendy pieces, as it's super affordable!
H&M – I get asked ALL the time where I find her tights. 95% of the time, she's wearing tights from H&M. They are the best and I highly recommend them! Super great price, cute colors, durable. Can't go wrong! A word to the wise: H&M baby clothes run BIG. Like, really big. I always size down (which is hard for me, because my general rule in buying kid's clothes is to always size up!). Case in point: she is currently wearing 2-6 month in their tights, and she's 13 months. So, yeah. Good thing about tights, though, is that they are stretchy, so any size is pretty much good to go.
Beyond the tights, though, H&M has the CUTEST little two-piece outfits, leggings, sweatshirts, onesies and pants! I could literally spend all of my money here. So bad, but sooo good!!!
Baby Gap – Another given. I don't shop here as much as Old Navy, just because the pricepoint is generally higher and honestly it's the same company, soooo… Yeah. BUT. Shop those sales! ;) The cutest clothes, great quality and great sales! Sophie has this gorgeous peacoat that is the nicest quality! It's a favorite and will definitely be kept as an heirloom piece!
Nordstrom – I mean, are you shocked? They have everything! ;) The very first little headband Sophie wore, in the hospital, was this one– so soft and sweet, and such a great price! Nordstrom has the cutest little clothes, too. I love their selection of zip-up footies!
Zara – I don't shop here frequently, simply because I don't have unlimited funds (bummer, I know lol), but I seriously adore all of their baby clothes!! And they are great quality, too, I can attest to that. Their pieces LAST.
Rosie Pope – Did you know Rosie Pope has a baby line, and it's sold at Nordstrom? The cuuutest little clothes! I love her whimsical designs- definitely one to check out!
Hannah Andersson – Another quality brand who's clothing lasts! We got their matching jammies for Christmas and I'm thinking it's going to be a tradition, becauuuuse, who doesn't love matching?! ;)
ThredUP – Last but not least, one of my very favorite "best kept secrets" to find great clothes for the kiddos! It's an online consignment store, and they carry all of the brands that I love for the little ones, at a fraction of the price! Cannot. Beat. That. Oh, and I have found so many great pieces that are BRAND NEW, with tags! Score!! Definitely a place I check back on a regular basis, as their inventory is constantly changing. For kids, the brands I always search for are Baby Gap, Zara, Crewcuts, H&M and Janie and Jack. And use this link to get $10 off your first order!
I hope this was helpful for anyone looking for where to shop for toddler or baby girls! :) I'm also putting together a post all about shopping for BOYS (dun dun dunnnn) so look for that soon!
Where's your favorite place to shop for baby girls?
xo