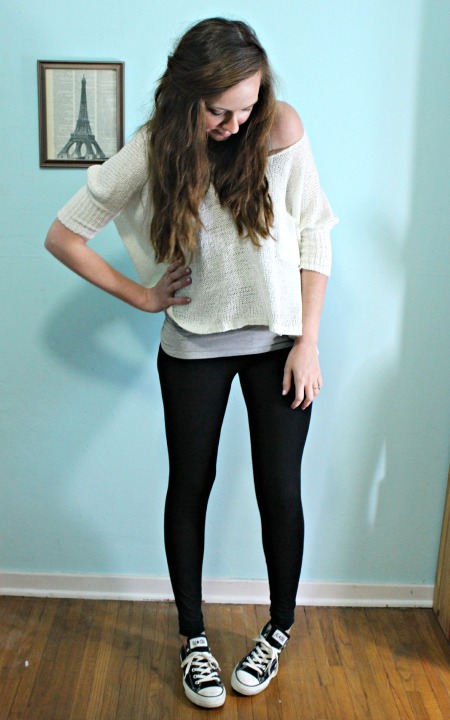 So, let's be real for a second here. Football is probably my least favorite sport. I've just never really cared for it, I grew up with brothers who played baseball, so that has always been the sport I like. The sport that I get. I've just never really gotten football, you know? And then I met Zack, and he loves all things sports, like every single one really, and I knew I was in for it. ;) So with his help, I have learned to enjoy football a bit more (I'll always like college football more than the pros because I mean, those guys get paid HOW MUCH to throw a football around?! You're joking right?) and I even get excited when we watch certain games. Sometimes. I mean, he's a SF 49ers fan, so I find myself rooting for them, because marriage happiness and all. You understand. We were pretty bummed around these parts when the 49ers lost to the Seahawks for a ticket to the Super Bowl, but hey. As sports fans say time and time again: there's always next year! ;) I'm getting off track here, though. Let's focus on what really matters in terms of the Super Bowl, and that would be: What to wear to that party.
My in-laws have an annual Soup-er Bowl party at their house every year (see last year's here), where we watch the Super Bowl and eat lots of yummy appetizers and my mom-in-law makes a bunch of different kinds of soup. Soup-er Bowl, get it? I think it's the cutest thing ever, not to mention delicious AND healthy! Score! But again, this is not what I'm here to discuss. I am here to discuss the all-important question of WHAT TO WEAR to said party. I broke it into three categories- Seahawks fan, Broncos fan (this is who I'll be rooting for! My bff is from Denver, so you know, plus I love me some Peyton Manning), and the "I Don't Care, I'm Just Here for the Food" category.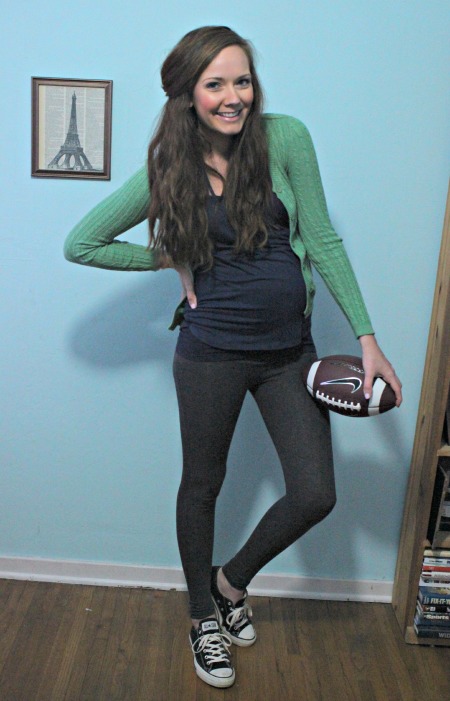 cardigan and leggings: forever 21 (old) // top: anthropologie (old) // shoes: converse (here)
SEAHAWKS FAN
Naturally, if you're a Seahawks fan, you grab some green, blue and grey and call it good! I went with some grey leggings (remember- comfort), and a navy top with a green cardigan. Easy peasy. The tennis shoes keep it sporty, too! And do I look like I know what I'm doing with that football? Because I don't. At all.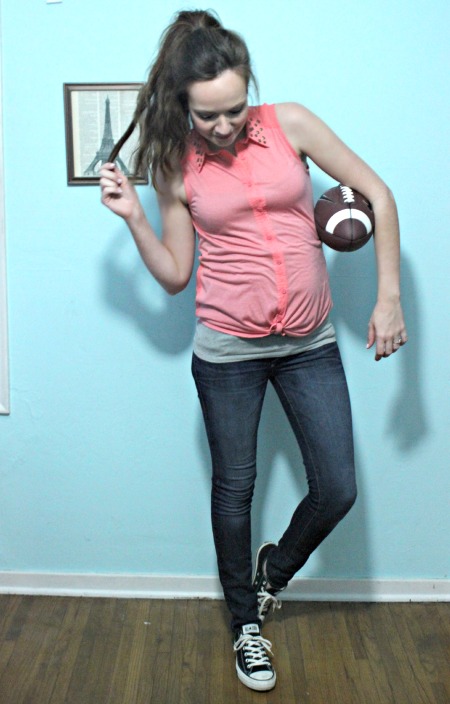 top: kohl's (old) // jeans: american eagle (old) // shoes: converse here
BRONCOS FAN
This one was a little trickier, since orange is not an abundant color in my wardrobe. So I chose as close to orange as I could, and it's close enough, in my opinion. Yeah, it's a coral top. But hey, you do what you gotta do, right? Plus, it's fun to be a bit more unexpected and use artistic license! The dark jeans are the perfect Broncos blue and who doesn't own a pair of jeans?! Exactly. Again, the tennis shoes are a must! Also, still don't know what to do with that football.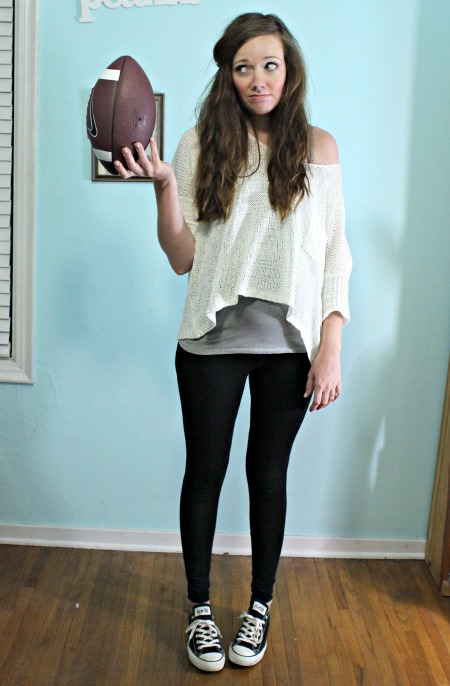 sweater: c/o oasap (here) // leggings: gap (here) // shoes: converse (here)
I REALLY DON'T CARE/ I JUST WANT TO LOOK CUTE
The last, and my favorite choice for what to wear to a Super Bowl party: The neutral outfit. There aren't any colors here, so as not to upset anybody, especially if you'll be at a party with people from both sides. You're Switzerland here. Don't forget that. And at this point, I just really don't get football. As seen by my face.
All outfits have one thing in common: They are comfortable. Because this is, after all, a sporting event, not prom. Dress accordingly, people. And most importantly, have fun! :) I recommend picking one team to "root" for, even if you fall into the "I really don't care" category. I've found it helps to get more into the spirit and you'll be surprised at how much fun you really have! Go team!
Do you like football?
Are you going to a Super Bowl party?
Which category do you fall under/ who are you rooting for?
xo