and I would walk 500 more
just to be the man who walked 1000 miles
to fall down at your door
I used to LOVE this song. I know every single word. The "duh duh duhhh" part is my favorite. (If you don't know what I'm talking about, you need to go to youtube and listen to this song. right. now.) I just heard it on the radio today, and came to the conclusion that I still do love it.
Zack and I went shoppingggg today! We exchanged his awesome Giants baseball hat that I got him for Christmas (cus it was too small for his gargantuan head… juust kidding pooh bear!!!) ((I'm the one with the big head, if we're being honest)), and got my ring cleaned (since we were there, we thought we might as well, right?!), got free samples of See's (yuuuum, I got my favourite– Scotchmallow– if you haven't had it, you NEED to try it. Yummy goodness of marshmallow and caramel with a dark chocolate shell mmmm HEAVEN), and I bought my wedding shoes (yes- again- the ones I ordered online ended up not being quite right in person… le sigh… it's okay though, these ones are so so pretty– I feel like a ballerina in them!), and we found his shoes, too! Yay!
Today was a très successful day.
And tonight will consist of watching Zack's best friend (and Best Man to be) play a game of dodgeball (he's in an actual league. Yes. I know.) Should be fun! Annnnd hopefully we're going bowling later! I promise, there will be pictures to document this night.
And since a post wouldn't be a post without a picture, I leave you with my awesome RUN DMC shirt: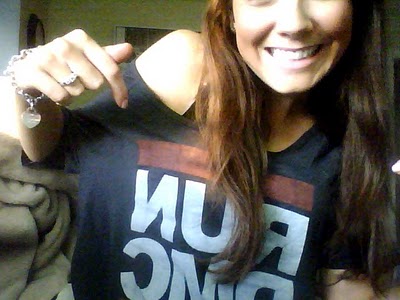 Read More on Katie Did What