I am obsessed with this song right now. It's kind of ridiculous how often I play it. Why must you make such catchy songs, Rihanna, whyyyy??
Another productive weekend/week!! Yay! Saturday was the Open House at our venue, where Zack and I went with all of our parents and ate lots of hors d'oeuvres (it was strictly for selection purposes, I swear…….) and drank some mimosas and sampled wedding cake and met our florist! It was a busy 3 hours!
I am so relieved to be able to say that we have officially booked all of our vendors for the wedding! And I couldn't be happier with each one of them. I am so so excited. Tomorrow, my maid of honor is coming over to make invitations! Then we're getting our hurr did together. (Cute, I know.)
I went shopping with my parents on Monday, which turned into an all day shop-til-you-drop extravaganza, which was AWE-SOME, hello! I absolutely LOVE hanging out with my parents, and it had been a while since we spent all day together, doing what we do best (yes, Zack now understands that shopping is a hereditary thing in my family—it is in my blood!!!) I'm not even joking. I got, like, 6 pairs of shoes. One of them being glitter heels for the rehearsal dinner and another being HOT PINK SPERRY TOPSIDERS! (for the honeymoon, of course.) SO excited to wear them. They are pretty much the coolest shoes I've ever seen. We had lots of fun. I'm just so thankful to God that we can have such fun, fulfilling days like that, and I know how lucky I am to have such wonderful parents.
I'll leave you with some pictures from dodgeball, as promised. I don't have any pictures from the actual game, because, well, to be honest, I was too busy protecting my face and flinching the entire time to try to take any pictures, and the ones I did attempt turned out way too blurry to make out exactly what was going on in the picture… So here's a picture of Zack and I before Dodgeball (notice the happy faces! I wasn't sure what I was getting myself into at this point):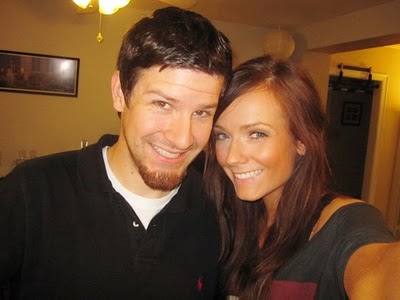 After Dodgeball, the boys came over and we played Wii Mario Kart! I represented the female population, and I must say, I held my own! :)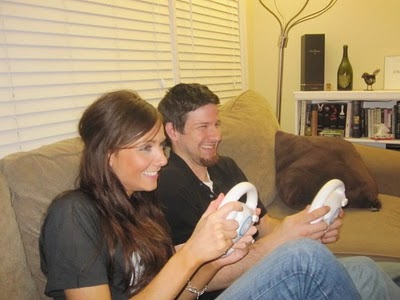 …And then I totally did the stereotypical thing and make sugar cookies, with lemon frosting, nom nom nommmm: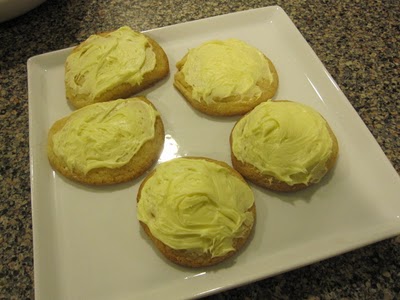 These three guys have known each other since high school, and Zack and Nicky (the guy on the left) have been best friends since kindergarten! Crazy! I love this picture of them, it pretty much sums up how they are all the time around each other, and I love it: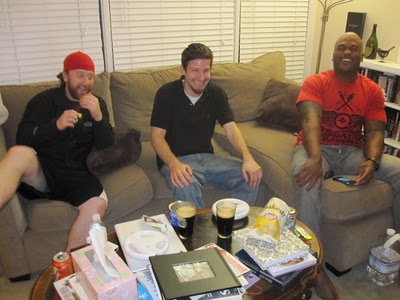 On a side note: Dodgeball is probably the most stressful event that I can imagine going to. I was scared and on edge the entire time. I had a real-life "my doctor doesn't want me playing any sports where balls fly at my nose" moment. (Clueless reference, thankyouverymuch.) But of course, Zack loves it, and so I have a feeling I will be dragged to many more of these games. Le sigh. At least they don't expect me to play! I. Would. Die.