This week has been such fun! My parents went on a mini-vaca to Yosemite for 3 days, so Zack and I house/dog-sat for them, which consisted of playing Wii and watching movies and "24" on their 54″ flatscreen, eating lots of yummy food, playing Scrabble, and enjoying the peace of their house. I love that place. It's the perfect "getaway" from the bustle of the city. And it was just what the doctor ordered.
Since Valentine's Day, the day of love, le jour de l'amour, is just around the corner, and since I was up at my parent's house and could take full advantage of my mom's Kitchen Aid mixer, I thought I would channel my inner Martha and conjure up some Valentine's cookies. They turned out ah-ma-zing! Perfect for heart day. (I packaged some up and gave them to my parents and Zack's parents, and of course left plentyyyy for us to devour. We just need to remember to save some for Valentine's Day!)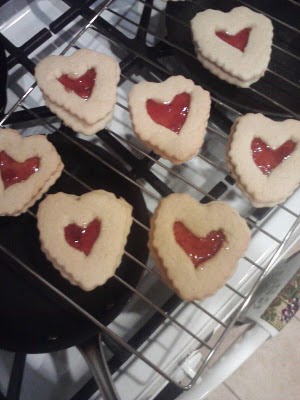 Just some of my lovely lil' heart cookies, cooling. Here's the recipe, if you'd like to try them out! They were a bit tedious, but that's Martha for you! Despite that, they were super easy to make, and the results are absolutely scrumptious. (They would have been less tedious had I had a small heart-shaped cookie cutter for the middles at my disposal, since I had to individually cut out little hearts in the middle of half of the cookies, using a butter knife!)
I went to the hair salon today, and got my hair did. I had dyed it a week ago, and was a little upset because I felt it was too dark, so I called the hairdresser, and he told me to come back in today, and we'd see what he could do, no extra charge. So I went in, and he put a clarifying shampoo in my hair, and worked his magic, and voila! C'est parfait! And can I just talk for a second about how PERFECT my hair is right now?! Why can't I get it to look like this all the time?! It's shiny and bouncy and he blow-dried it just right, and blaksdnfgi. Maybe I should go to beauty school? Just so I can learn how to blow dry my hair like this. Seriously. Is that ridiculous…?
My weekend plans include work tonight, celebrating Valentine's with Zack after work tonight (we're exchanging gifts, yay!), work tomorrow, and then DISNEYLAND ON MONDAY!!!! Yayyyy yayyy yayyyy! :) I can't imagine a more perfect way to celebrate V-day. :)