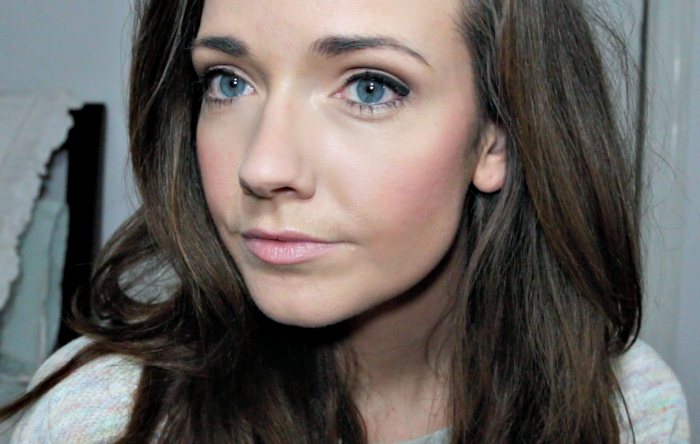 Hey guys! I posted my everyday eye makeup routine a while ago, but since it's always changing I thought it was a good time to post my updated routine! I'm not the only one who gets into a groove and does my makeup a certain way for a while, and likes to change it up from time to time, am I? I just find new products (or rediscover old products!) that I love and then create a whole new makeup look, and I tend to do this fairly often. Plus, it's always changing depending on the season or weather, too. So this is my "post-holidays, no fuss, fresh makeup routine" if you will. Yeah, I like the sound of that.
Okay, let's begin with products!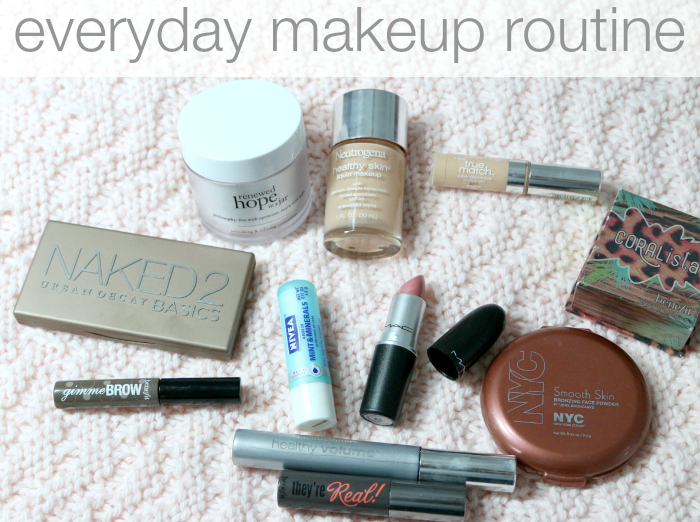 philosophy renewed hope in a jar moisturizer
[not pictured] garnier bb cream
neutrogena healthy skin makeup foundation in 30 buff
l'oreal true match concealer
benefit coralista blush
nyc sunny bronzer
mac lipstick in "angel"
nivea lip balm
neutrogena mascara
benefit mascara
benefit gimme brow
urban decay naked 2 basics palette
[not pictured] powder
[not pictured] elf cream eye liner
1. Before anything, I moisturize. Then I use bb cream as a primer. Some days, this is all I'll use, but for the sake of today, I'm also applying foundation. Then I dab concealer under my eyes gently, and on any spots that need concealing.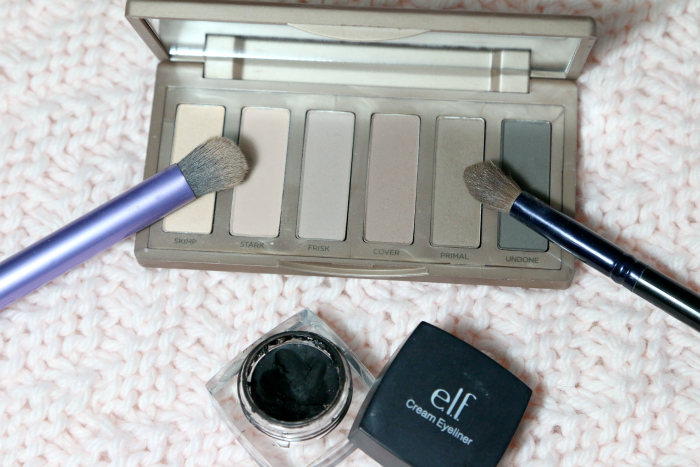 2. I let my face makeup set for a bit and move on to the eyes. I'm absolutely LOVING my naked2 basics palette that I received from my lovely mother-and-father-in-law for Christmas, and have been using the color "stark" for an all over base color, then going in with my crease brush and the color "primal" and creating a wearable (and daytime appropriate) smokey eye effect. I line the mid to outer upper lash line and then go up in a curve along the crease, with the darker color. Then some days I line my eyes ever so slightly and make a little baby cat eye with elf cream liner. Some days I don't. It depends on how much time the baby gives me. ;)
3. Next, I practice my best duck face and apply bronzer to contour, and also to frame my face, onto my hairline and my jawline, making sure not to forget my neck, too, so I don't look all tan-face-pale-body-ish. You know how that goes. Nobody wants that. Then I apply my favorite blush to the apples of my cheeks and sweep it back and up into my temples. If I'm looking a little shiny, which I totally was today, I take some translucent powder and cover the shine with a big fluffy brush.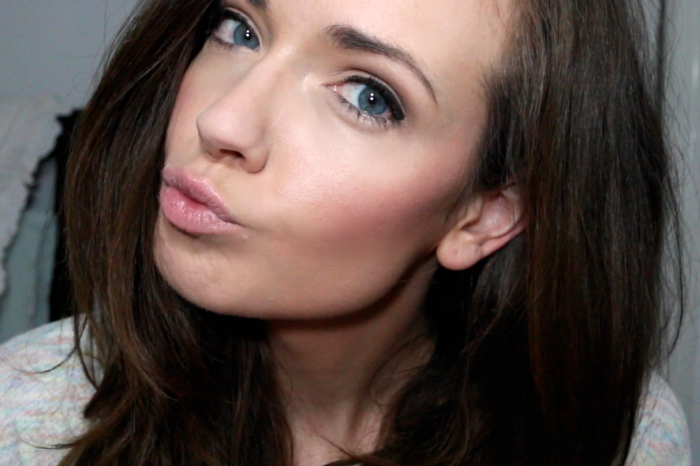 4. Eyebrow time! I just recently started filling in my brows, something that is SO HOT right now (and I get it!) with my beloved gimme brow by benefit. This stuff makes filling in your brows A BREEZE and SO natural- both important to me. Ain't nobody trying to look like Groucho Marx over here, mmkay? Then we swipe on some mascara- two different kinds for good measure because I'm like crazy and obsessed with mascara (two different kinds- neutrogena and benefit). Seriously. Sometimes, I don't know when to stop. It's a problem.
5. Now it's time for the lips! One tip that I learned that I'm passing on to you because I love you: Don't forget to exfoliate your lips! It's easy and you can do it with things you already have! Take your (soft) toothbrush and run it under warm water, then gently brush your lips in a circular motion. Boom. Exfoliator. Now stop spending moneys on expensive ass "lip exfoliating" crazy town products, already! You're welcome. Okay, so most days I just apply chapstick, to be honest, but today I was feeling fancy so I also put on my new favorite mac lipstick, because sometimes you just gotta feel fancy on a random Thursday, ya know? Ya know.
And for you visual learners out there, yes I filmed a quick video. :) I had some major technical issues with the sound, SO, I just put some fun music over it, hence the weirdness of my mouth moving but no words coming out. I swear, you're not missing much. It was a super rambly video anyway. I actually did you a favor- trust. I'm trying to incorporate more video here on the blog, mostly for myself because I want to get comfortable making them. What do you think? Yay or nay on the video front?
Thanks for reading! What's your makeup routine look like? Any products you've recently discovered that you recommend?
xo