top: tailor & stylist (
here
)
pants: f21
purse: h&m
sunglasses: gift from my parents-in-law :)
Today's Thursday, so I thought I'd share a few things that I'm loving lately. Because, well, because that's just the kind of day I want it to be. So. I'll number them since I like lists.
1. Family. That's a given, but still. They're invaluable. We went to lunch with my aunt and cousins and grandpa on Tuesday, and then my cousin Emily and I posed in front of some bear statues. Standard.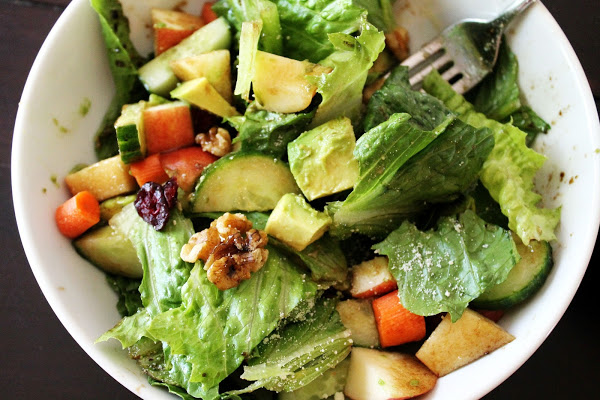 2. This is my current fave salad for lunch. I literally just load my salads with whatever we happen to have. This time it was romaine lettuce with carrots, avocado, cucumber, walnuts, craisins, organic fuji apple (the bestttt), and a sprinkle of parmesan cheese. For the dressing, I always just mix olive oil with balsamic vinegar, whisk with a fork and pour over the top. So simple, so healthy, and soooo delicious!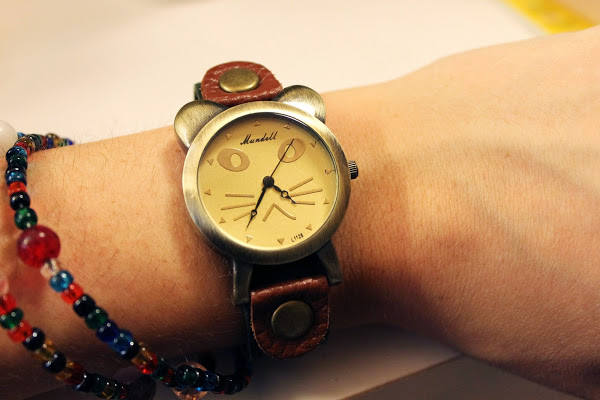 2. My bff and I fiiiiinally exchanged our Christmas gifts (I know) and look at the most perfect thing she found for me! A CAT WATCH. I about died when I opened it. Like, hi. Most perfect accessory ever? Um, yes.
3. I've seen a few tweets and blog posts about people being frustrated at always seeing fashion bloggers post outfits of unrealistically expensive clothing items. While there's nothing wrong with indulging every now and then, I much prefer to buy a lot of things at low prices! Zack told me about this site that he was promoting on his deal blog called ThredUP so I checked it out and I have to say I'm pretty obsessed. You get high-end clothing for cheaper prices because most of the items are gently used. It's like Crossroads or Plato's Closet, if you've heard of those. Kind of a high-end consignment store. Anyway. I just made a purchase last night and I was so excited! I found J. Crew Pixie pants (regularly $89!) for $12! Say whattt?! I'll share my whole order when I get it! They have J. Crew, Ann Taylor, Banana Republic, and more! At first, I got kind of frustrated, because I mean, it is like a thrift store online (but nicer) and so you do have to dig to get to the good stuff (also reminiscent of Forever 21, am I right?!) But there are some real gems to be found! Go HERE to check it out and make an account and you get $15 off your first order with code LADY15 at checkout! The code expires tomorrow, so hurry! That seriously means you can get $15 worth of clothes for F-R-E-E! My favourite word. ;) What's even better is that you get $10 of store credit for everyone who signs up with your link and makes a purchase! That could add up.
4. Katie of
Lovely Lady
. She made my entire week with her sweet post about me (
here
!). Seriously, she had me in tears- happy tears! I just love this blogging world and all of the amazing people I've met through it. Thank you, Katie, for making me feel extra loved. :)
Would you consider yourself a bargain shopper?
What's your favourite salad?
What'd you have for lunch today? I'm taking ideas ;)