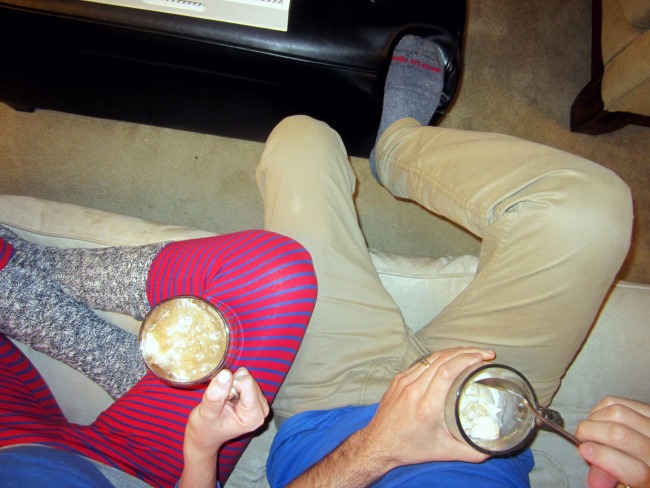 {rootbeer floats}
I can't believe this season of The Bachelor is coming to an end! It was quite the roller coaster of a season for me, as I started off loving Juan Pablo, and then quickly hating him, and then after his tiff with crazy Andi I – boom!- like him again! Go figure. Crazy ride, ABC. Way to go. Last night's episode was the beloved "Women Tell All" and so. Let's get into the man quotes. In case you missed the last posts, you can read them here and here.
Sean: "We have it all on video so we can one day show our kids our journey."
Zack: Wait. You're about to show your kids The Bachelor?! "Daddy, why do you keep kissing all these girls?"
Zack, randomly after we've been listening to Sean and Catherine talk for a while: Wait. What's happening right now?!
Chris: "Let's introduce the ladies!"
Zack: Who are these people?! Is this from last season?
-Chris Harrison introduces Sharleen and the audience starts clapping-
Zack: Why did Sharleen get claps?
Andi: "It's nice being attracted to someone, but anyone who wants a long-term relationship realizes you need more than looks."
Zack: Yeah, they usually realize that before you did.
Girl: "He asked me where do you see yourself in 5 years and then the next conversation we had he asked me where I saw myself in 3 years…"
Zack: He wasn't satisfied with your 5 years. He was giving you a chance to reconsider.
Chris: "When we get back, Sharleen is going to join me here."
Zack: Might as well fast forward through that.
Kat: "All he talks about is being fair and then he goes around and changes every rule that he makes."
Zack: That's called making the rules.
Andi: "He was attracted to Clare."
Katie: WAS?! She's still going!
Zack: Unfortunately Andi is going to be the next Bachelorette. Put me on record saying that.
My personal recap: So. Much. Bitterness. And also, I don't want Andi to be the next Bachelorette (not a fan) but I have a feeling she will be. Chris was kind of setting her up for it. Boo.
What'd you think?
Who do you think the next Bachelorette will be?
Also! Predictions on which girl he picks? I'm thinking Nikki. Zack says Clare/Sacramento.
xo