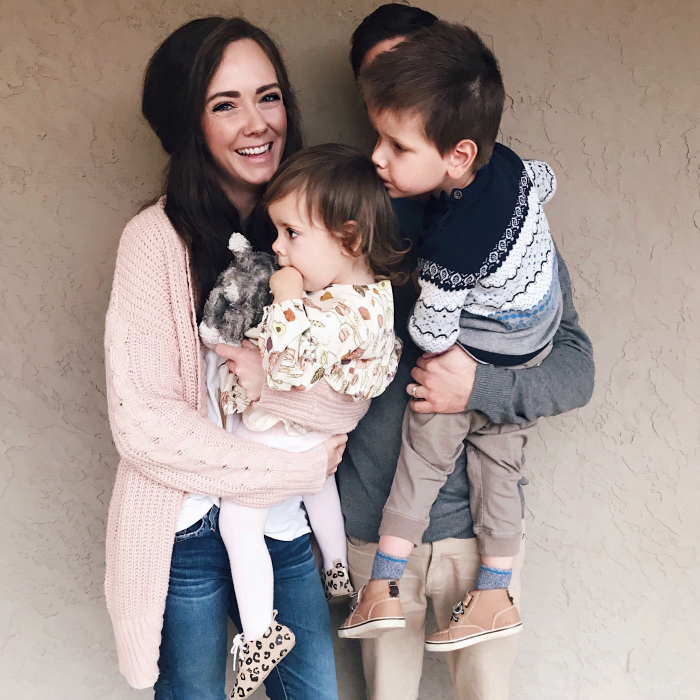 SWEATER | TEE | JEANS | BOOTIES
Oh, hey there! It's been a little while since an ACTUAL blog post (non-sale-related!) and honestly it feels GOOD to be back! But I feel like there's so much to catch up on! We had QUITE the week last week, let me tell you. If you follow along on Instagram, then you already know: we ended up in the ER on Monday morning, and then had a whirlwind week of busyness. Let's start at the top, shall we?…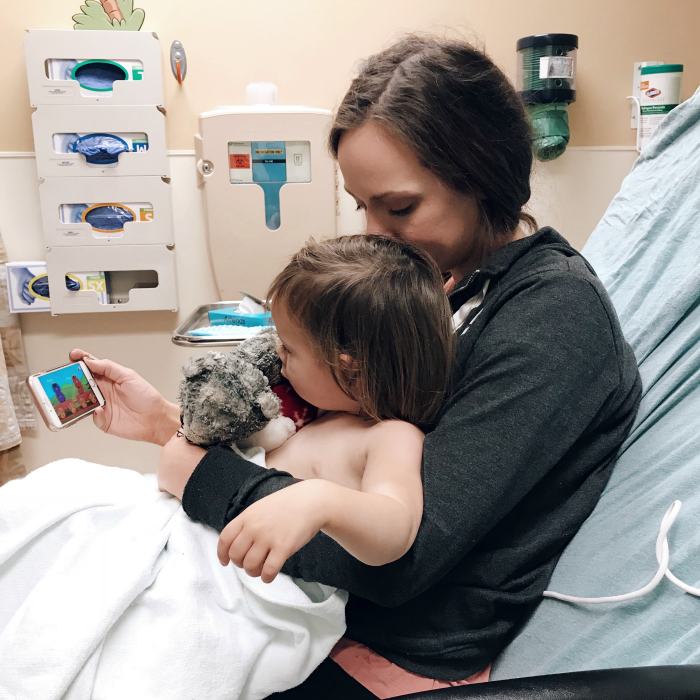 So, last monday did not go as planned… Sophie was on a toy car on Sunday, while Zack and I were gone in San Francisco for a friend's surprise birthday, and she fell off of it smack into the corner of our deck, falling right on her sweet face. It was swollen but not bad, so she went to bed fine and didn't seem upset or in pain. Monday morning, I went in to get her and the whole right side of her face was swollen, her eye nearly swollen shut. I can't even tell you how I felt- panic struck. I was running around, trying to think straight, and get what we needed in order to head to the hospital. Thank God for our sweet neighbor, Ashley, who came over right away to bring Sam to school (seriously, what would we have done without her!!!), and Zack and I took Sophie to the ER. We waited all day for a CT scan, and finally learned that there were no broken bones, her brain was perfect and not at all affected, and everything was beautiful and just as it should be- just a whole lot of swelling and a bad black eye and bruising. Praise Jesus- He has her in the palm of His hands! She was her normal sweet self, chatting to everyone the whole day. It was rough, but finally we were home by 7pm. She is such a strong and brave little girl! I am so proud of her. All of the nurses and doctors were so amazing, we are so blessed! And goodness, it could have been so much worse- Sophie's got some angels watching over her, that's for sure!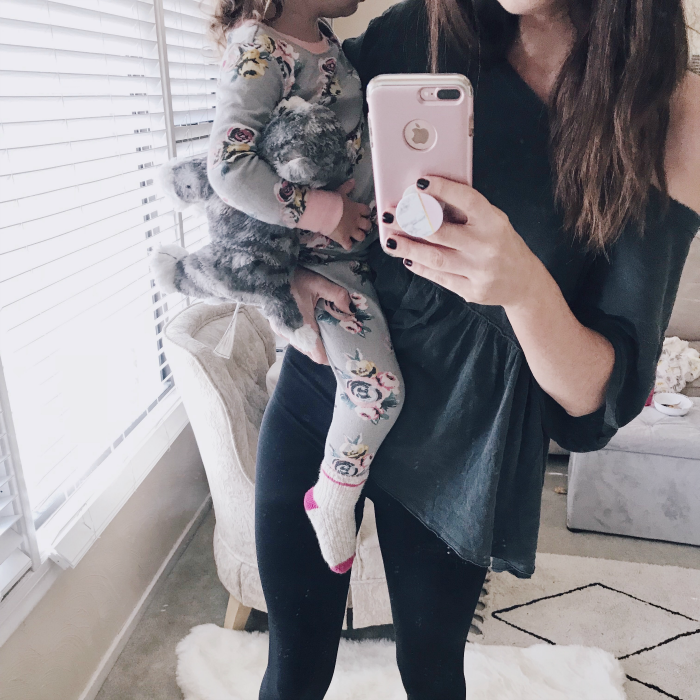 TOP | LEGGINGS | PJS | POPSOCKET
So the rest of the week was spent recovering, watching LOTS of cartoons and basically Sophie getting whatever she wanted. ;) The life, right?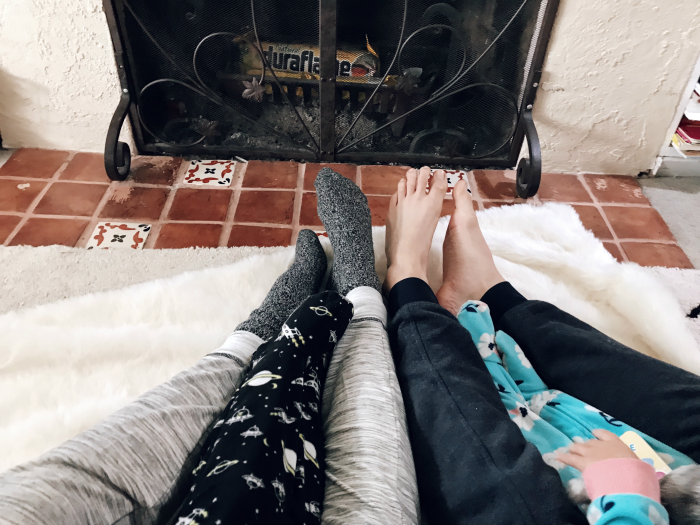 And then Thanksgiving came. And we did the usual traditions: watched the parade followed by the dog show, I made my specialty: brussels sprouts, we snuggled on the couch and soaked in the official beginning of the holiday season. Then we went to two celebrations (my aunt's house at 3 and Zack's aunt's house at 6) and came home, put the kids to bed and watched Christmas Vacation (one of my favorite traditions!) while working on Black Friday stuff! It was a long, full, exhausting day. And it was beautiful.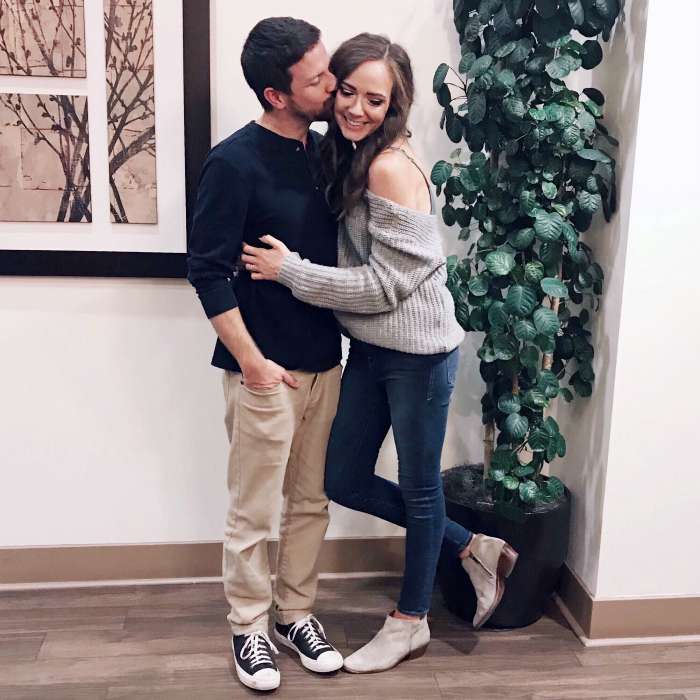 JEANS | BOOTIES
And this week, we are finally, finally, FINALLY getting back into some sort of normalcy. Gosh, I never realize how much I strive on routine until I'm completely thrown off of it! I'm back on track with working out each morning in the park with Stroller Strides, play dates with Sophie, Sam back at school (he was SO excited to be back!! I love how much he loves his preschool!) and healthy eating! Good to be back. ;)
I hope you had a great Thanksgiving, friends!! I'm so thankful for a lot, but one of those things is all of my readers- YOU!- for supporting me and my family! It means the world.
xo