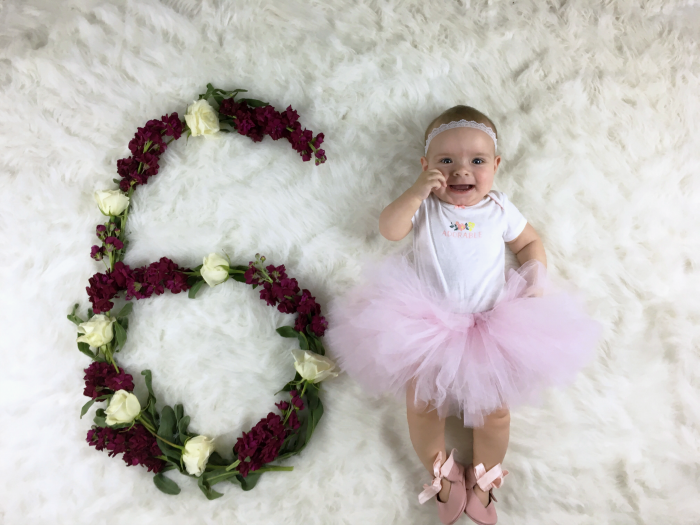 I really cannot believe it this time. Sophie Michelle turned 6 months old (on the 14th)! How did that happen? Where did the time go? How is it possible we've already had our angel girl in our arms for half a year?! Ohhh but I wouldn't have it any other way. I can't even tell you how much joy and light our little flower brings us!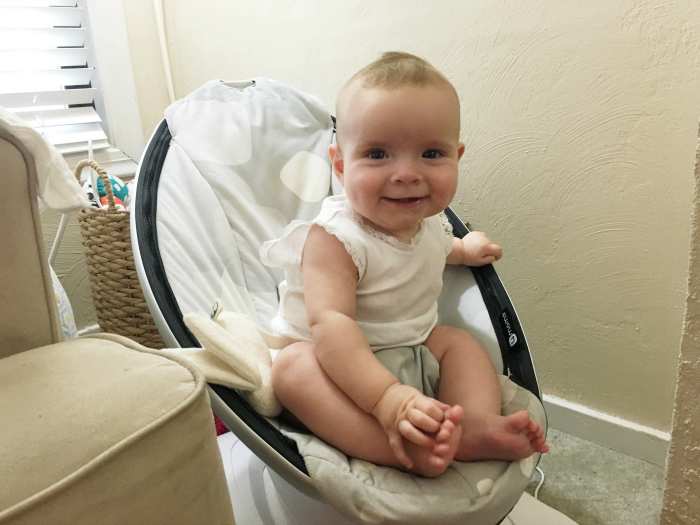 Sophie is just the sweetest baby. She has a smile that will make you forget any care in the world, at all. Those dimples of hers!!! Ugh, I'm in love.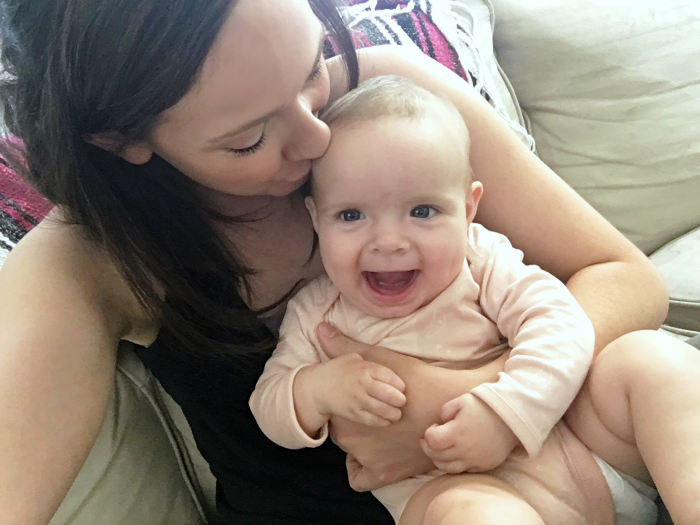 She is experiencing some major stranger anxiety at the moment, and has for the past few weeks. Mama is her number one, and a feeding sesh is the cure for anything that ails her. Daddy is her second fave, but even he has a time limit. Everybody else? They get roughly 10 seconds before she needs to be passed back to Mama.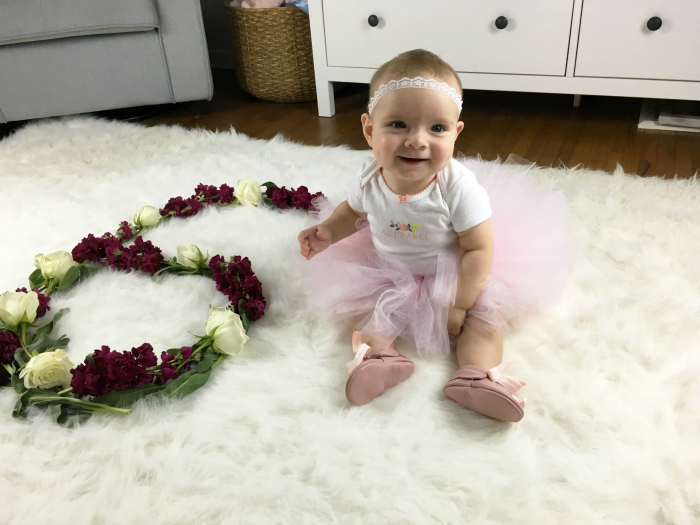 She is sitting up much better, and can stay up without toppling over for longer and longer! Then she just sloooowly sinks down to the ground haha. It's so cute! And when she's on her tummy, she kicks her little legs so hard- you just know girl wants to MOVE!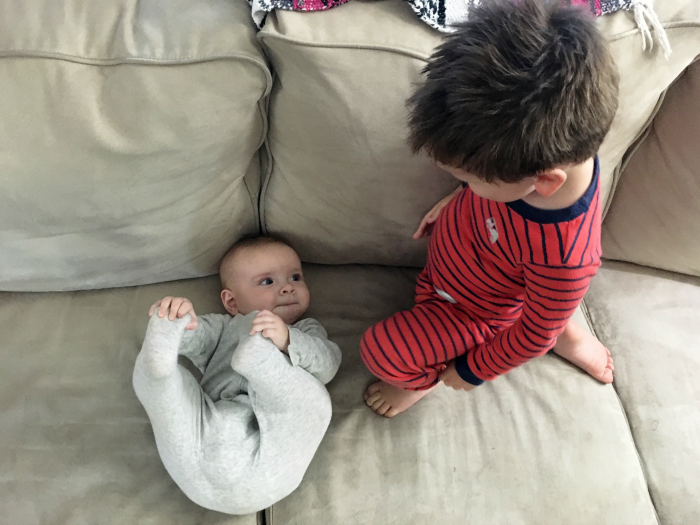 She has found her thumb and it looks like we have another little thumb sucker on our hands! Sam sucked his thumb until he got a really bad cold around 18 months and couldn't breathe through his mouth, thus weaning himself accidentally of thumb sucking! I ain't mad about it. It's so darn adorable anyway. :) And yay for self-soothing! Makes for a much better night's sleep!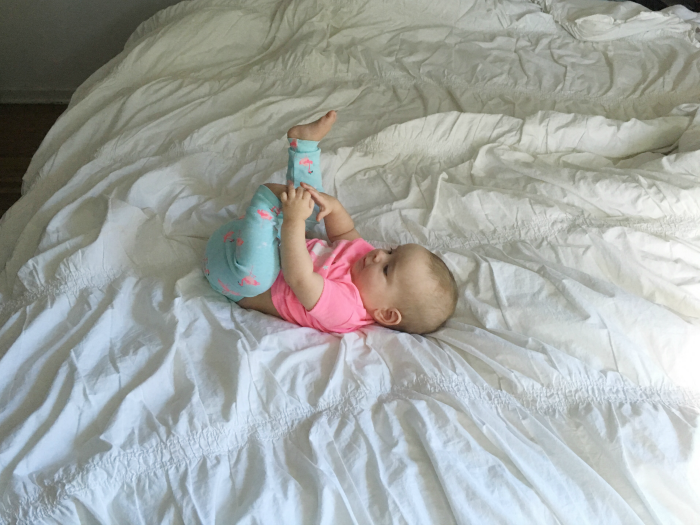 Speaking of sleep, this girl is STILL sleeping incredibly well! Hallelujah for that! She usually wakes once to eat, sometimes twice. It's glorious. Sample of her schedule at 6 months:
8:30- wake and eat
10:00- nap
11:00- wake and eat
1:00- nap (this one's usually her longer nap, about 2-3 hours!)
3:30- wake and eat
5:15- nap
6:30- wake and eat
7:30- bath (every other night or so)
9:00- bedtime feeding, jammies, lotion, read books, sing
9:30- bed!
2:30- usually wakes to eat and right back to bed, sometimes wakes again around 5, then back to sleep again until morning!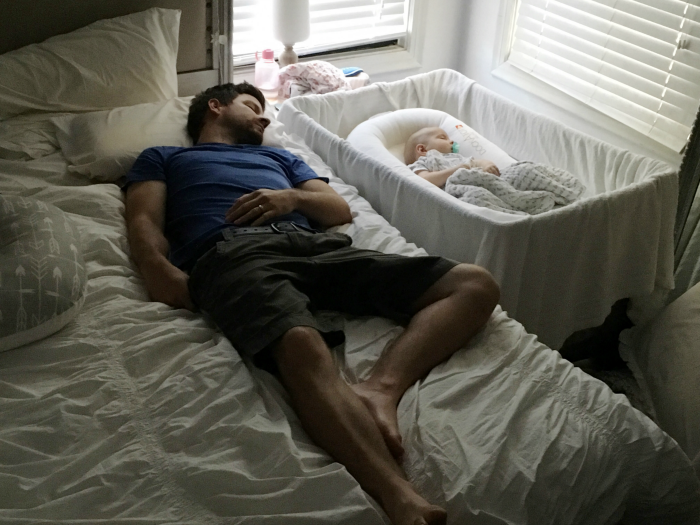 She still sleeps in her dock-a-tot in a pack n play next to our bed (she grew out of her bassinet, sad face). We are NOT ready to try to have the kids share a room (especially since Sam has been sleeping terribly lately) so it looks like she won't be moving out of our room any time soon! By this time, Sam had already been in his crib in his own room, so I want that for her, but it just isn't possible right now… Until we move to a bigger house, of course! ;) Besides, her being right next to me makes the nighttime feed(s) much easier and smoother, and she's a really good independent sleeper as it is, so I'm not worried about her. :)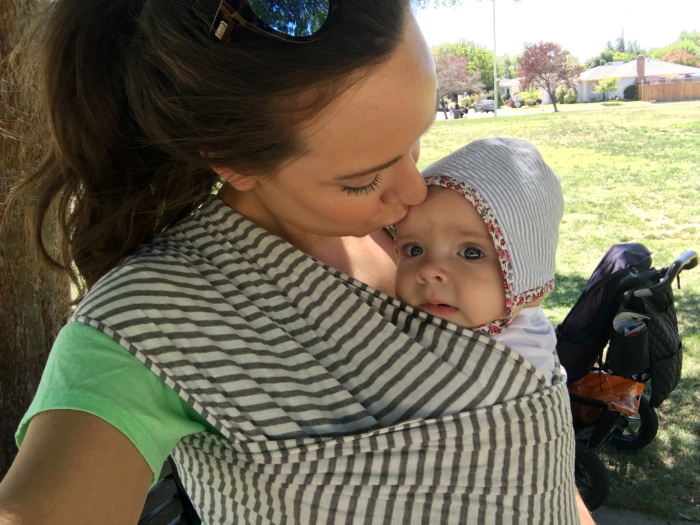 She is my little koala bear and her favorite spot is right on my hip. She gets fussy if she's on the ground/in a bouncer/anywhere else for too long, and really just prefers to be held by me. I remember my mom always called me her "koala bear" too for the exact same reason. :) Makes me smile, and feel like she's here with us.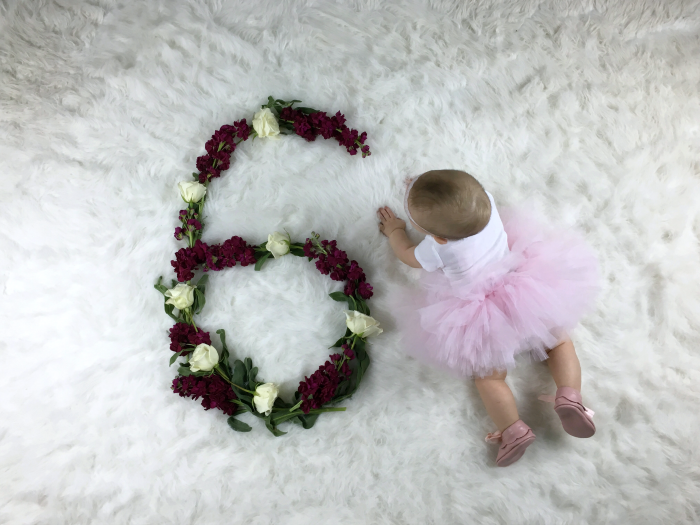 Sophie Michelle, my darling girl! You are so very loved. I hope you feel that, all the days of your life.
xo
p.s. For fun, here's Sam at 6 months!