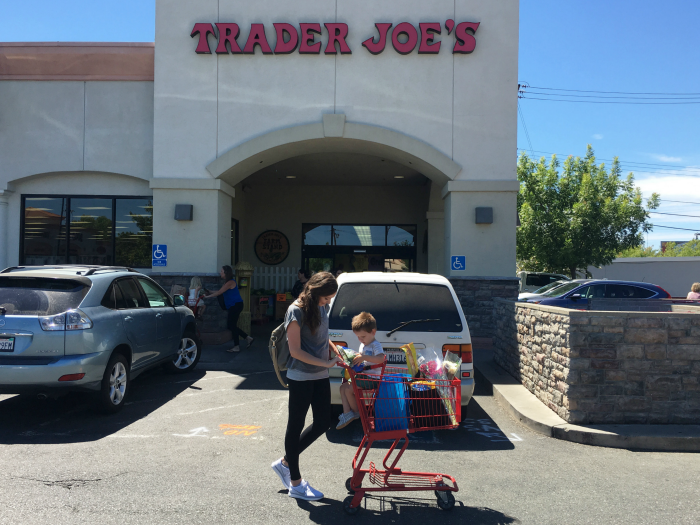 So, I looooove peeking inside people's shopping carts. It's just fun to see what other people buy, isn't it?! Tell me I'm not alone on this! I hope not, because today I'm doing something a little different and sharing what I get at Trader Joe's!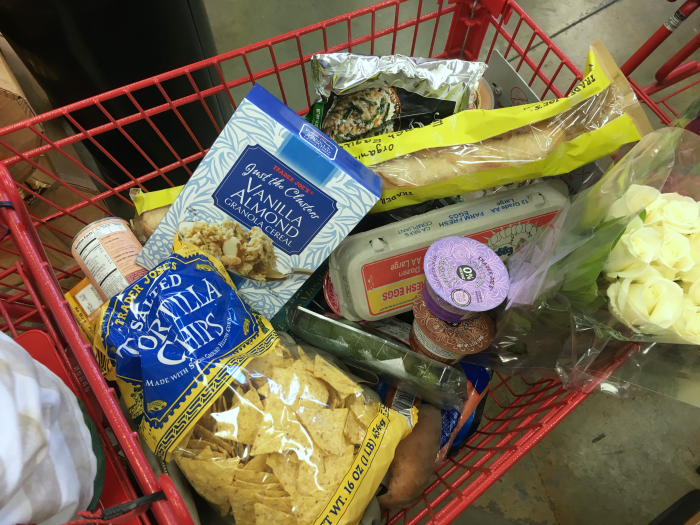 TJ's is one of my faaavorite grocery stores. Their food is fresh, delicious and a great price! Plus, they have really fun things unique to only them, which makes for a really fun shopping trip! We always like to try something new every time we go, and their seasonal things are especially cool (pumpkin everything in the fall, peppermint deliciousness in the winter, etc). SO. Let's get on to what we buy on a regular basis, pretty much every time we go…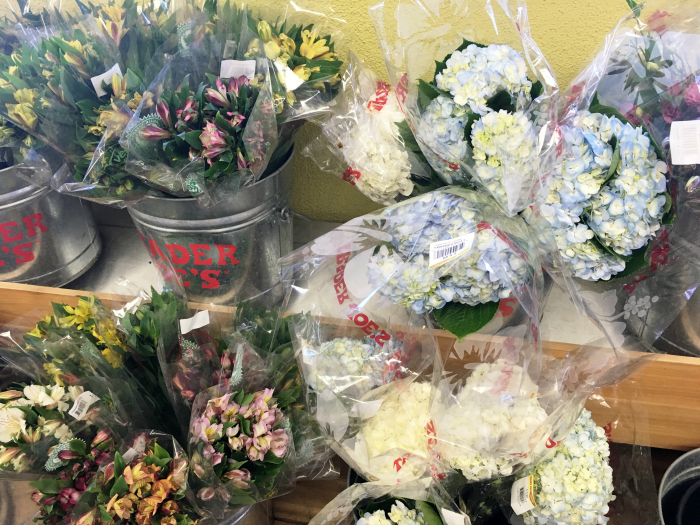 FLOWERS! Okay, their selection is always so pretty- I could stand in the flower section for hours picking them out. I never leave without at least one bouquet of fresh blooms! I get asked a lot where I get the flowers I use for Sophie's monthly photos– they're always either Trader Joe's or Costco! The selection and the price are hard to beat!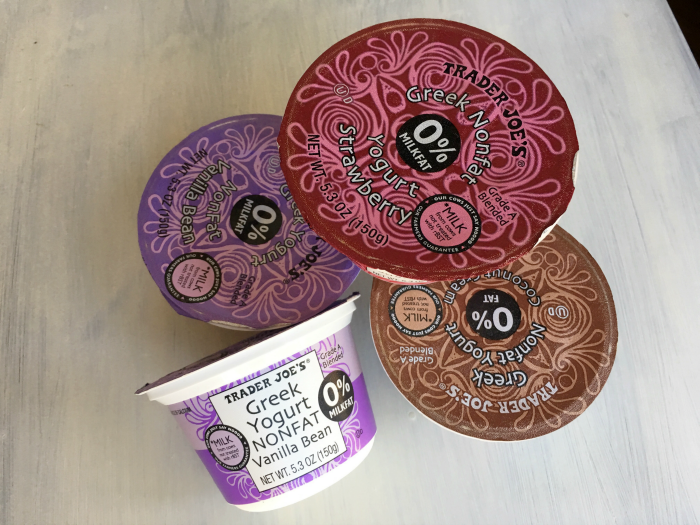 Greek yogurt! Their Greek yogurt is one of our favorites! It's smooth and delicious and comes in a few great flavors- vanilla, strawberry and coconut being our top picks. I also loooove their almond milk- it's my favorite, ever.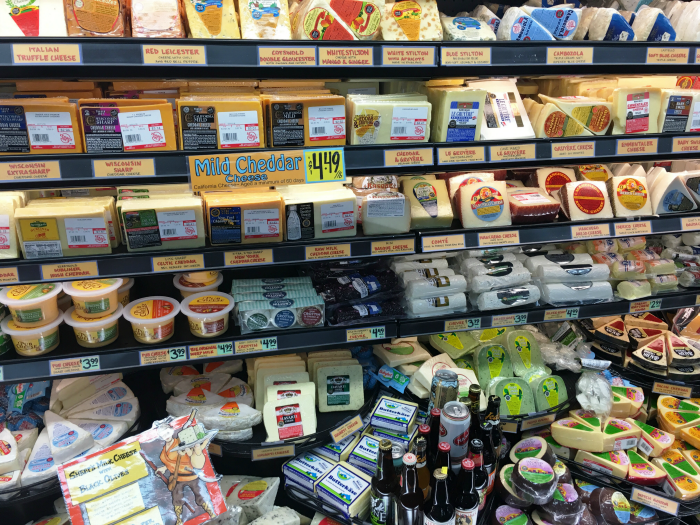 CHEESE. They seriously have the best cheese. I like to try out new kinds, but also stick to our faves: brie, monterey jack and dubliner.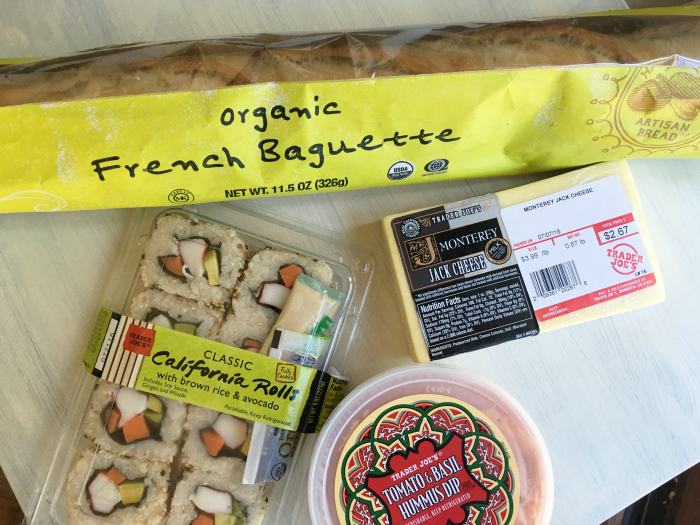 Baguette. To go with the cheese of course!
Hummus. So good with veggies or crackers or the baguette. Such a great, healthy and easy snack! Sam loves it too. :)
Sushi. Okay, so this particular one isn't my fave (the brown rice ruins it for me, oops) but they do have some really good ones! Makes for a nice snack or part of a lunch.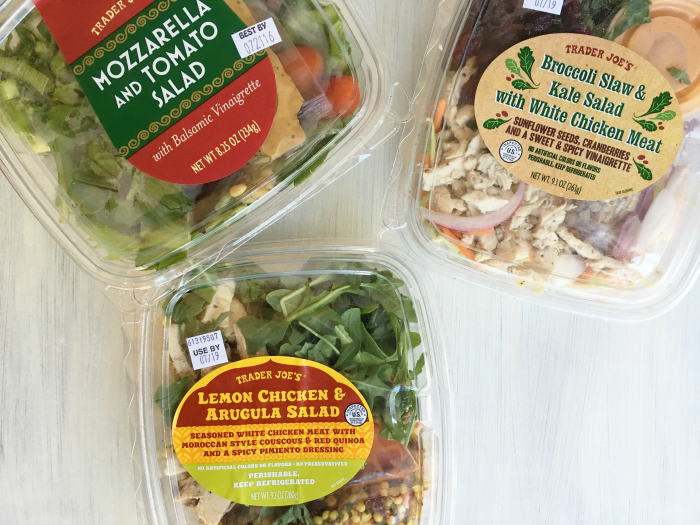 Okay, I never leave without some pre-packaged salads. They have an awesome selection (another section I could peruse for a loooong time!) and I like trying new ones. Buuuut that lemon chicken and arugula salad up there? THE BEST.
Granola. If you haven't tried this, you need to. I love munching on it as a quick snack, or for an easy breakfast when I don't have much time. Really yummy with the almond milk!
Some pantry items we love: salsa (it's so good! we love the red one!), hot sauce, coconut milk, shredded coconut and whole wheat pasta.
Frozen food we love: asparagus risotto, channa masala (all of the Indian food is so good!), frozen sides (they have one with kale and quinoa that is amazing and Sam devours it every time!) and pizza!
And last but not least, CHOCOLATE. The dark chocolate bars are always right by the register, so naturally I never forget to pick up a couple. ;) I love having a few pieces for a late dessert. So good. Plus, dark chocolate is good for you! ;) And two words: Cookie. Butter.
Do you shop at Trader Joe's?
What are some of your staples? Anything I need to try?!
xo