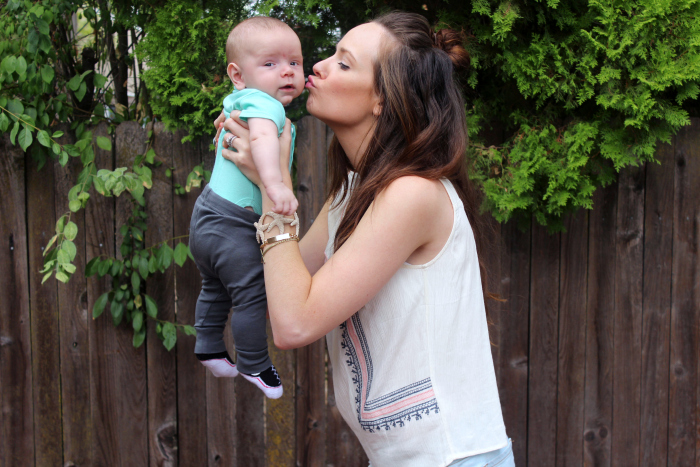 This week was a momentous one in the Reyes household! Samuel rolled over, at just four days shy of 4 months! And after he rolled over for the first time, he rolled over again! Both times from back to front. And we got the second time on film, yay!
Sam Rolls Over! from Katie Reyes on Vimeo.
Also, we started watching Revenge on Netflix and okay, I am officially hooked. Why did I not know about this before?! It is sooooo good, you guys. We initially tried to start watching Game of Thrones, but then it was too loud (Sam was sleeping) and heads were rolling within the first 5 minutes and so I don't know. It was just too much at the time. I guess we didn't give it enough of a chance, and we're definitely going to try again at a later time because everyone always says how good it is, but for now, we're going with Revenge. And it's awesome. So yes.
We've got a busy weekend planned. Family parties on both days, oh my! Let's hope our naptime/bedtime schedule doesn't get too messed up here. Thankfully both parties are in the afternoon, so we can continue our baby steps toward figuring out bedtime. Which, by the way, is still somewhat disastrous, but I think might be improving slightly? Maybe? Hopefully? We'll see. At least he naps well. I'll take it.
I hope you have a fun weekend! Come back tomorrow for a new Photos from My Phone post! And pretty soon, those photos are going to be looking a heck of a lot nicer, beeeecause I just ordered a brand spanking new iPhone!!! *lots of squeals* so yeah. I'm excited. First iPhone over here. :) Annnd welcome to 2014, Katie. I know.
xo
p.s. Don't forget to enter the $100 Riffraff giveaway!