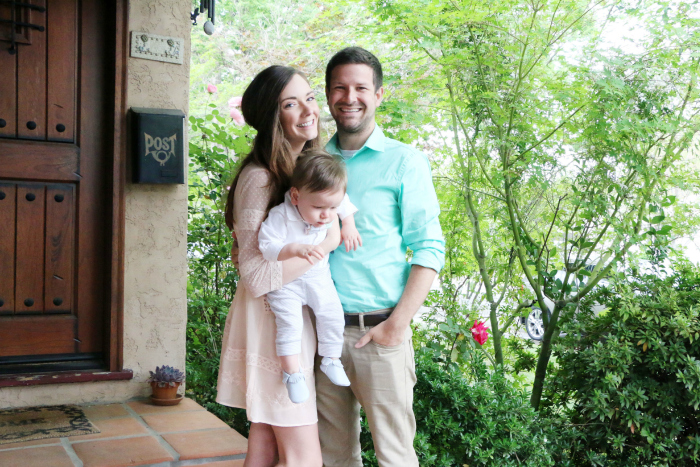 dress: nordstrom
Since last year we had a 9-day-old on Easter, and were too exhausted to partake in any festivities except for hanging out at home just the three of us, this year was dubbed Baby's OFFICIAL 1st Easter! ;) He went on his very first egg hunt and wore his cute little bow tie to church and ate some mashed potatoes and got loved on by a lot of doting family members. It was a good day! A full day, but a good one.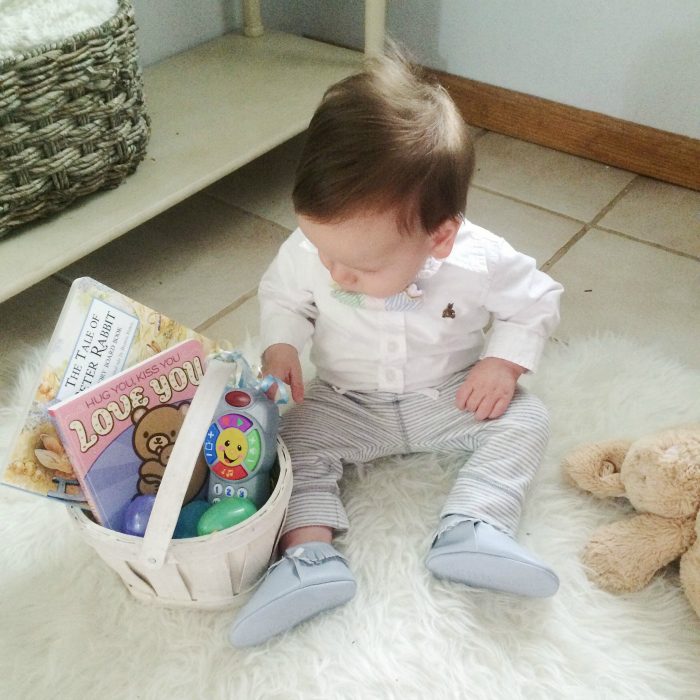 It's so fun making a little Easter basket for Sammy Sam! We always got a book in our baskets, so I have carried on that tradition. I thought Peter Rabbit was especially fitting! And this little remote is so hilarious. The song it plays is ridiculous. "I've got a remote, and I'm ready to roll. Making things happen, 'cus I'm in control!" Zack says he's going to start singing that song every time he has the remote.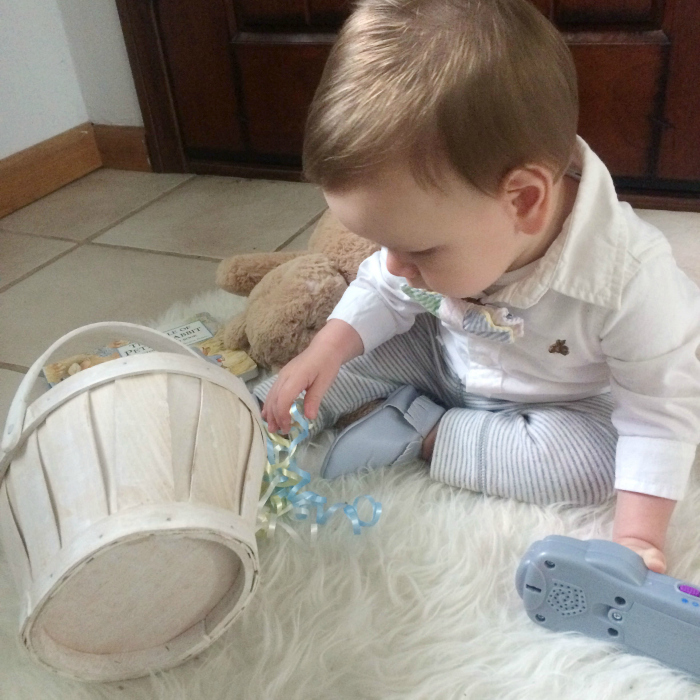 We started the day by going to church, in our Sunday best, where Sam charmed all the ladies in the nursery. ;) Then we came home and Sam got in a nap and we changed for "Phase 2" aka Comfortable Clothes Time, and headed to my grandpa's house for an egg hunt and foooood. After that, it was off to Zack's parent's for his family's get together, and, you guessed it, more food! Because what is a holiday without copious amounts of food?! It was a longggg day, but our hearts (and stomachs, ha!) were full for all of it!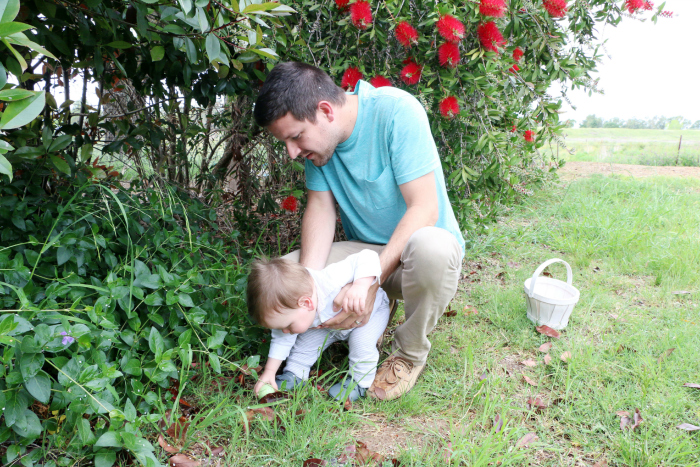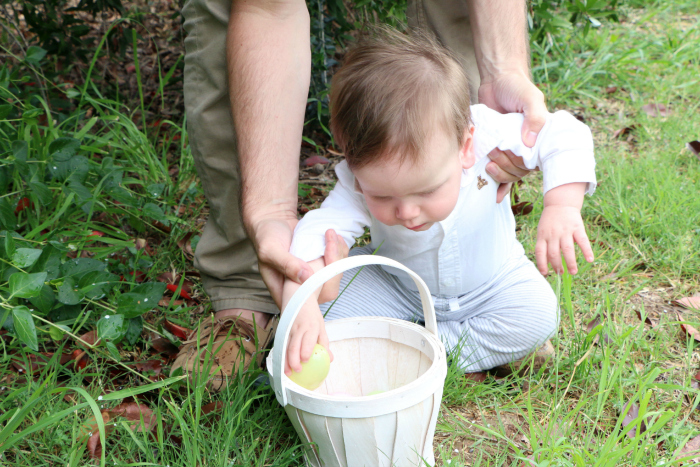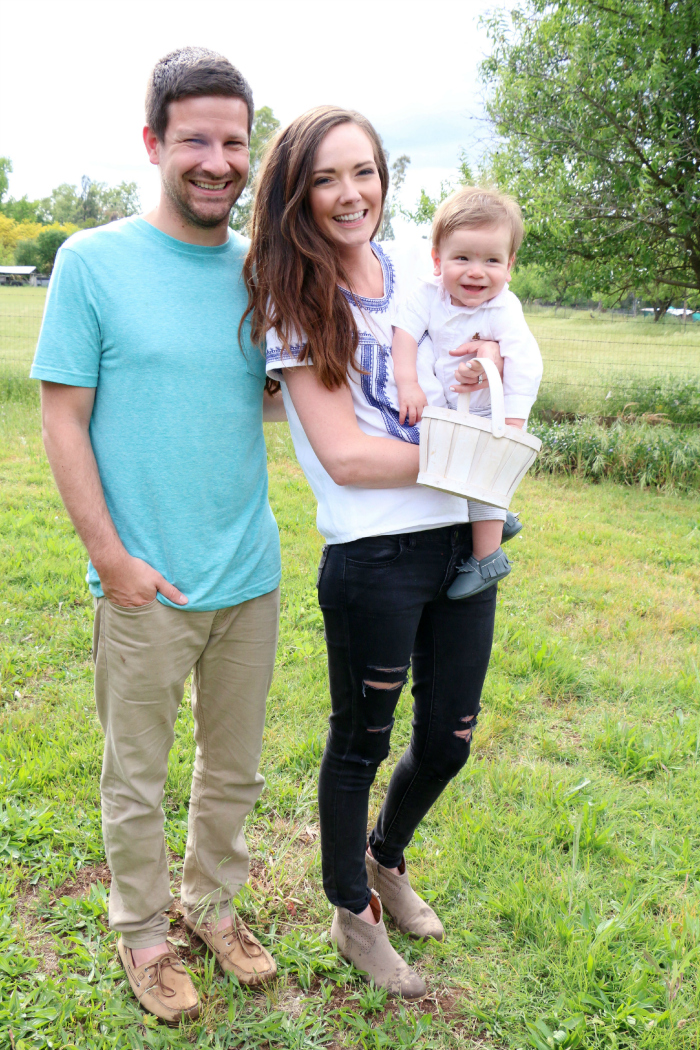 top: forever 21 // jeans: american eagle // boots: target (similar)
Little anecdote about this picture. My cousin is in town from college, and Sam l-o-v-e-s him. Well, Sam actually loves all of my cousins, but anyway. Jacob is so silly and fun, and was making Sam crack up! So when we were taking a few family photos, we called him over to get Sam to smile. Needless to say, it worked like a charm! I asked Jacob if he could be our personal get-Sam-to-smile-in-pictures guy. Not a bad idea, right?
And in reference to the title of this post, we sang a song in church on Easter morning that is one of my very favorites. On Friday a thief, on Sunday a king… Such powerful words there. It really makes you think of the true meaning of the holiday. It's not about bunnies and eggs and chocolates. It's about our Savior paying the ultimate price so that we can have eternal life in paradise. I mean, it doesn't get any better than that.
I hope you had a lovely Easter with your family and those you hold close. He is risen!
xo