The past few years, I have absolutely fallen in love with essential oils! They have changed a lot in our home, and we couldn't be happier- I only wish we'd switched to clean and non-toxic products sooner! I'll share more of our story of getting started with essential oils soon, but for now I want to share our favorite essential oil accessories that we use daily! Part of the fun is learning and DIY-ing! Here are a few tools that I like to have on hand to make household cleaner, rollers, glow serums, replace dryer sheets and more!
And if you'd like to grab some oils to get started, I love diffusing Stress Away and Lavender throughout the day, for a sense of calm in our home. And if you're feeling any sniffles coming on (or just to have your home smell like Christmas/Fall!), definitely get a bottle of Thieves oil! A starter kit would make a perfect Christmas gift for health-conscious mamas, or yourself! ;) You can peruse all of the oils and diffusers here!
When you order through my link, you'll have the option of joining our private wellness group on facebook, which is where you can learn everything you need to know about using your oils & Young Living products, and connect with an amazing, inspiring community!
ESSENTIAL OIL ACCESSORIES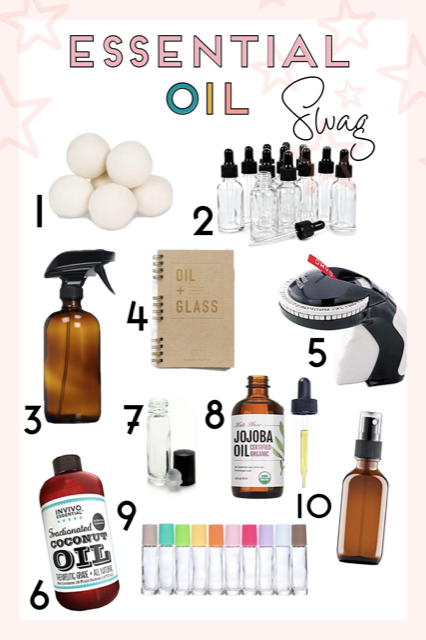 1.) Wool Dryer Balls– replace those dryer sheets that contain lots of chemicals for natural dryer balls that you can use up to 100+ times. Add a couple drops of essential oils and have your laundry smelling so fresh! I love adding citrus fresh, lavender or stress away!
2.) Glass droppers– make up glow serum, diffuser blends, + more in these bottles.
3.) Glass Spray bottles– use these to make Thieves disinfectant spray, glass cleaner, fruit and veggie spray, bathroom cleaner, + more!
4.) Oils + Glass book– this is my most used essential oils book. Find so many roller recipes, and DIYs for things to make for your home & health!
5.) Label Maker– not required but definitely makes it easy to remember what each thing you make is!
6.) Fractionated Coconut Oil– use this as a carrier oil when you make essential oil rollers. Some of our favorite and most used rollers include: sleep, wellness, tummy, and emotions!
7.) Essential Oil Rollers– these come in a pack of 24 rollers and the price can't be beat! I also love these amber bottles!
8.) Jojoba Oil– Use this as the base of your glow serum. It does not clog pores and is a great oil to use to make any facial serum.
9.) Rainbow Rollers– These rollers are so much fun and make it easy to remember what each roller is with the different color lid. We use this set to make rollers for the kiddos!
10.) Small Spray Bottle– Use these to make room sprays, throat sprays, mermaid hair spray, sleepy spray + so much more!
I also have an Amazon storefront with all of my personal favorite oily goodies: MY AMAZON STOREFRONT
Read More on Katie Did What