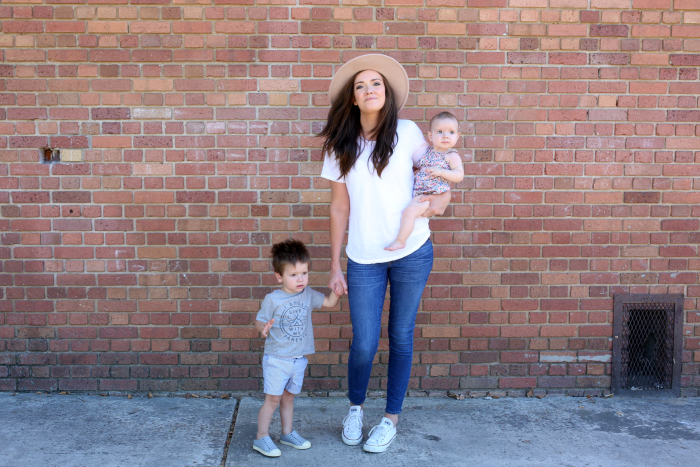 top c/o | jeans c/o | shoes | hat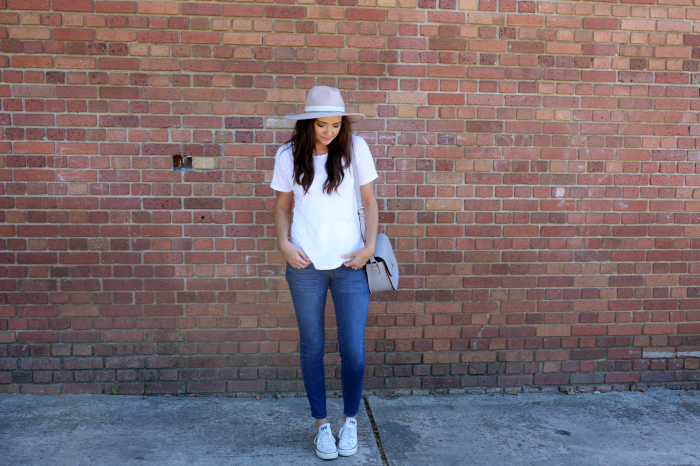 bag c/o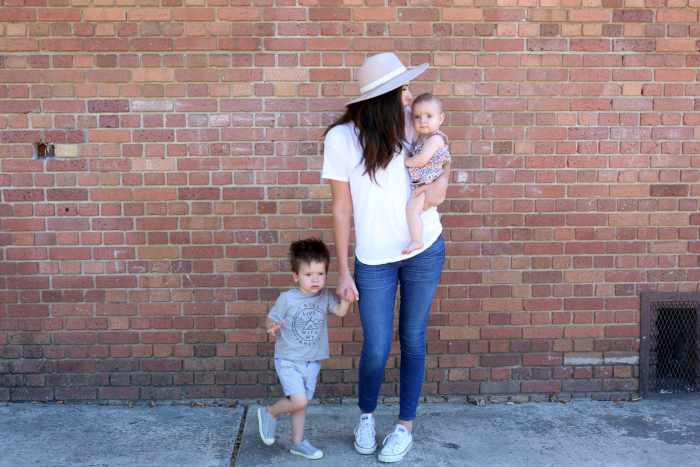 If this outfit doesn't scream, UNIFORM, I don't know what does. Some easy breezy jeans (that are SO stretchy and SO comfy- more on that in a bit), a relaxed white tee, some tennies and a cute hat (to hide that week-old hair, shhhh)! Done and done. The best part of this uniform? It's the perfect one to wear while wrangling my little ones! I can get down on the ground with Sophie and chase after Sam, I can push a stroller, carry a diaper bag and lift kids in and out of car seats. I can go shopping and grab some lunch and still look decent and put-together, while perpetually feeling like somewhat of a hot mess underneath it all.
But no one can tell, right? ;)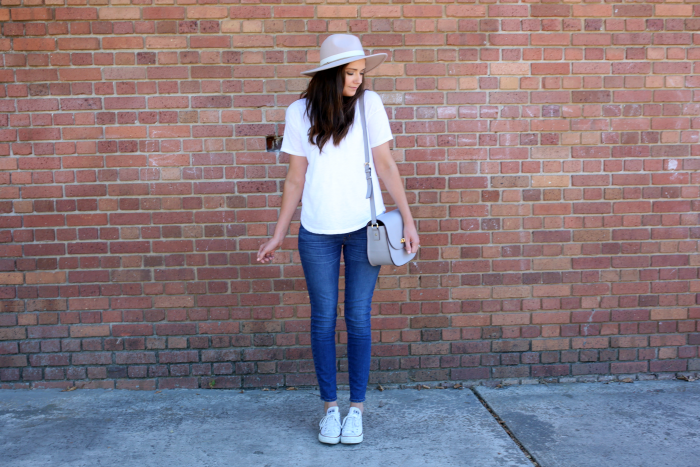 Annnnd guess what? These jeans? They're MATERNITY. Yeah, I know, I couldn't believe it either, except that I could because they've got elastic on the sides of the waist, and they're the MOST COMFORTABLE JEANS EVER. I remember when I was pregnant the first time, I was sooooo against anything labeled "maternity." I never bought one single pair of maternity jeans. And then, my second pregnancy I caved and I was like, holy crap why didn't I do this sooner?! Because maternity jeans are the most comfortable pants you will ever wear. Ever. And now that Madewell has a brand new line of maternity jeans (HALLELUJAH)- it's a TOTAL game changer. Madewell jeans are already the most comfortable and best fitting, and then you throw in the maternity line and I'm pretty sure I'm never wearing another pair of jeans ever again.
No, really though. I'm not even pregnant (I REPEAT: I am NOT pregnant) and I'm going to be wearing these jeans like all the time.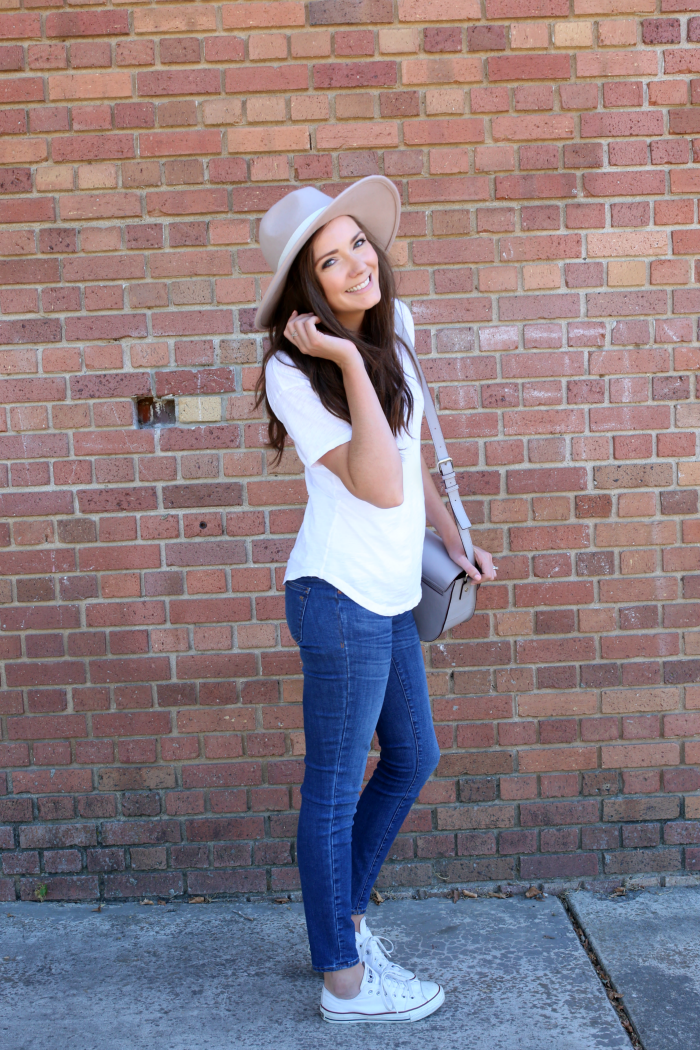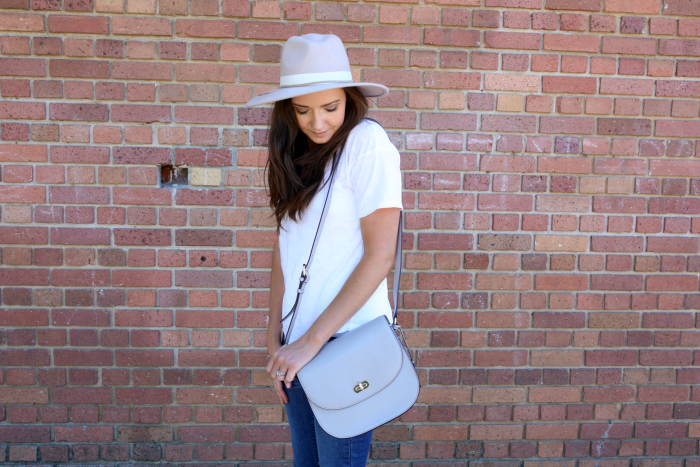 And let's talk about this GORGEOUS bag for a sec. It's from Lo & Sons and I am in looooove. It's beautifully made and sturdy enough to hold my heavy duty DSLR camera, so you know that is a good bag! I'm obsessed because it is a camera bag in disguise- we only had this super ugly canvas black camera bag that Zack bought, and I refused to use it, but now I have my very own pretty bag to bring our camera around in- or to use as a regular purse too!
Now, maybe I'll remember to actually bring our nice expensive camera with us more often! ;)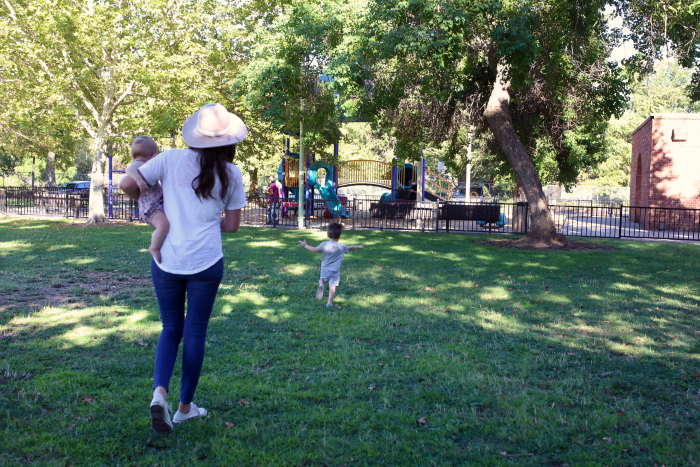 p.s. look at that boy. So much joy, racing to the playground! Love him!
What's your "uniform?" The outfit you feel the most comfortable wearing and could wear every day?
xo