My #momiform for running errands- denim cut-offs, a loose top and slide sandals. Easy peasy!
So I thought it'd be fun to post some looks I've worn the past week or so. A little "outfit roundup" of sorts. I have gotten asked quite a bit how I look so "put together" and how to get ready quickly with two kids, and I kind of giggle at that, because honestly most days I'm a hot mess, at least for a few hours. ;) But something that always makes me feel ready for the day and more productive is to get myself ready- and as a mom, some days this just means some tinted moisturizer, bronzer and mascara. And a cute outfit always makes me feel confident, but so do some comfy yoga pants and a loose top. Also cute, but practical for chasing after a toddler and wearing a baby around everywhere.
As for getting ready "quickly"- well, honestly, it's not really very "quick." We always get out the door later than we planned. But we're getting better (we meaning ME) because it's just something we have to do now that it's summer. Otherwise? We wouldn't get out. It's been HOT here lately, so we have to get out of the door and do things before it gets too hot- and also before naptime! I wake up with Sophie, around 8 AM, and feed her and then have my coffee and do some emailing/blog stuff, then get myself and her ready for the day. I've streamlined my makeup routine to take about 10 minutes or less, which is huge! As much as I love putting makeup on, I honestly feel guilty if I spend too much time on it (like, hellooooo, I have a bunch of other, more important things I could be doing!) and now that it's summer, the last thing I want is to feel like I'm wearing too much makeup (caked-on foundation melting off of your face is NOT a good look).
SO. Yes. We try to get out of the house as soon as we can, which usually means it still takes us 2 hours from when we wake up, because nothing is quick with babies. ;) Sam gets up around 8 AM and we hang out for a bit and play, then have breakfast while Sophie is napping, or while we're stretching her wake time banking on a car/park nap. I'm telling you, the second baby is so much more go-with-the-flow than the first, simply because, well, she has to be!
Also, while I'm getting myself ready, if Zack isn't home, the Mamaroo is my best friend. Also, I'm obsessed with our Stokke Steps high chair and it's bouncer attachment. I just put Sophie in that and she's right up at the table with us! It's literally the best thing ever. Sometimes she'll enjoy hanging out in her Dock-A-Tot, too, while I get ready for the day. And Sam will be playing with a toy next to me, or "helping" me by going through all of my things. ;) Sometimes I'll even put my makeup on at the breakfast table while he eats. Ahh, multitasking! It's a skill.
And, also, I'm not always "put together." Some days are hot mess days, and that is A OKAY. I think, as mothers, we need to learn to always give ourselves (and others!) grace! That's become my latest mantra in life that I repeat to myself over and over, all day long:
grace upon grace upon grace.
AMEN.
Okay! Now that I've answered that, some outfit photos from the week!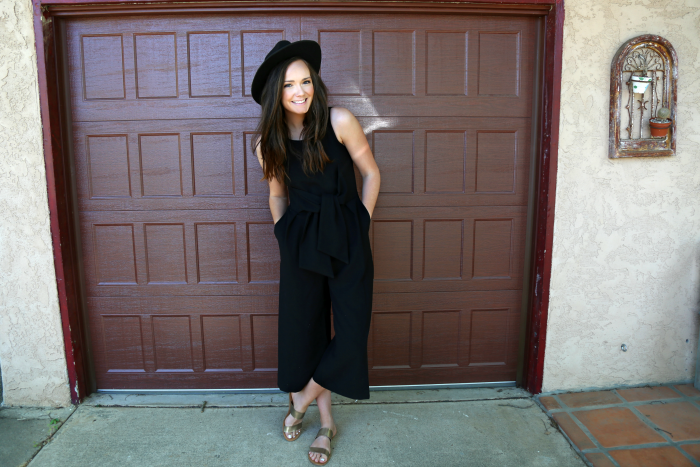 This would be a totally fun date night look! The culotte style of this black jumpsuit from Closet London is totally out of my comfort zone, but I'm digging it!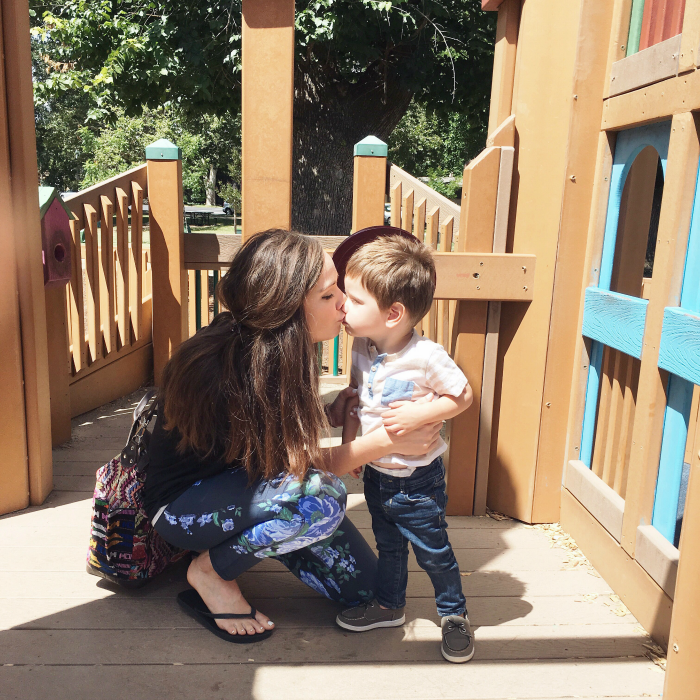 A casual park day look. Obsessed with these leggings!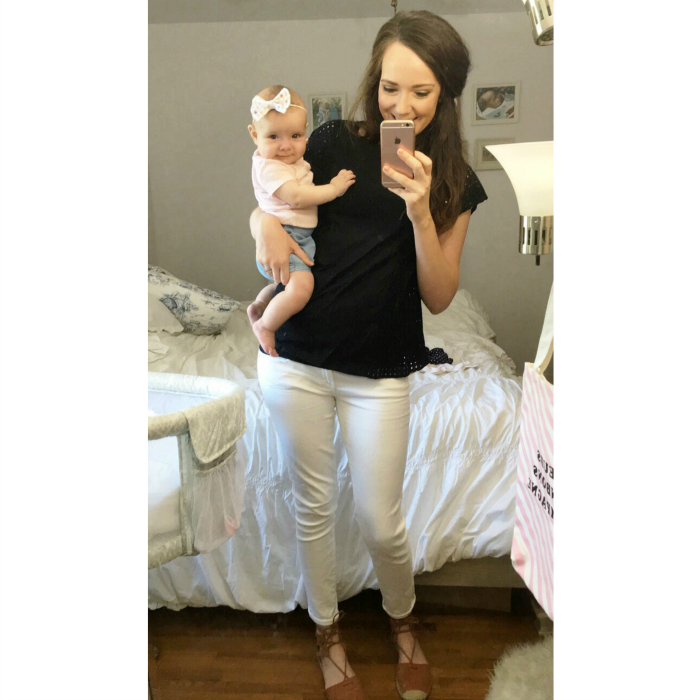 top | jeans
Easy outfit for running errands. This nursing top is one of my faves! There are hidden zippers, yessss!
What's your morning routine look like? How do you get ready and out the door?
xo