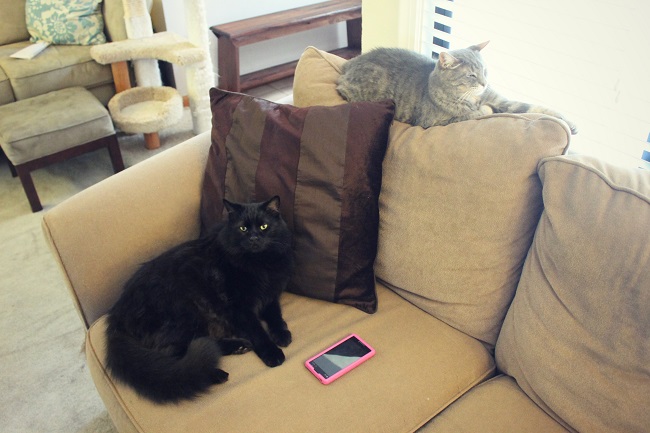 (cats. this has nothing to do with this post, but just look at these guys.)
Okay, so I was sitting down to watch Miss America the other night, and Zack goes, "Hey we should do Man Quotes to this!" and I though, "Hey! That's a good idea!" And so, in case you've been missing the infamous man quotes, here's a special Miss America edition.
-Lance Bass comes out-
Zack is excited.
Zack: She just freaked out.
Zack, during the dance montage: What? I don't get it.
Zack declared that Miss Maryland is going to win.
Zack: There's too much room between her eyebrows. She got a little too happy with the tweezers.
Hostess: "I'm with the remaining girls, but there's only two spots left."
Zack: That's awkward.
Zack: Mario? Mario Lopez is here? Where's Mario Lopez? Where's Mario Lopez? (Zack really likes Mario Lopez).
Hostess: "Swimsuit time!"
Zack: Uh oh! Time to get down to business.
Zack: …WTF is butt glue?!
Zack, commenting on one of the evening gowns: Whoops, that was a mistake.
At this point, Zack has done his very own living room performance of each of the talents, including Riverdance and en pointe ballet. I love my husband.
Zack, to one of the girls about to do her talent: You look like someone who's going to sing.
Zack: We've got a baton prodigy up in this mug.
And that was that. The most entertaining beauty pagent I have ever watched, mostly thanks to my husband and his awesome talent performances. Really, I wish you could have seen them. I was crying laughing, it was that good.
Did you watch Miss America?
Who were you rooting for? I really liked Miss California and was rooting for her! I might have been biased, but also she's smart and she did ballet, so you know.
What would your talent be if you were to participate? I'd probably play the alto sax. Yes, I play alto sax. ;) I definitely wouldn't sing, because I can't, really, and at least I'm honest with myself, unlike some of those poor girls. If you can't hit the note, please please please just figure out something else to do.
xo