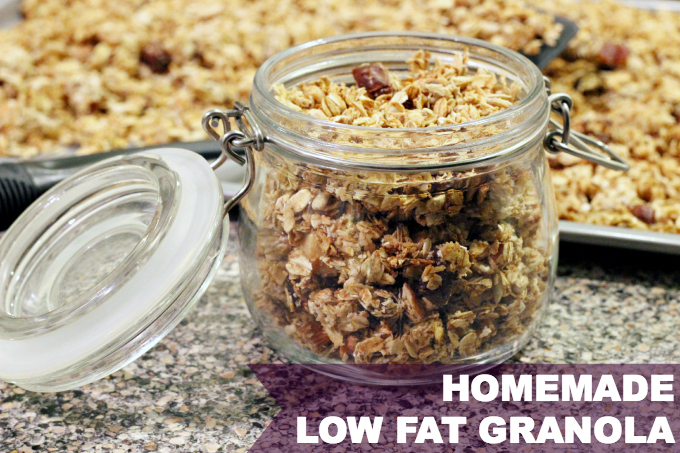 I love granola. Let's just get that out there. I always buy the Trader Joe's low fat granola when we go, but lately I realized I could probably just make my own. I mean, how hard could it be, right? So Zack and I got in the kitchen and whipped this bad boy up. And hi. It is delicious. And so easy to make. And also super cheap! And healthy, did I mention healthy? Cus yes, that too. Basically, it is all kinds of goodness, and we make a batch nearly every week. I like to eat it with some almond milk or sprinkle it on top of my yogurt and cottage cheese. SO GOOD. So. Good.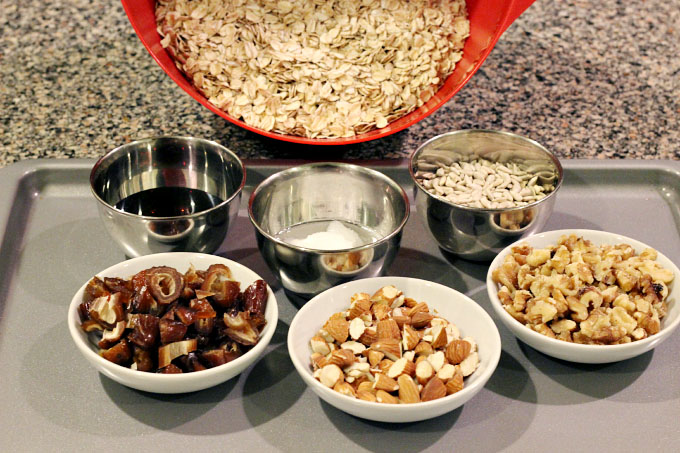 Ingredient List for Homemade Low Fat Granola – makes about 8 cups
I've added Amazon links to most ingredients too! They all have Prime shipping too, so if you're missing anything, you can have it sent to your door within a day or two!
THE PROCESS
Melt down your coconut oil – it will make mixing easier. Combine all ingredients into a large mixing bowl and with clean hands, get in there and mix it all up. Be sure it's mixed well, as you want the syrup and coconut oil well incorporated.
Now, spread the mixture out onto a cookie sheet (I used 2) and pop it into a 300 degree oven for 8 minutes. Remove it and mix the granola around. Return to oven for 5-8 minutes. You're looking for a light golden brown, but you want it to be darker than it was when you put it in.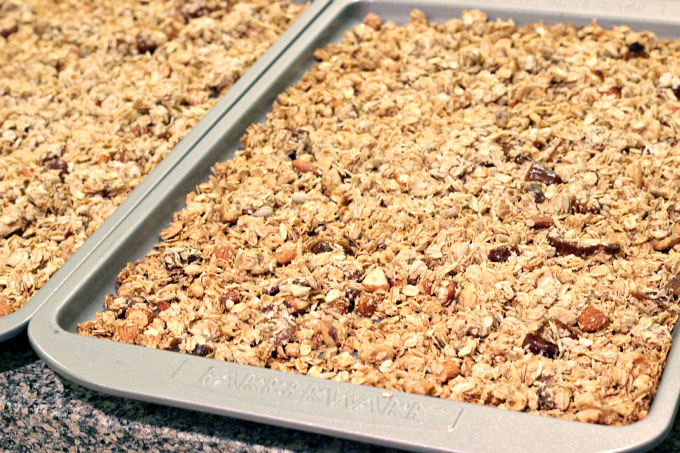 Note – no one ever mentions this, but it is VERY important – the granola will NOT BE CRUNCHY right out of the oven. We burnt a couple of batches in our first runs at granola because we were waiting for it to be crunchy. The crunch comes as the granola cools.
At this point, you're ready to eat or store your granola, in an air-tight container. And then eat it in all ways you can possibly think of, because it's just that good.
Have you made your own granola?
What's your favorite way to eat it?
xo