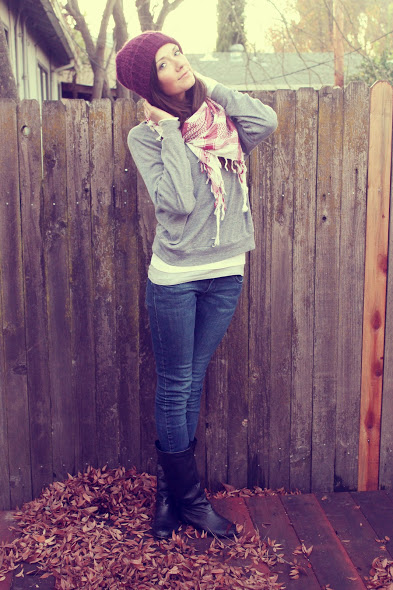 hat: urban outfitters
jeans: delias
boots: aldo
scarf: french street vendor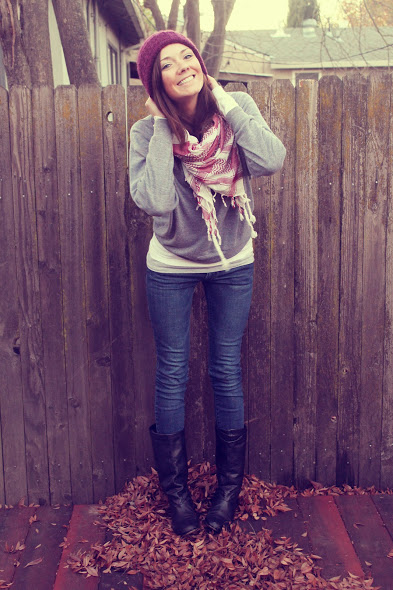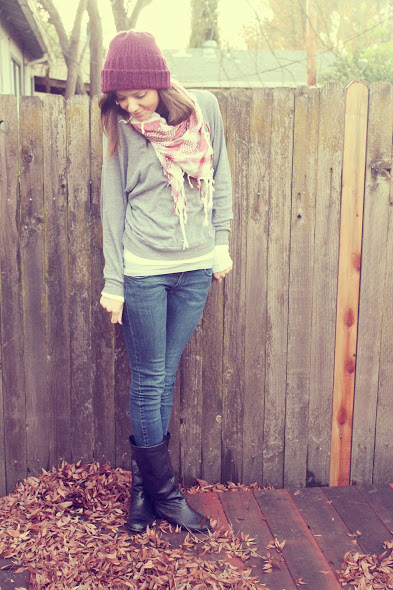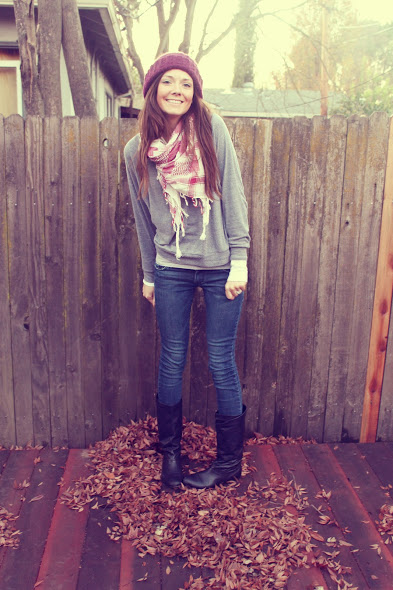 Just a quick little "helloooo!" this Monday from me.  It's been quite chilly lately, so I've been layering like a mofo, which is great as I've been wearing all of my hats and scarves and having fun with literally building outfits around them.  So, yay for that.  And yay for standing in random piles of leaves on the deck without even knowing it?  Yeah, yay for that, too.  I hope your week has started off on the right foot.  Zack and I spent the afternoon driving to a few thrift stores in the greater Sacramento area in hopes of completing Mission:Impossible.  No, I'm sorry, that's not right… Ah, yes.  It was Mission: Find 7 ugly Christmas sweaters.  Yes, that's right.  Seven.  We actually did pretty well.  We found 5!  So.  We're almost there, but if we were playing 007 (you know the one, Goldeneye, for Nintendo 64?) then we would have failed the mission and Natalya wouldn't have been very happy with us.  Although, if we're being fair here, I AM Natalya (at least I always chose her when I played the game with my brothers) so I guess that one guy wouldn't have been very happy with us.  What was his name?  Boris.  Yeah.  Wow, okay, so this went somewhere I wasn't expecting it to go….
… And that's all I've got, folks.
Oh!  Another exciting thing!  I made S'mores cookies last night.  O.  M.  G.  If I could marry a cookie, it would be this one.  Here's the recipe I used.  Thank me later.
xo
Let's be friends! :)
Follow me on 
twitter
 @katiedid_what
Follow me on instagram @katie_did_what