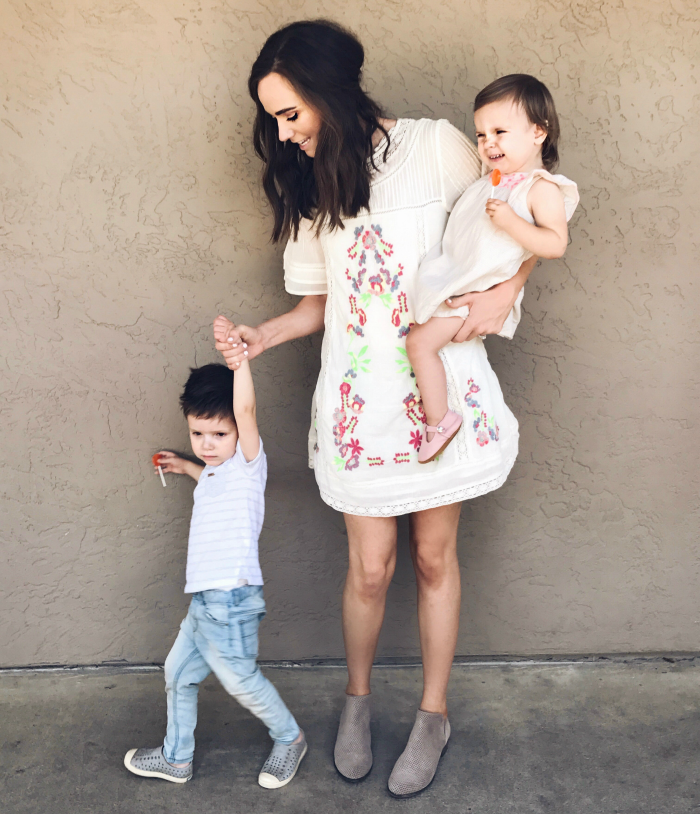 DRESS (on sale! I'm in a small, and for my fellow tall girls, be advised it's short!) | BOOTIES (run small- order one size up!) (SIMILAR PAIR HERE) | CURLING WAND (I used the 1″ barrel here)
Hey guys! Happy Monday! Our weekend was so fun, Sam FINALLY is feeling better, after a week-long fever (boo!) so we were ready to have some fun and spend a LOT of time outside! Sam asked to go outside pretty much the second he woke up, which was the cutest thing. We were like, "UM YES, of course!" Poor thing was just so sick of being trapped inside and feeling like crap! And Sophie's new word is "Ow-di!" (outside!) which she emphatically yells at us each morning, after pointing out her "doos!" (shoes). She is too much.
SO. OW-DI we went! All weekend long! We made very good use of our water table and awesome plastic pool, since it was like 100 degrees each day.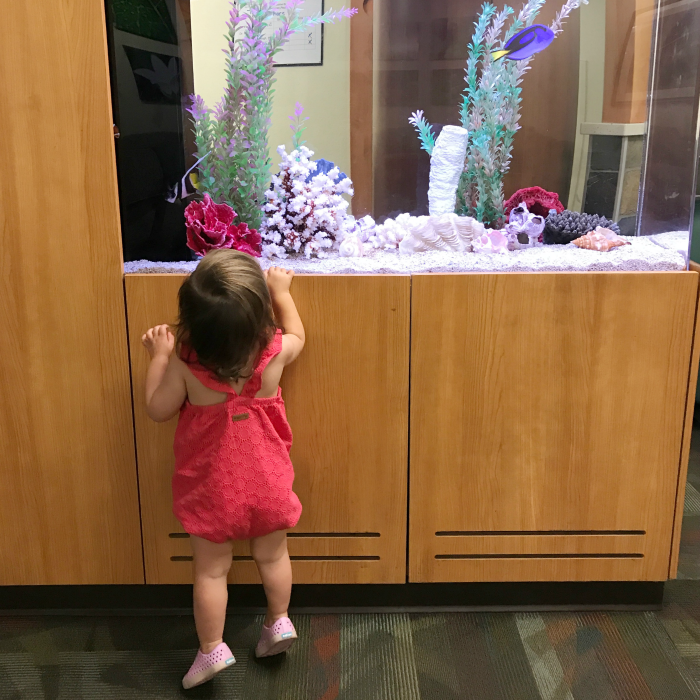 Sophie girl had her 18 month well check up. She is 24 pounds 11 oz of perfection. :) 75% for weight and height, and 95% head circumference. ;) Haha, it's been like this the whole time, girl's just got a lot of brains. She is a bundle of energy, full of life and sweetness! She is obsessed with her "Bubba" and is always asking where he is if he isn't with her (she'll look at you and put her arms up in a question and say "Bubba?"). Her vocabulary is INSANE (literally too many words to count!!) and she is constantly talking and picking up on new words every day! It's really quite incredible! She LOVES to eat (and is always asking for a "nack"), is still as in love with her cats (both real and stuffed) as always, she looooves babies and is always wanting to pet them whenever she sees one :) She's completely weaned from her bottle now (easiest thing ever- we just stopped giving her a bottle one night- she was just down to one at night anyway- and gave her milk in her straw cup instead, and there was no protest! So… Clearly giving up the bottle was harder on me than her… Where is my baby?!).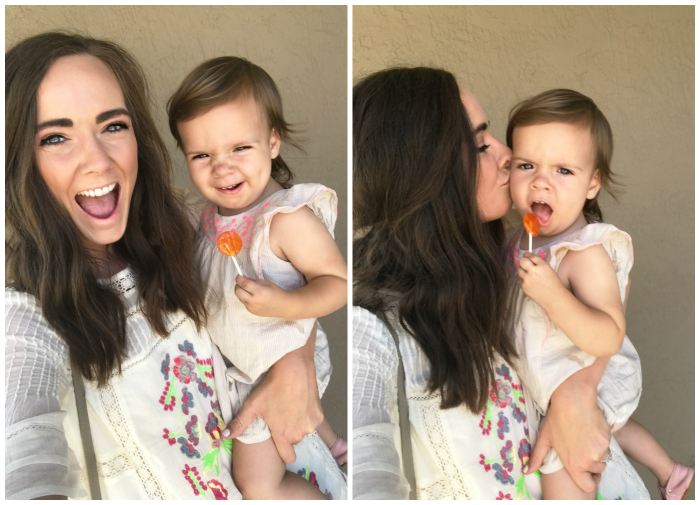 She's starting to be super independent and wants to do everything herself, and along with that, she's also starting to throw tantrums, which is more often than not just hilarious and we try really hard not to laugh when she does. ;) She's a feisty one, just like her mama. I could go on and on, but basically she's just pretty perfect in every single way. No real surprise there, though, right?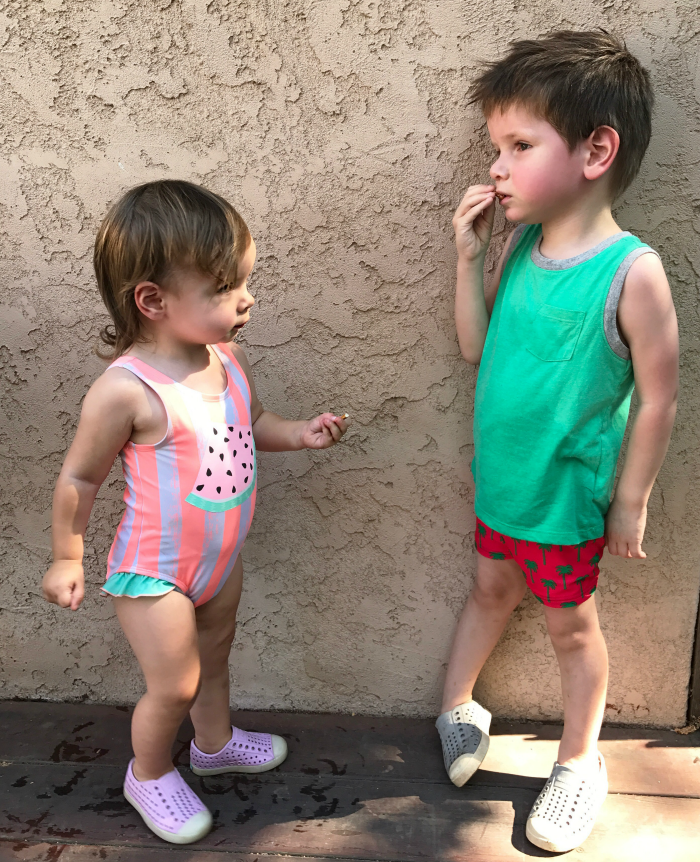 THE BEST KIDS SHOES (I get asked where they're from all the time!)
These two little muffins, love them to pieces!
And I wanna know: have you been shopping the NSale? Be sure to FOLLOW ALONG ON FACEBOOK for updates and restock notifications!! :) And see my FAVORITE PICKS HERE and DRESSING ROOM PICS HERE and WHAT I BOUGHT HERE!
How was your weekend?? Is it insanely hot where you live, too?
xo