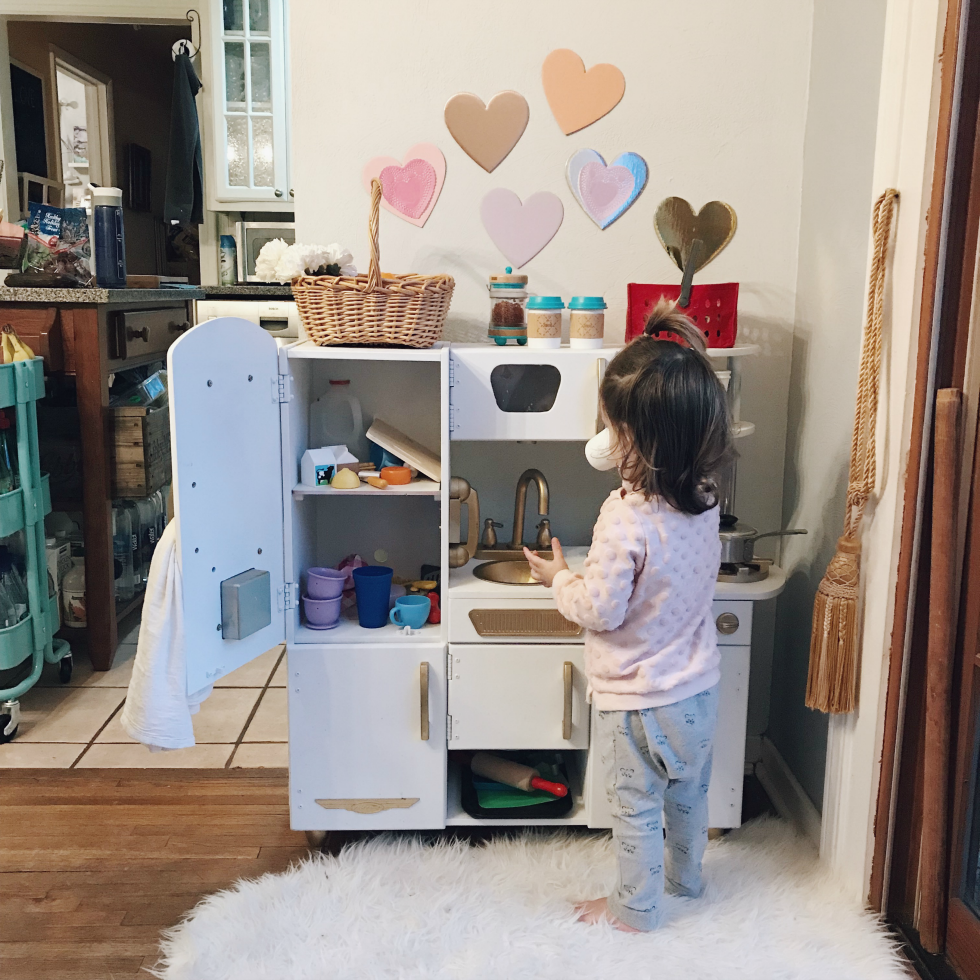 Hey guys! I've gotten asked this quite a lot, so I figured it was the perfect blog post topic! Our favorite toddler toys! Sam is 3 1/2 and Sophie is 2, so we're right in the thick of toddlerdom over here. ;) And we have tried a LOT of toys, some good some not so good. Here are our very favorites!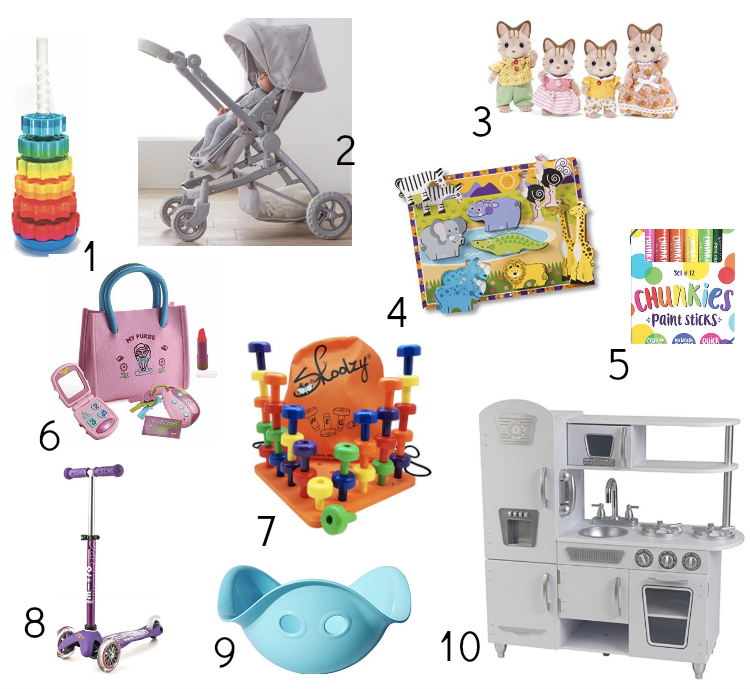 1. SPIN TOY – Both kids LOVE this, but especially Sam!
2. BABY DOLL STROLLER – Sophie got this for Christmas this year and LOVES it. She's always loading it up with all of her babies (and animals) and pushing them around the house. It's adorable. Also! It's can be a bassinet or upright seat! Take advantage of a sale and it's not a bad price, too!
3. CALICO CRITTERS – These adorable little dolls fit perfectly inside Sophie's dollhouse, and she loves playing with them. Plus, they're just too cute. Sophie just got this cute car for her birthday, and it is TOO CUTE.
4. PUZZLES – We love all Melissa and Doug puzzles! We're big fans of wooden toys (better quality, eco-friendly, made to last, plus they look nicer too!) so just give us all of the wooden puzzles!
5. PAINT STICKS – These chunky crayon/pastel type sticks are SO cool! They're mess-free, look like watercolor and are easy for little hands to grip, and both kids love coloring with them!
6. MY FIRST PURSE – Sophie got this for her birthday and she is OBSESSED. The little lipstick is her favorite- she is constantly ripping off the cap to "apply" it to herself and everyone else. It's adorable. And she loves carrying around her phone and saying, "Hey Siri!"
7. PEGS – Sam got these for Christmas and loooves them. His therapists actually have these, too. They're great for fine motor skills and super fun to stack!
8. MICRO MINI SCOOTER – These scooters are a BIG hit with all my mama friends, and we got one for the kids for Christmas and they love it! Easy to use and a smooth ride, plus lots of colors to choose from. (Non-adjustable ones here!)
9. SPIN SHELL – I made up that name, but it sums it up pretty well. It's a little hard shell that kids can sit in and spin around in, or sit on top of, whatever. I don't know, yes it's kind of weird, but they LOVE it. Gets out their energy too! And for kids with autism or any sensory issues, it's amazing for regulating. Sam LOVES to spin, so this satisfies that need in him. It's just really fun, and comes in cute colors too!
10. PLAY KITCHEN – This is another one that both kids LOOOOVE. I love that it's beautiful and also encourages imagination- so so important! I did a little DIY on ours and shared it HERE!
What are your little one's favorite toys??
xo
Read More on Katie Did What