Well will you look at that? Happy Friday, friends! We made it! I am so so so excited because tomorrow is my baby shower!!! :) And wouldn't you know, it's supposed to rain- isn't that convenient. Showers on my shower? It was made to be. ;) But really though, I am so elated to see all my loved ones and celebrate this little guy on the way. And to wear my new pretty dress from Riffraff. Pictures to come, le duh.
In the meantime, I'm here today because I wanted to share a few current favorite makeup products of mine, that I have literally been using NONSTOP. Because I get that way with products. I become obsessed. Who am I kidding, that's pretty much how I get with everything in life. Anyway. The makeup!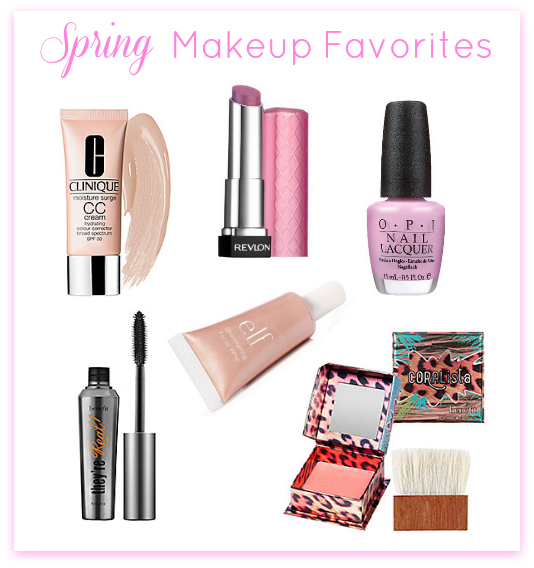 1. Clinique CC cream – this is my new holy grail of all things bb/cc cream. LOVE it. I got it as a sample and damn that Clinique, I will soon be purchasing the full bottle. It's just that good. I don't like to wear foundation a ton, and this stuff does the trick with a nice even coverage minus the heaviness. It also evens out your skin tone and adds a bit of color, to boot! It's just the best, I literally can't say enough good things about it. Get it.
2. Revlon Lip Butter in "Cotton Candy" – moisturizing, adds some pretty color to your lips, goes on easily and stays on all day. It's amazing.
3. OPI nail polish in "Mod About You" – I've had this color for a while now and it is one that I just keep coming back to. It's the perfect pink, super opaque, and just perfect for spring! I'm already pretending it's spring, that's okay, right?
4. Benefit blush in "Coralista" – this blush is an oldie but a goodie and is my absolute go-to come spring and summer. The color is just the perfect pink/coral goodness, with a pretty shimmer mixed in.
5. Benefit "They're Real!" mascara – this stuff is amazing, and my favorite non-drugstore mascara. I usually use my beloved Cover Girl Lash Blast, but when I'm feeling like splurging a bit, this is the one I get. It really does make your lashes look like falsies.
6. e.l.f. shimmering facial whip – a good highlighter is key in the warmer months, to give you that pretty opalescent glow. Like a mermaid. Trust me, it's a good look. Of course, there is the ever-popular Benefit High Beam, but this (much) cheaper e.l.f. product is the perfect dupe. Plus, you can buy literally 26 of these for the price of one of the Benefit one. Bargain!
What are some of your favorite products at the moment?
Do you have certain products that you use only in spring/summer?
Any fun plans for the weekend?
xo