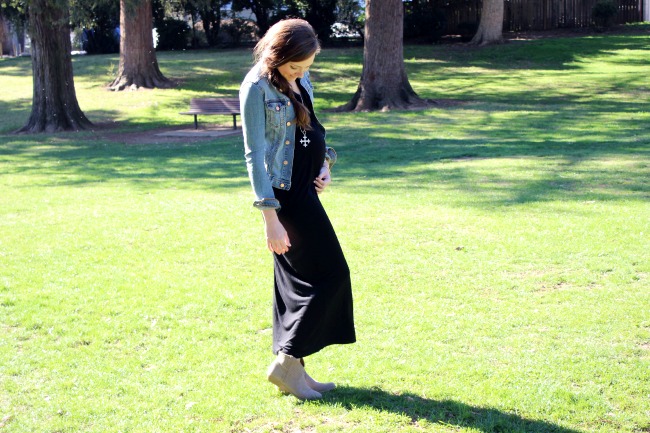 dress: c/o pink blush maternity (here)
jacket: h&m
booties:target (similar here)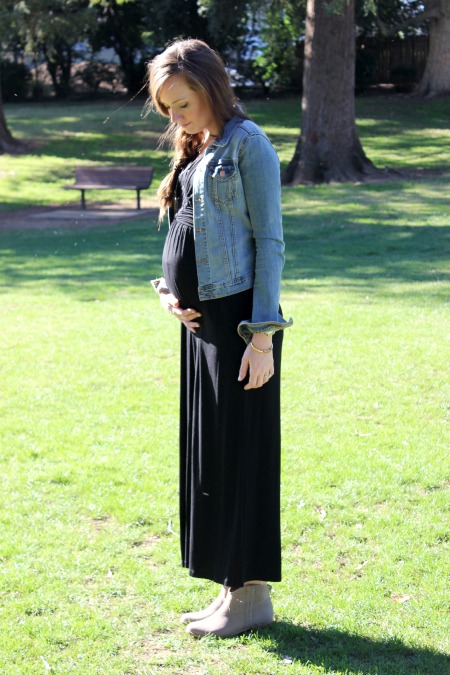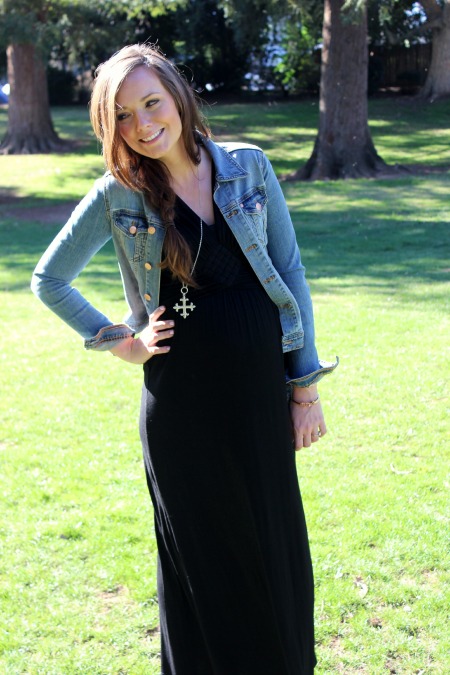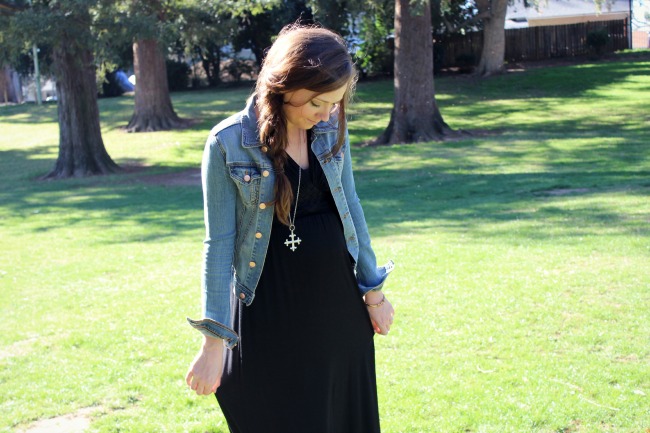 So here's the thing about being pregnant: At some point, you will grow out of seemingly all of your clothes. It is just a fact. I thought I was sooooo lucky. I thought I had it good. I thought that would never happen to me. And then BOOM! We get hit with this warm weather and I'm forced to wear something other than my beloved leggings, and my floor becomes a tornado zone, with all of my clothes that DO NOT FIT anymore slung about haphazardly. The only shorts I can now wear are two pairs, both of which have elastic waists. My dresses are for the most part too snug around certain areas. It's terrible, I'm telling you. And also, silly me for thinking I would steer clear of this. I mean, there IS a little human inside there after all, who needs some room to grow! ;) So. Resorting to maternity clothing (for some things) is necessary, I must admit.
Needless to say, I have succumbed to some maternity clothes in the form of this cute black maxi dress, and it is a gaaaame changer. I mean, maxi dresses are like wearing pajamas in public, they're that comfortable, and pregnancy is pretty much the time in your life that you need to be as comfortable as possible (ha! This is sometimes an impossible feat) and so. Match made in heaven, I'm telling you.
And since I love you all so, I suppose it's time for another
———- G I V E A W A Y ———-

You can win a $25 gift certificate to Pink Blush Maternity!

1. Mandatory: Visit Pink Blush Maternity, find your favorite item, and leave a comment here.
2. Bonus: Follow katie_did_what on instagram and leave a comment with your instagram name.
3. Bonus: Follow Pink Blush Maternity on instagram and leave a comment.
Good luck! Winner will be chosen next Wednesday, 3/5.
xo
*Note: If you've won or hosted a giveaway with PBM in the past 6 months, you are not eligible to win.
p.s. Come back later today for Man Quotes from last night's Bachelor episode! You do not want to miss these- Zack was on point with those honeymoon suites.