Check out Amazon– my favorite place to create a baby registry! It has everything you need, is so easy and fun to create your registry and always add or remove items and BONUS: you get up to 15% discount when you buy any of the items on your registry! Also, they offer very easy 90 day returns on registry items, which comes in very handy. :)
I was asked to participate in Evite's #EviteBabyTrends series. Although I have been compensated, all views are my own.
What do you think of when you think of baby shower games? Probably something super cheesy and lame, right? Well, I'm here to tell you that it doesn't have to be that way! Baby shower games can be fun and cute and totally the opposite of cheesy. Unless you're into that sort of thing, then cheese away, my friend. Here's a few of my favorite baby shower games that I've played that are anything but: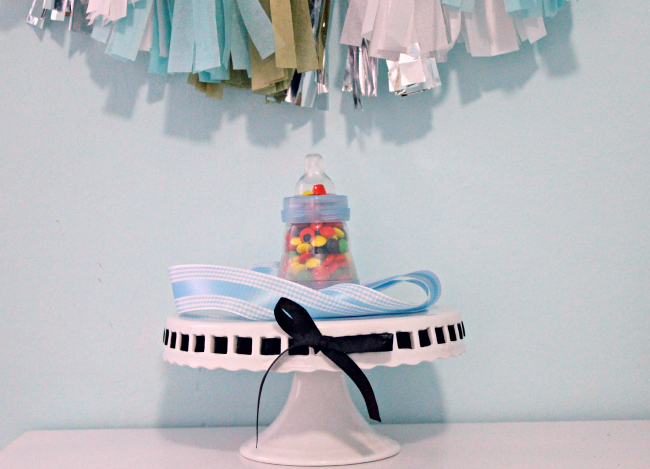 GUESS HOW MANY
This one is super straight forward and simple. The shower host just fills an empty baby bottle with M&M's, or whatever candy she likes, and each guest writes down their guess as to how many pieces of candy are in the bottle.
HOW BIG IS MAMA'S BELLY
This one was played at both of my baby showers, and it was a hit each time. The best part is you literally only need two things for this game: Scissors and some ribbon or string. Pass around the ribbon and have each guest cut it to the length that they think the mom-to-be's belly is! Then the guest of honor measures her own belly and whoever's string is closest to the belly circumference wins! At our co-ed shower, both my dad and Zack cut their strings extremely small. Those men in my life, they sure know how to flatter a gal. ;)
DON'T SAY "BABY"
Upon arrival, each guest gets a safety pin to wear. During the shower, if anyone says the word "baby," the person who catches them gets to steal their pin. Near the end of the shower, the person with the most safety pins wins!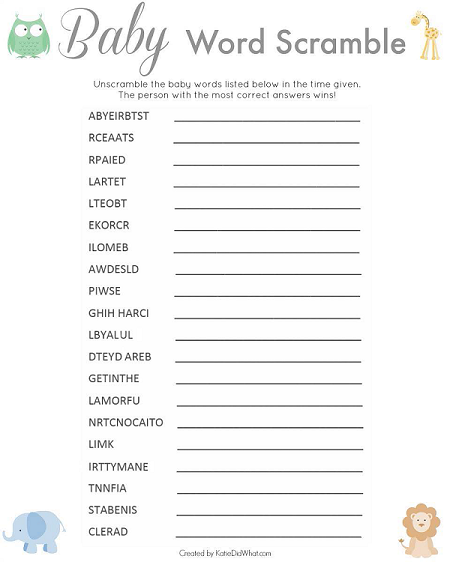 Download and print the PDF here.
BABY WORD SCRAMBLE
Each person gets a print-out (click here to print the one that I made!) of various baby words and phrases that are all jumbled up. The timer is set to 5 minutes, and you try to unscramble as many of them as you can in the time given. The person with the most unscrambled words wins.
ANSWER KEY: babysitter, car seat, diaper, rattle, bottle, rocker, mobile, swaddle, wipes, high chair, lullaby, teddy bear, teething, formula, contraction, milk, maternity, infant, bassinet, cradle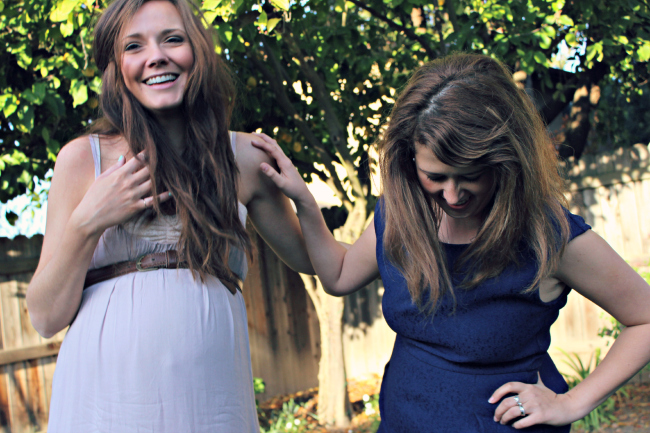 Now, with games, there must be prizes! Some of my favorite baby shower prizes include Bath & Body Works minis, gift cards to stores like Victoria's Secret and Starbucks (they don't have to be super pricey- I'm talking like $10 here), mini perfume/body spray bottles, and fancy soap.
What's the best baby shower game you've played?
Are you a fan of the cheesy games, or not so much?
xo
p.s. Did you catch my diaper cake tutorial from last week? It's the perfect baby shower gift!
Read More on Katie Did What