I was asked to participate in Evite's #EviteBabyTrends series. Although I have been compensated, all views are my own.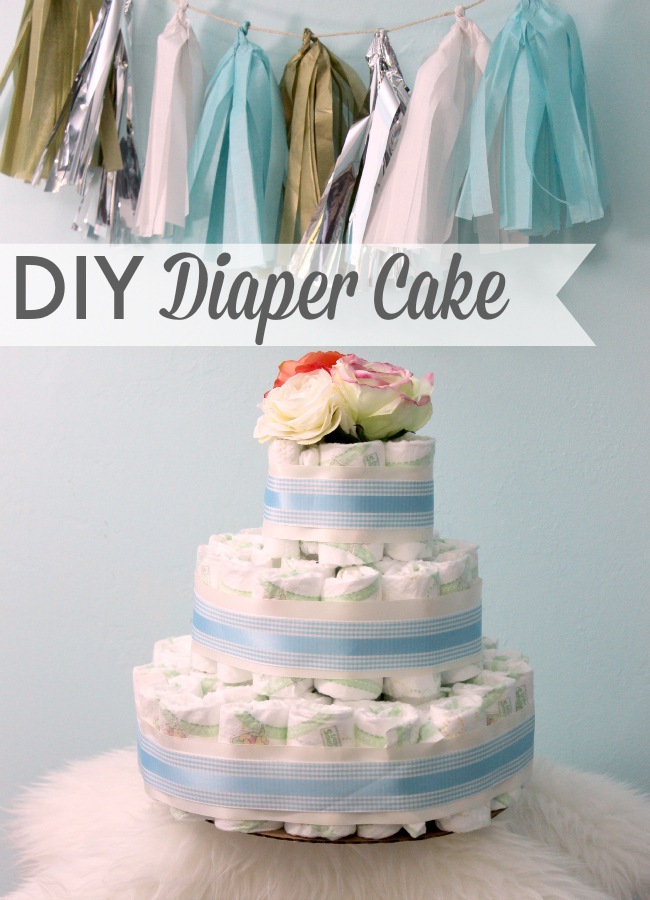 Okay, so confession time: I have never made a diaper cake before. I honestly have only been to two baby showers in my life, not including my own! Thus, no real need to make a diaper cake. I think it's a really cute idea for a gift for a mom-to-be, though, because as we all know, the number one main necessity when it comes to babies is, after all, DIAPERS! Fun stuff, I know. I love the idea of a diaper cake, because it takes that very basic (and boring and, let's be honest, just plain gross) necessity of a diaper and turns it into something not only fun but also super adorable! I am all for making not-so-cute things cute! Thus, I will now share with you my attempt at making a diaper cake, as a gift for a baby shower, but also as a conversation piece and some cute décor (did you see my DIY tissue garland décor from last week?). Let's get started, shall we?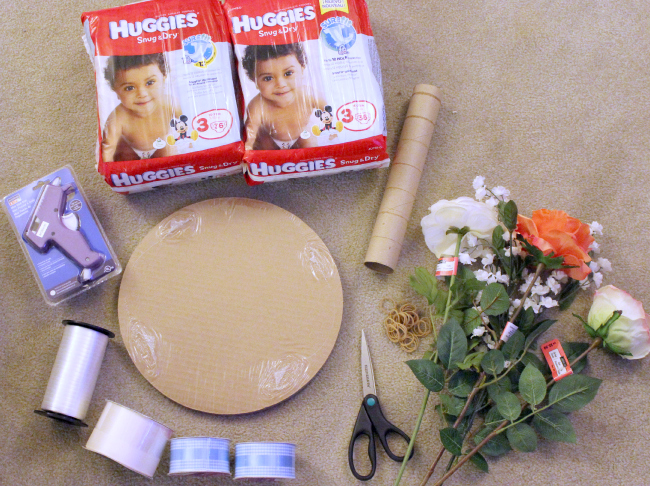 What You'll Need:
– Diapers (le duh- print some Huggies coupons here!)
– Paper towel roll
– Cake circle 12″
– Hot glue gun (or just glue, that works too)
– Mini rubber bands
– Tape
– Curling Ribbon
– Scissors
– Thick and thin ribbon
– Faux flowers, or anything decorative you want to add (get creative!)
What you'll do:
1. Glue paper towel roll to center of cake circle.
2. Roll 58 diapers and secure with a mini rubber band. Yes, tedious is the name of the game in this step.
3. Place 6 diapers around the roll and tie in a double knot with curling ribbon. Then remove rubber bands.
4. Repeat step 3, but with 11 diapers this time, all the way around the first set of diapers. Then repeat again, but with 17 diapers. The base tier is now done!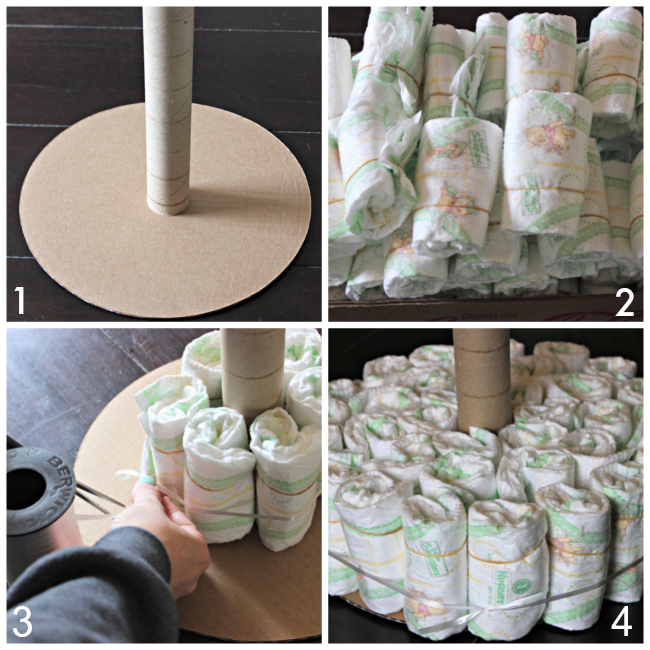 5. Place 6 diapers on top of base tier, tying in a double knot and removing rubber bands. Then repeat around those, but with 12 diapers.
6. For the final tier, use 6 diapers to surround the paper towel roll.
7. Tie your thick ribbon around the base tier, covering the curling ribbon and glue or tape to hold in place.
8. Repeat step 7 to the second and top tiers. You can wrap another, thinner ribbon around, too, for more style if you like.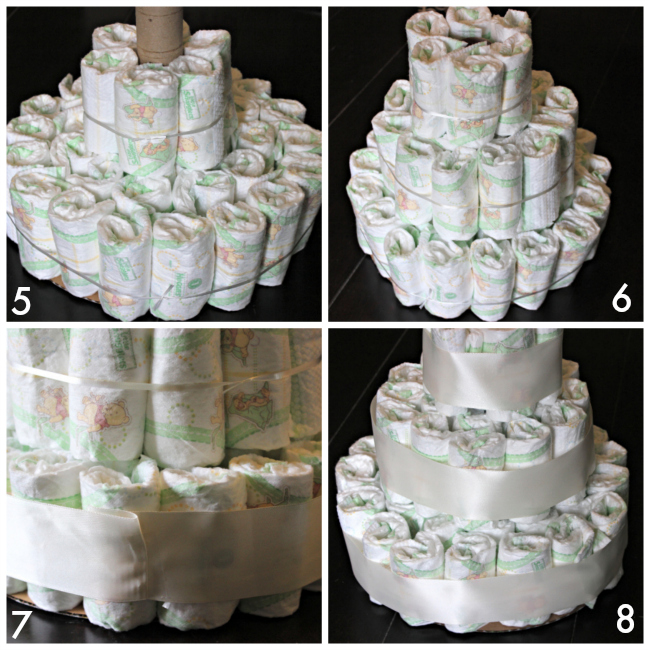 9. Decorate your cake however you see fit. I chose faux flowers to embellish! And that's it!
See? Yes, it takes time, and is a bit tedious with those diaper rolls, but the finished product is fun and super simple to make.
Want another diaper cake tutorial? Check it out here or just watch below:
There will be an #EviteBabyTrends Twitter party on Thursday 4/10 at 6pm PST, with prizes!
Have you ever made or received a diaper cake?
Do you have any fun ideas for other things to make out of diapers?
xo