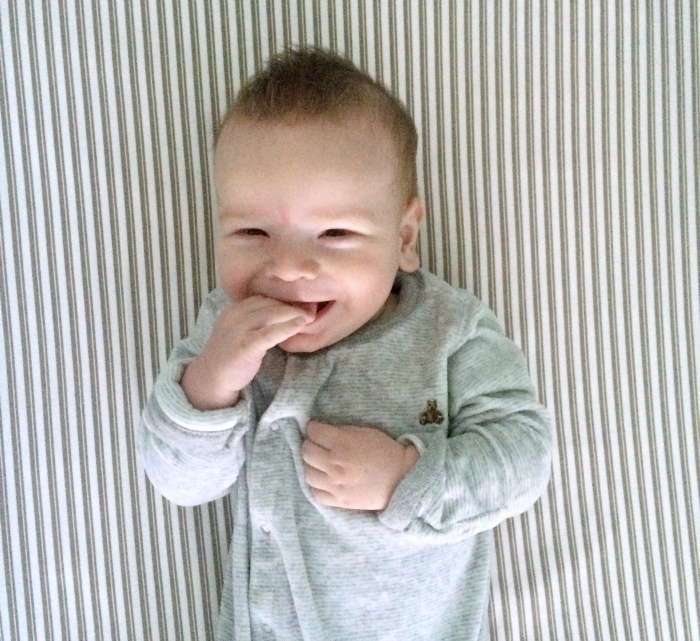 Today I'll be talking about one of my must-have baby items: A baby monitor. It's one of those things that I thought was maybe unnecessary at first, to be honest. In my research whilst pregnant, it kept popping up on all of the "must have" posts I was reading on various blogs, but I wasn't fully convinced. Even so, we registered for one, and those first few months, we never even used it. I mean, Sam was sleeping in our bedroom, so there was really no use for it. But then we moved him to his own room, and started using a monitor, and OMG. It is a life saver.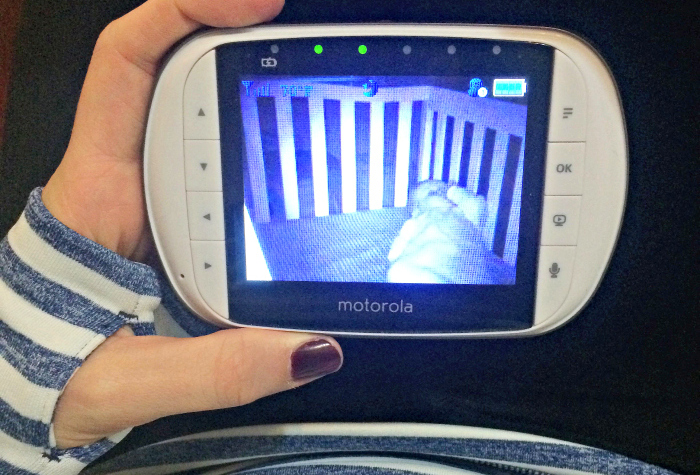 I love that I can go outside for a bit or in a different room while he's asleep and I can have the peace of mind knowing that he is safely sound asleep and happy. Because, you know, we are totally those paranoid first time parents who must watch him sleep and check up on him 10000 times. ;)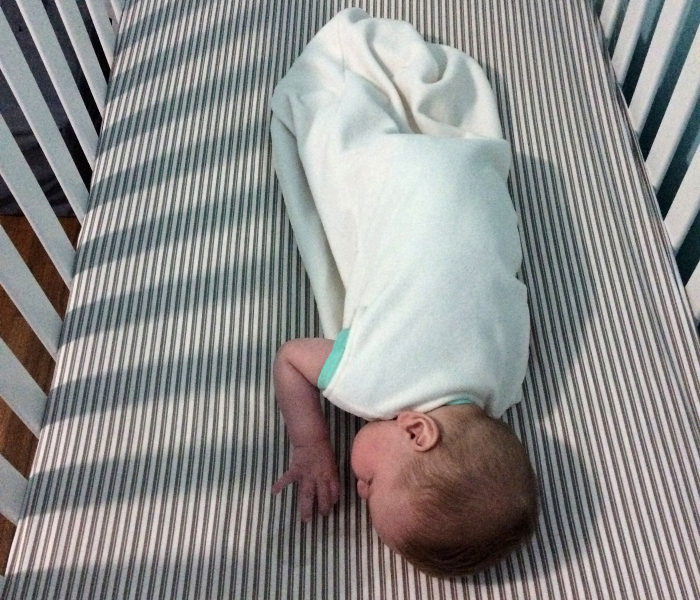 [look at him! can you blame us?!]
Here's something too: The nursery floors are hardwood and are original to the house. Which was built in the 40's. Meaning, they are LOUD. Like, really loud and creaky. Meaning sneaking into the nursery to watch our sweet babe sleeping and getting away with it silently, is just not possible. Thus, a baby monitor is a literal godsend. Because I like to check on him without waking him up, duh. And if he starts making noises, I can see that he's happy and just cooing in his crib and it buys me more time to get ready in the morning or finish up that piece I'm writing before going in to get him. It's a huge time saver!
Also, if we're being totally honest here, we'll put Sam down and just sit out on the couch watching him on the monitor. Best entertainment ever. Because really, when you have a baby, who needs a TV?
We were recently sent the Motorola MBP36S baby monitor, which I feel is like the cream of the crop as far as baby monitors go, and we LOVE it. The full color LCD screen is a great size so you can see Baby easily and clearly. It has a remote pan, tilt and zoom option, which is SO COOL and something our old monitor was lacking. Especially now that Sam is more mobile, he never ends up asleep at the same spot we put him in, so being able to move the camera remotely is HUGE. It's actually really hilarious where he ends up- he does 360's in the crib all the time. The night vision is great and allows us to see him when he's in pitch black. Another one of my favorite features is the temperature display, so we know if his room gets too cold or too hot and we can adjust accordingly.
It's so important to us that our baby is safe and sound, and a monitor helps ease our minds that he is just that! I know it's not for everyone, but it is certainly a great addition that is a must have for us!
Parents: Do you have a baby monitor?
xo
I was selected for this opportunity as a member of Clever Girls and the content and opinions expressed here are all my own.
Read More on Katie Did What