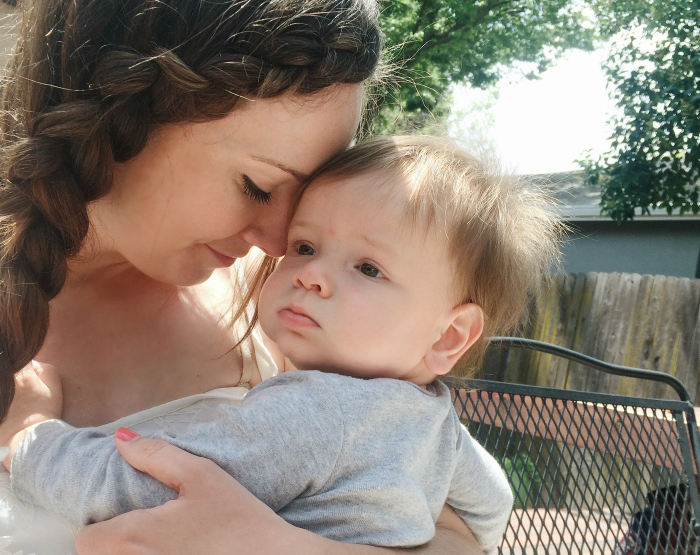 He is my favorite part of the day. Those pouty lips! Those big ole' cheeks! I just love him so.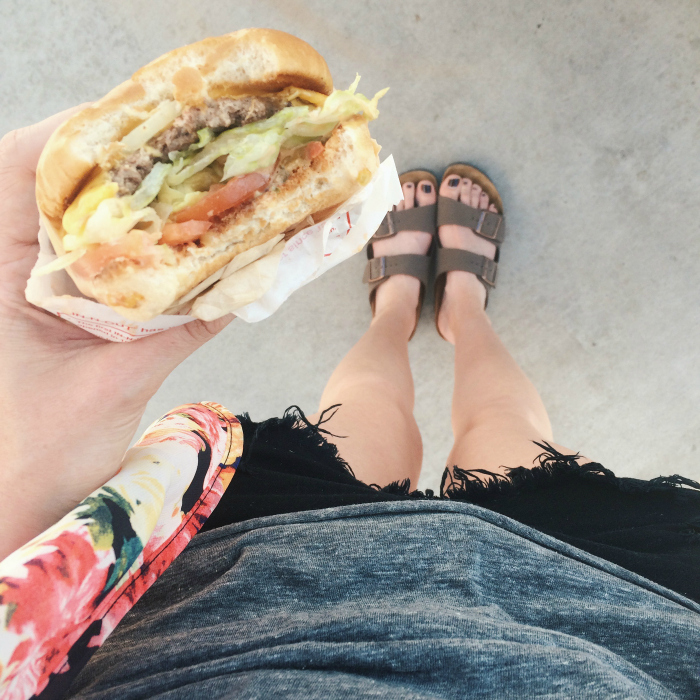 Because In N Out makes everything better. Sitting outside (the only ones!) in the glorious sunlight and chowing down on burgers and fries with my boys. Doesn't get much better.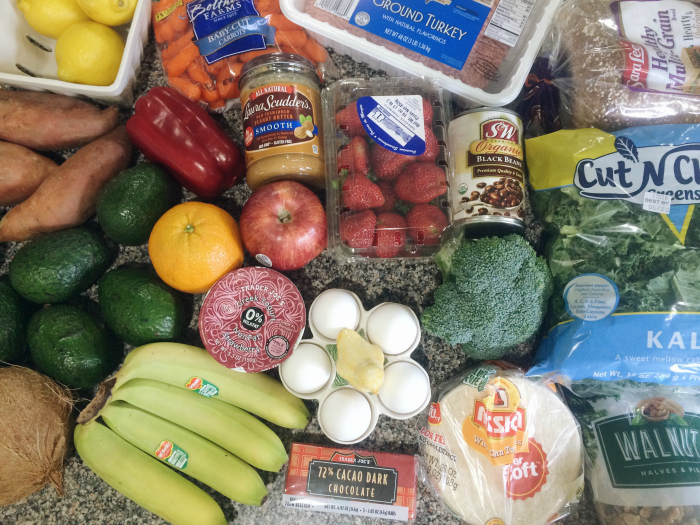 A reader asked me to share our go-to grocery essentials, so here is a good look at them! We pretty much always have most of these items in our house, and they're the ones we have to get every week. For produce: Lemons, carrots, kale (or spinach!), sweet potatoes, bell peppers, avocados, apples, oranges, bananas, strawberries, tomatoes, onions and broccoli. We really like produce around here. ;) Also, ground turkey (and chicken and salmon!), whole grain bread, walnuts (and almonds), natural peanut butter, Greek yogurt, black beans (obsessed), corn tortillas and dark chocolate. Duh. I'm also really into hummus right now (I get into these phases…) and guac. But my favorite way to make guac is to just mash up avocados, so I'm not sure that really counts?… What are your grocery essentials?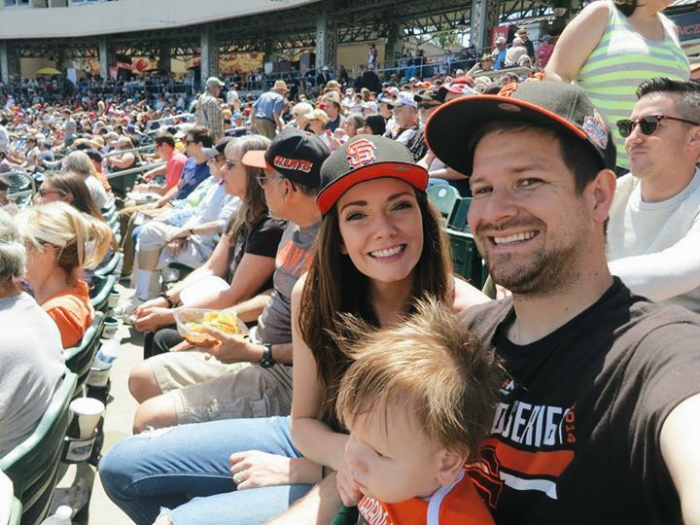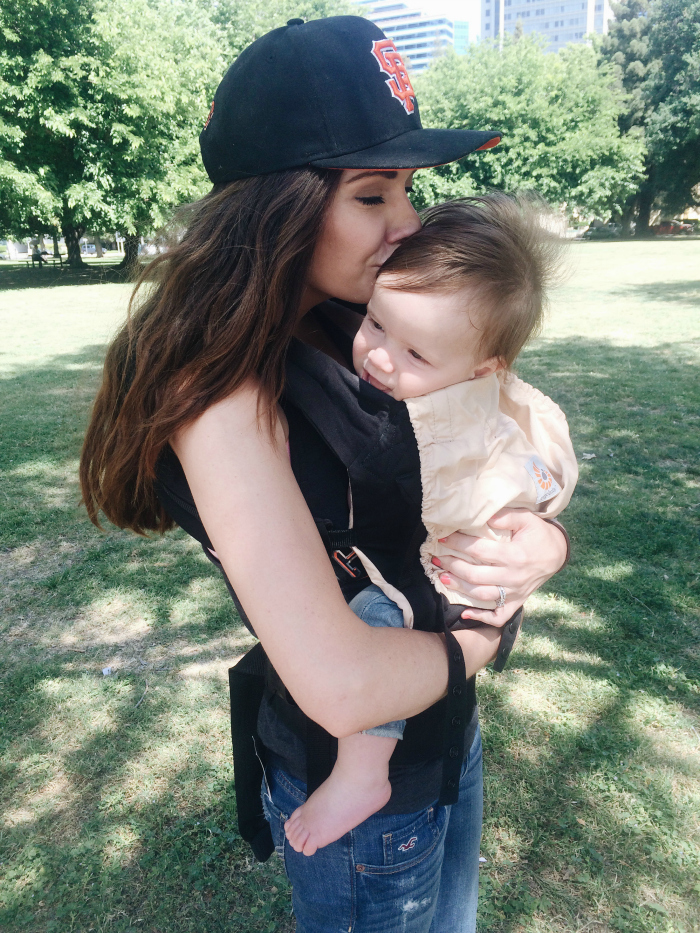 We took Sam to his first baseball game on Monday, with Zack's parents- they're the two sitting next to me :). It was our local AAA team, the Sacramento Rivercats, who are affiliated with the SF Giants. Which is awesome, since that's Zack's favorite team! ;) Hunter Pence, one of our faaaavorite players because he's just hilariously cool, was rehabbing there, so that was really neat to see! And they won! So yay! I was also that person that brought carrots and hummus to the game because I didn't want to eat ballpark food. I regret nothing. It was delicious. And also probably kind of hilarious to watch, because who brings to carrots and hummus to a baseball game?! This guy.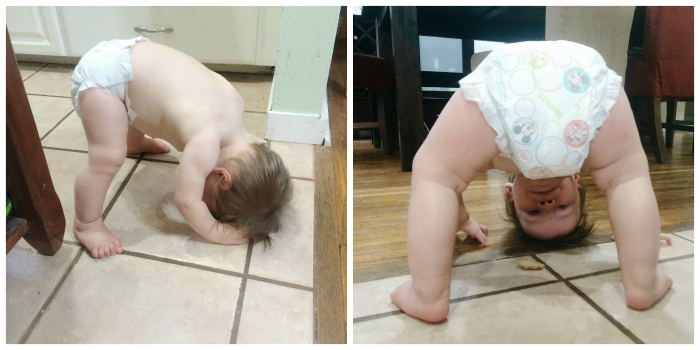 Sam has been doing BABY YOGA alllll the time and it's the best. Especially whilst only wearing a diaper. I love it. Isn't there some sort of old wive's tale about this? I can't remember. I might be making this up. It's cute, regardless.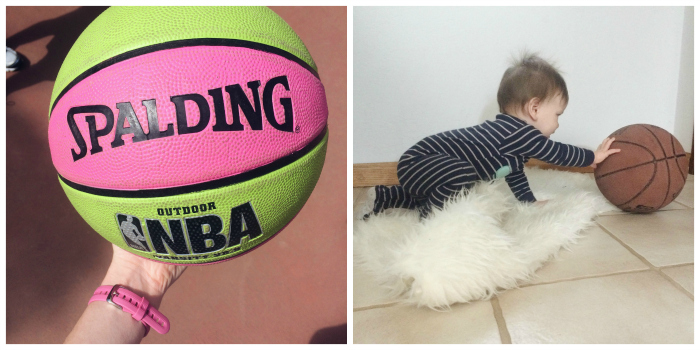 Zack came home with a pink basketball just for me. He was so excited about it, I kind of loved it. ;) You see, we recently discovered this "hidden" (not really but kind of) basketball court/ playground/ park right by our house (it's actually part of a community center and we knew it existed but had never gone for some reason), and so 2 or 3 times a week we run over to it and play basketball and Sam gets to swing at the playground and it's pretty much the best way to spend a morning. So Zack got me a pink basketball since I'm a "basketball player" now. Term used very loosely. He's the one with mad skillz. Just follow along on snapchat (username: katiedid_what) and you'll see!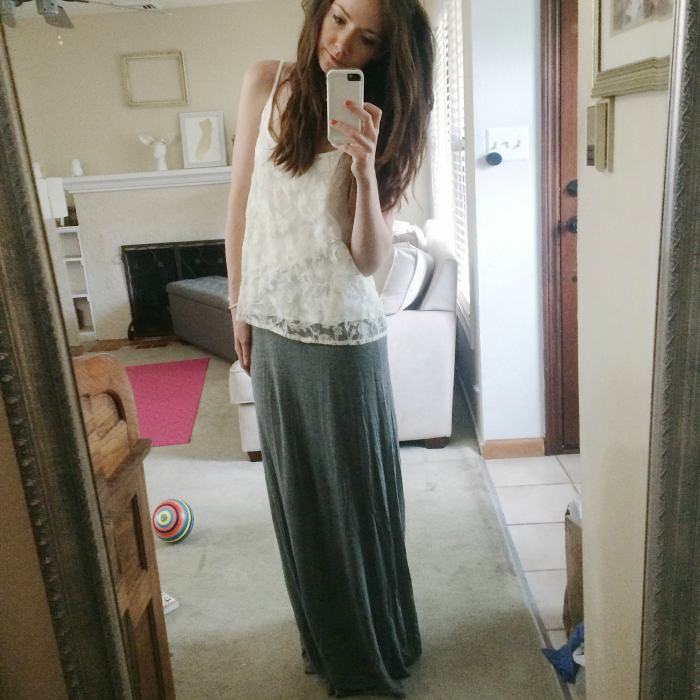 top: zara via thredup // skirt: brandy melville
An outfit from yesterday. I had forgotten about this maxi skirt, but it is the besttttt. So long and soft and flowy.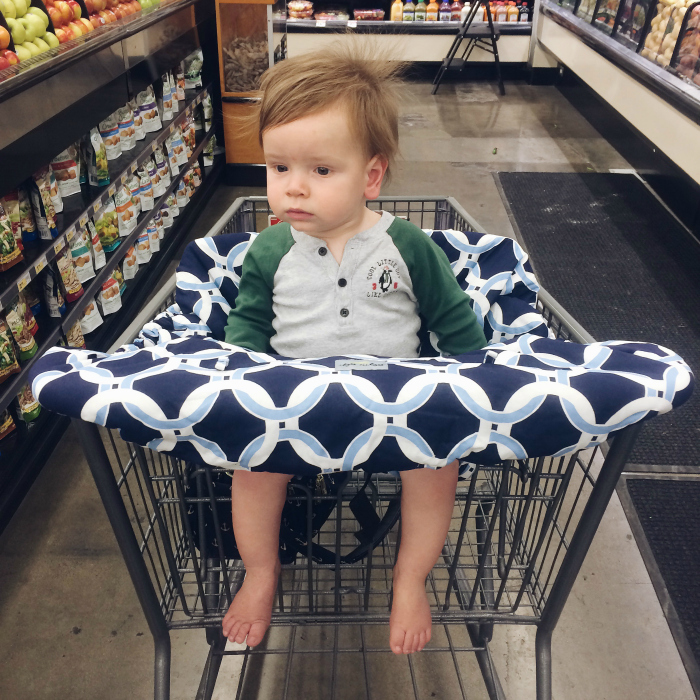 cart cover: c/o itzy ritzy
He takes grocery shopping très serious. Also, we loooove this cart/high chair cover. It's so plush and I love that he's just riding in luxury with it! Haha. It's too good.
Did you need to smile today? Thought so. :)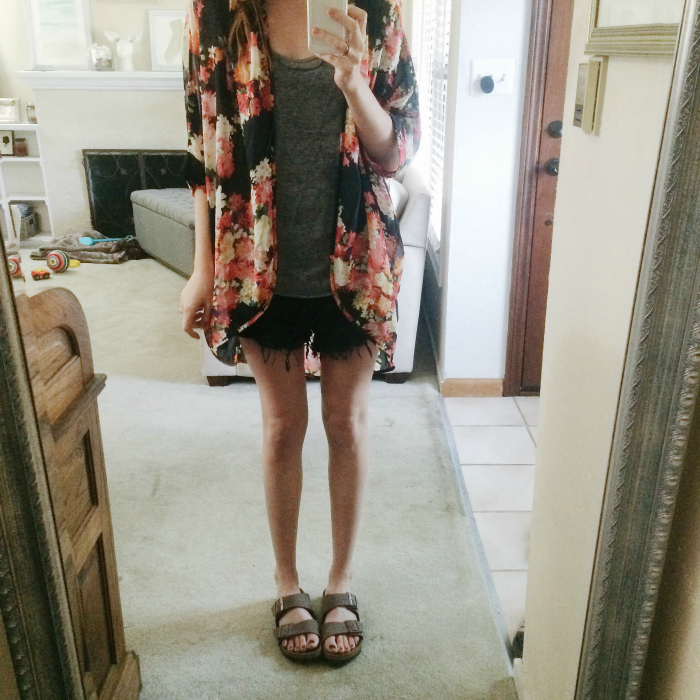 kimono: c/o windsor // tank top: forever 21 // shorts: american eagle via thredup // Birks: c/o Famous Footwear
A super casual outfit from last week. I've been living in these Birks. Watch for a whole post on how to style them coming soon!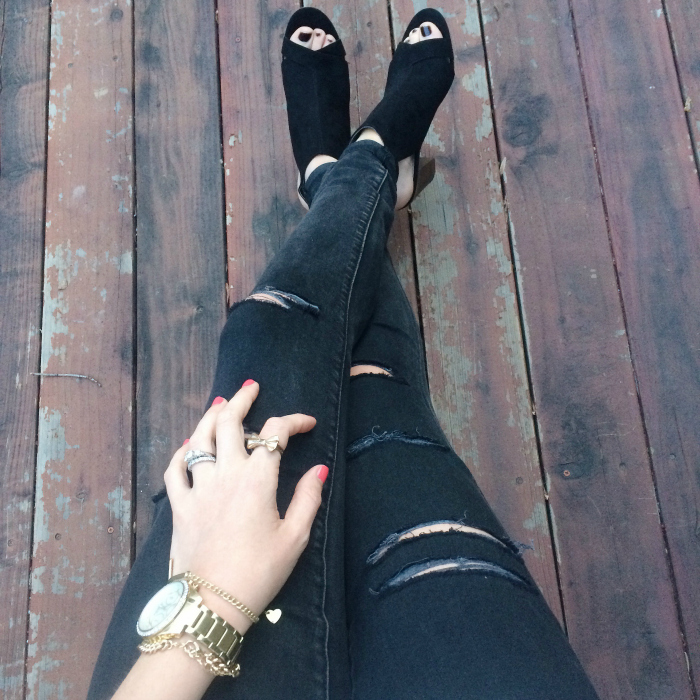 jeans: american eagle // heels: c/o riffraff
Speaking of shoes, I am obsessedddd with my new heels from Riffraff. SO comfortable and so fun to style! Plus, everything goes with ripped jeans, am I right?!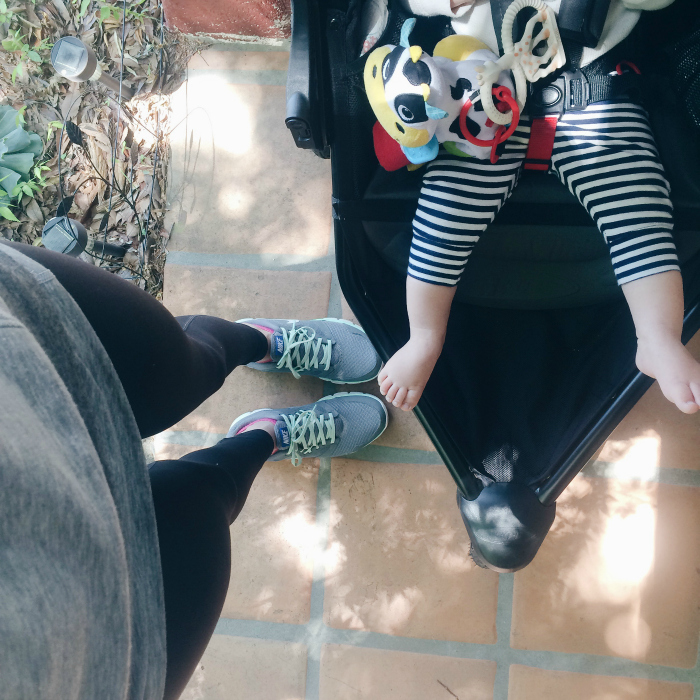 Take us out, Swing Boy!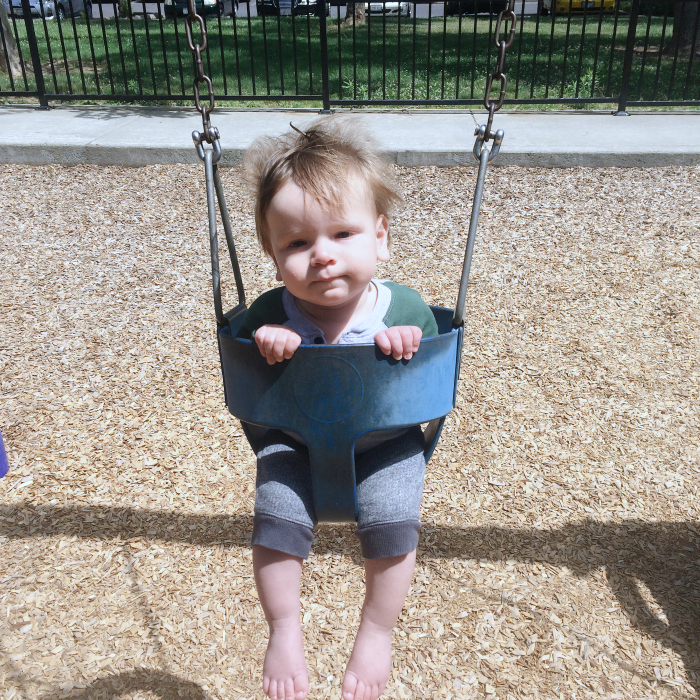 xo
Read More on Katie Did What