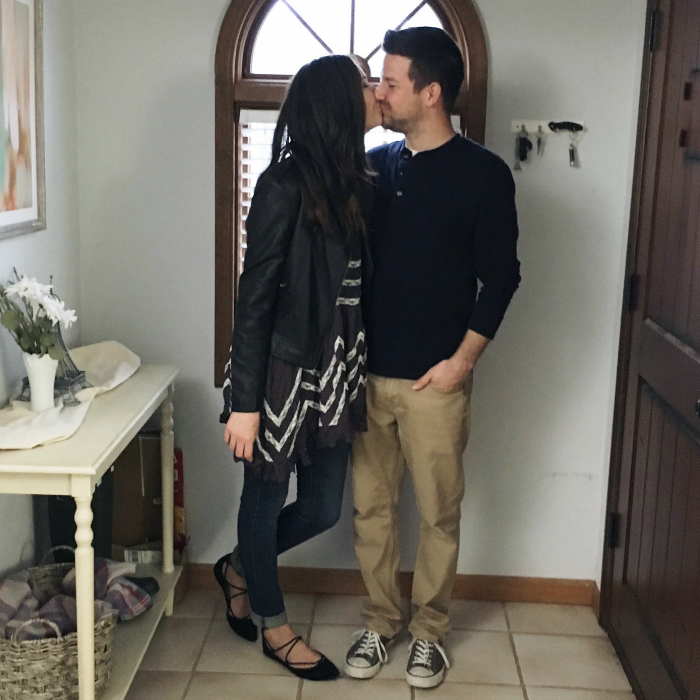 tunic (in eggplant) | shoes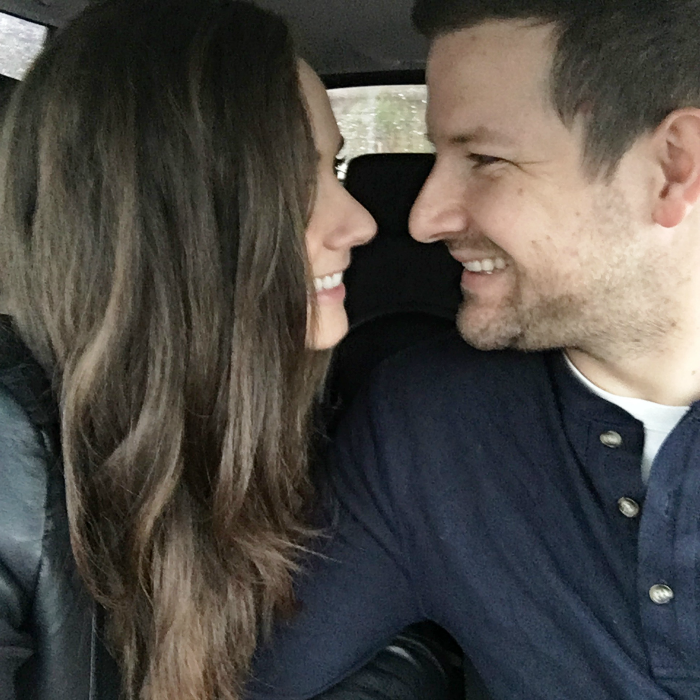 This weekend we went on our very first DATE NIGHT since having Sophie! It was weird leaving both babies (I felt like a few limbs were missing!) but those few hours away sure were a nice little re-start! It wasn't even anything fancy or terribly exciting- it was the crab feed at Zack's school where he teaches- but it was so fun! Just getting away for a little, the two of us, to focus on each other and NOT talk about dirty diapers or naps for a few hours was really nice. :) I think we need to make date nights a priority! As much as we can anyway. The babies did so good with their grandparents, too! And coming home and seeing them was that much sweeter. It's like my mom always used to say, how can I miss you if you don't ever leave. ;) haha! Touche.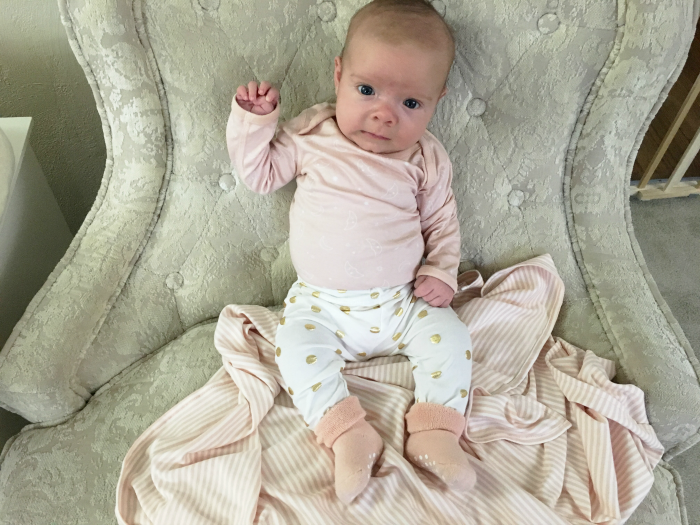 onesie | socks | swaddle c/o hanna andersson // leggings c/o la isla boutique
Our little miss Sophie is now 7 weeks old! We weighed her and she's up to 12 pounds! Our little chunker! I am so obsessed with kissing her little cheeks and don't even get me started on that belly of hers. She is delicious, to say the least. She's a sweetie pie, and is smiling SO MUCH now! She loves her big brother and will just stare at him intently, whatever he's doing. She's also a tough cookie and puts up with his rough housing (not that we ever let that go very far!), as I'm sure will be the case her whole life. Although, if she's anything like me and my two older brothers, she'll learn quickly to defend herself and will be ruling the roost in no time. ;) She makes the most delighted little squeals, which are the cutest, and still loves to eat above all else.
It's been raining really hard all weekend, a major storm had come in, so that equated to lots of snuggles and a lazy Sunday spent in our pajamas. I'll take it!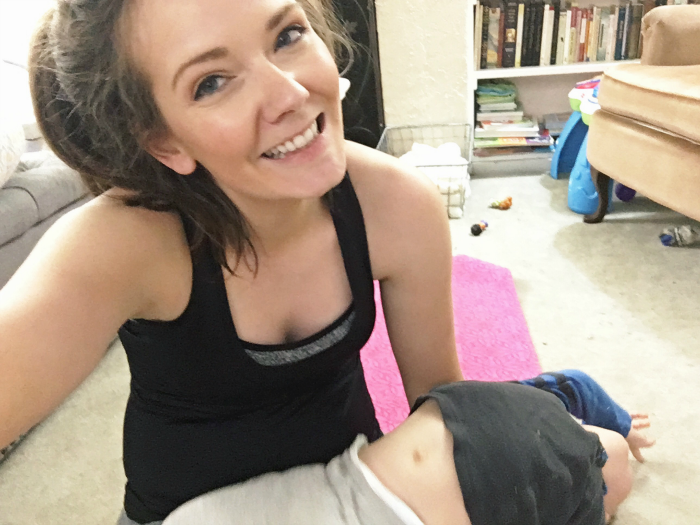 tank and sports bra c/o boob |(doing yoga with my little monkey)
Last week, I started doing BBG workouts (check them out here if you don't know what I'm talking about- it's similar to Tone It Up, my other favorite!) and am LOVING them! And this week Tone It Up is starting the 8 week bikini series program again, which I plan on partaking in since I couldn't the first round, due to having a baby and all. ;) SO. I'm really stoked to be getting back into a workout routine. It feels GOOD to have sore muscles. It means it's working! And I am SO thankful for a strong body that WORKS. Praise God for that- something I never ever take for granted.
Have you seen the meme going around lately, Damn Daniel? Well, I keep saying "Back at it again with…" whatever it is. In this case, I'm back at it again with the Tone It Up workouts! ha! So funny, the first time I watched the video I was like, "This is SO not funny." And now of course I think it's hilarious. I guess it just has to grow on you? Kind of like Justin Bieber songs. I am so reluctant to like the, because, hi, Justin Bieber. But I can't fight it for long. I'm obsessed, let's be honest. #sorrynotsorry (is that still a thing…?)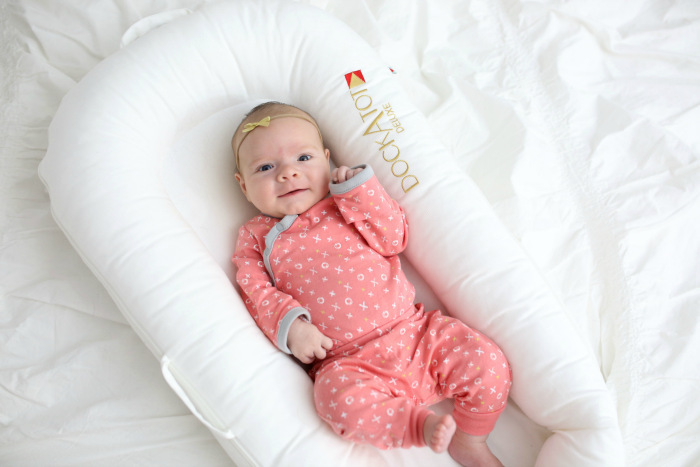 onesie and pants c/o skiphop | dockatot c/o
I wrote this review on our bassinet, which we love, but little miss isn't quite ready to sleep in it yet. I know when she is, I'll appreciate all of the amazing features that I featured in my review, but for now we have been using the DockATot that we were sent, and I LOVE IT. You guys. If you have a baby, you need this. There's a reason the reviews rave about it. There's a reason you are seeing it EVERYWHERE on social media. It's because babies LOVE this thing! It's cozy and it's a comfy, snug place for them to sleep in, similar to mama's arms. :) Sophie has been sleeping in it for naps and also at night, right in the bed in between us, and gosh. It's so great! When she wakes to eat, I just roll over and get her out of it to nurse, then put her right back in, without ever having to leave the bed. It's safe because she's in her own little confined space, so I'm not scared of rolling on top of her (a reason I could never bed-share!) and it's breathable, so I'm not worried about SIDS or any other scary possibilities. IT'S THE BEST! But really, the greatest part is that we're actually getting some SLEEP, finally!
Speaking of sleep, she slept 5 1/2 hours straight on Saturday night!!! PRAISE JESUS! I actually woke up hurtin' (yeah… that's the curse of nursing, even when Baby sleeps through the night, mama still can't!) and had to pump and then went back to bed and she was still sleeping! Then she woke up to eat and went back to sleep. After that, she was awake every hour to eat, but went right back to sleep each time. You guys. After 7 weeks of sleep deprivation, I'll take it. So proud of my girl!
Speaking of nursing… So I've mentioned before how baby girl can EAT. Well, I was getting worried that I didn't have enough for her and that my milk supply wasn't great enough to keep up with her demands (no joke, she was eating A LOT- which I know is normal for newborns, but still, it seemed excessive…) and I'd heard a lot about fenugreek and the benefits in increasing milk supply, so I was really excited when I was sent some to try. And guys. It worked! Sure, it tastes nasty, but I just chug it down and after only drinking it a few days, I've noticed a boost in my supply! Mama's happy and baby is happy, which is the most important thing! So if your milk supply seems low, I highly recommend trying fenugreek!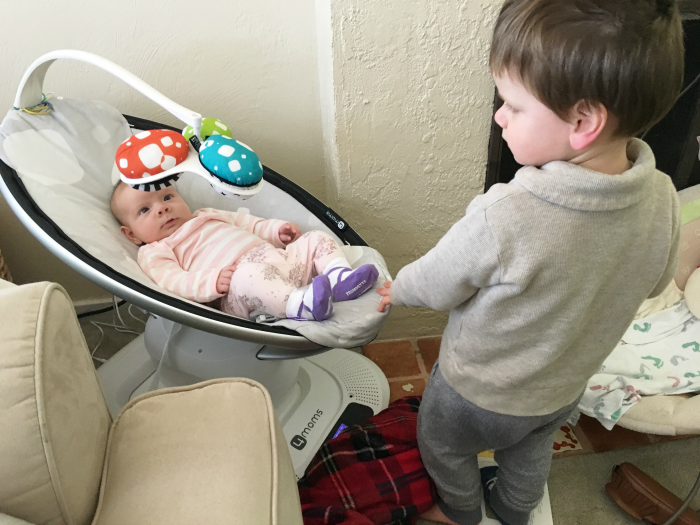 Another thing that was sent to us that Sophie LOVES? The mamaroo! I'll be sharing more on this later, but whenever I need a few moments to get something done, I just set her in it and she's totally mesmerized by the mobile and the swaying motion. And Sam is definitely warming up to her- she loves him and will just stare at him, and I think he's slowly feeling the same way…!
Annnnd it's a new week! Tonight is The Bachelor Women Tell All- super excited for it! And be sure to check back tomorrow for our Man Quotes!
How was your weekend?
xo
Read More on Katie Did What