Alright guys, I can't even begin to express how much I appreciate and love each and every one of you who come to my blog every day and leave me the sweetest comments. Your support and love make my day so much brighter. To show my appreciation, I'm teaming up with some of my favorite brands (who I hope will become your favorites, too!) to gift some of you with seriously awesome things. So for the next 7 days, I'll be doing just that. My Christmas present to you. :)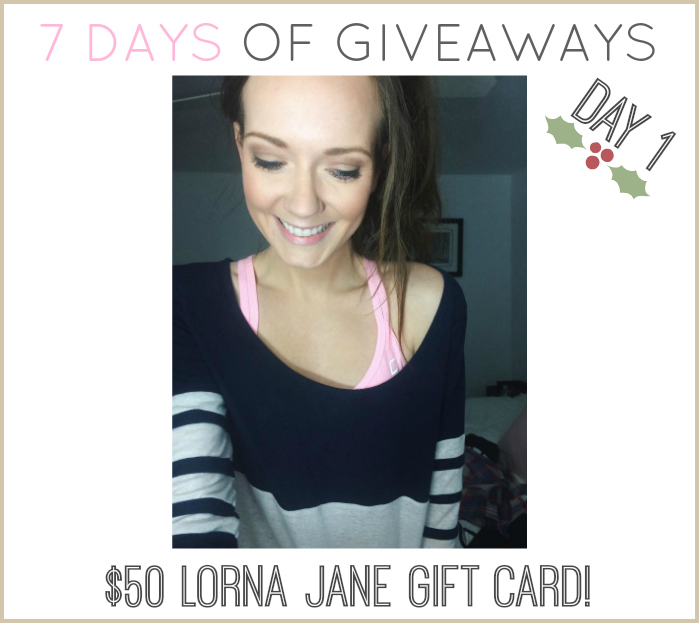 [bra: c/o lorna jane]
[top: c/o lorna jane (sold out)]
It's no secret that I am a huge fan of all things Lorna Jane. The workout clothes are cute, comfortable and oh so stylish! Plus, the move, nourish, believe lifestyle is one that I support 100%. Today I'm excited to kick off my 7 Days of Giveaways with a $50 gift card to Lorna Jane! Because cute workout clothes are my number one workout motivation! ;)
TO ENTER (US RESIDENTS ONLY):
Leave a comment below with your FAVORITE motivator to work out! Cute workout clothes? That runner's high? Endorphins? So you can eat that extra piece of chocolate cake? I wanna know! :)

BONUS ENTRY:
Share this post on any social media of your choice (Facebook, Twitter, Instagram, Pinterest) with the hashtag #katiedidwhat and post the link in a comment below! One bonus entry per person per giveaway.
Winner will be chosen Tuesday 12/16.
Good luck and make sure to come back tomorrow for another giveaway! Love you all!
xo