We are getting soooo close to meeting this sweet baby boy!!! I can't even believe it! I just had my 36 week appointment- everything looks great. We had an ultrasound to verify his position, and he is indeed head down, so I was really happy to see that! He is VERY high still though, and I am not at all dilated or effaced, but I know it's still early for that, and with our hospital scare due to partial placenta previa and my being nervous for preterm labor, this definitely is a bit of a relief now! I know he's snug as a bug and will come when he's ready! :) I really can't believe I'm full term next week though! WHAT!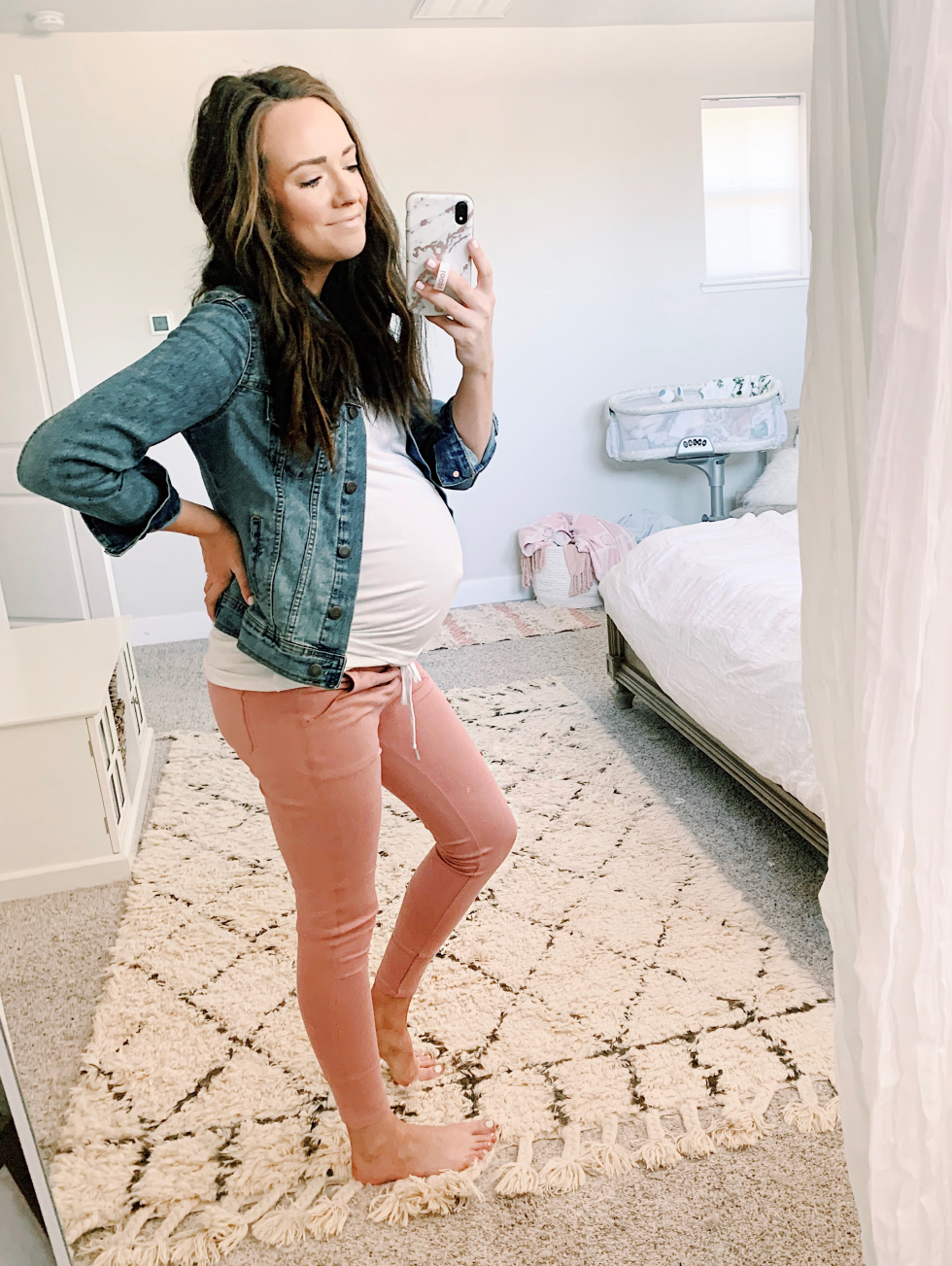 DENIM JACKET | TEE | JOGGERS | BASSINET (in the background! Eek!)
How far along: 36 weeks
Gender: Boy
Maternity clothes: Yeah, I've had my fair share of meltdowns because none of my clothes fit me properly. Comes with the territory, right? I'm trying to just enjoy this big ole' bump, because I'm pretty certain it's my last!
Best moment this month: Finally feeling WELL! I was so sick with a sinus infection and then just a lingering awful cough/cold, to feel like myself and healthy is indescribable! Health is absolutely something that is so easily taken for granted!! I can breathe! I don't have to cough every two minutes! GLORY GLORY HALLELUJAH I will take it! I think that's been a huge factor in my energy too. I'm feeling more energized and have been doing my workouts again, and it feels GOOD!
Worst moment this month: I think it's my hormones and the fact that I am definitely slowing down and feeling this baby, but I have had a shorter temper with Sophie and I always feel awful about it. I'm trying really hard to be patient and slow to anger, but goodness she has been testing me lately! #threenager
Movement: All the time! And BIG movements! I'm measuring 2 weeks ahead, so that makes sense why they feel SO strong and big! Sometimes his kicks stop me in my tracks!
Cravings: We got Yasso ice cream bars from Costco (only 100 calories and soooo good!) and I've been craving one of those nearly every night!
Queasy or sick: NO, thank the good Lord!!!
Looking forward to: Finishing packing my hospital bag so I can share that with you guys! And more nesting, because, well, duh. ;)
A few fun things I've received for Baby that I want to share here!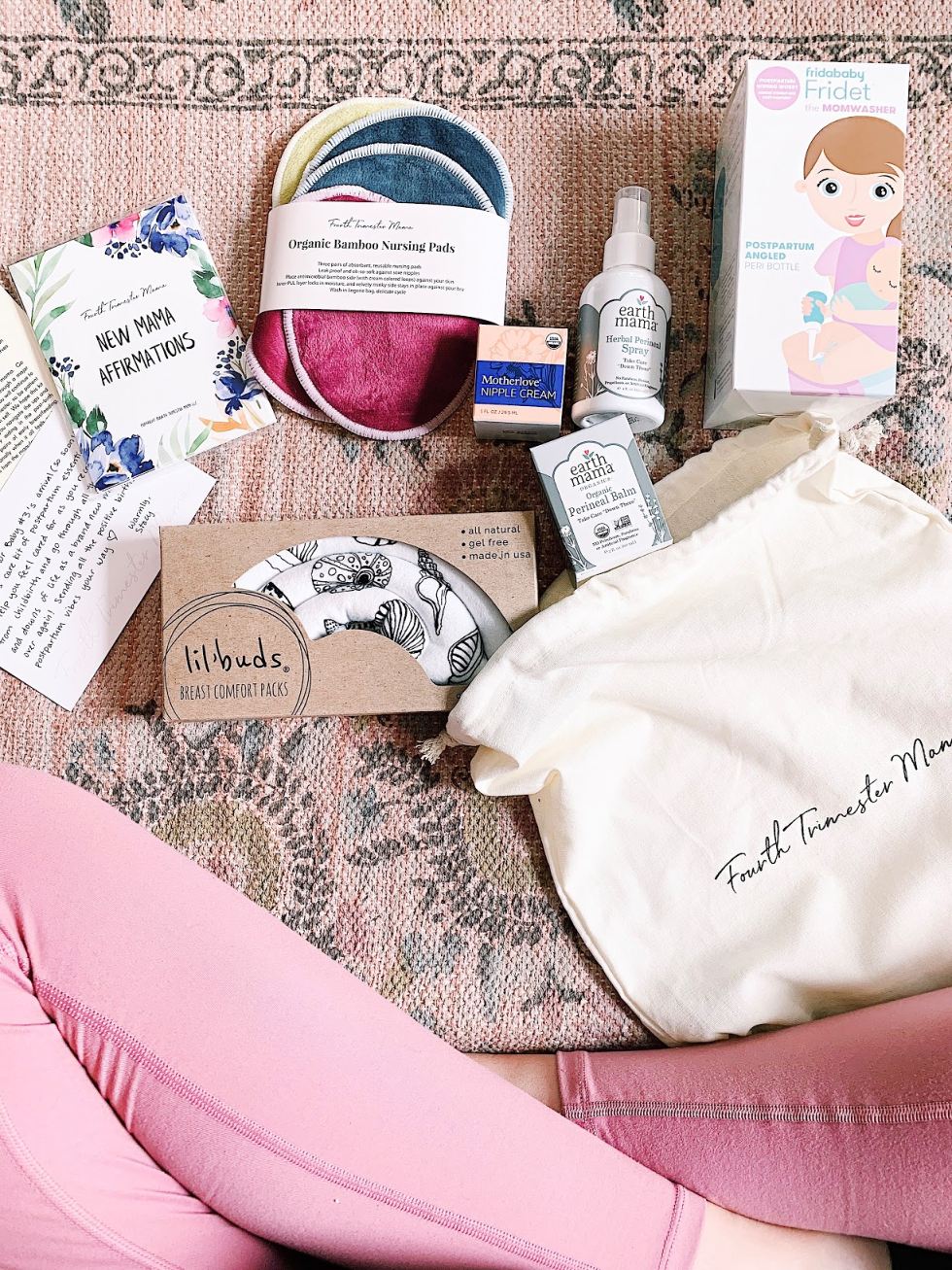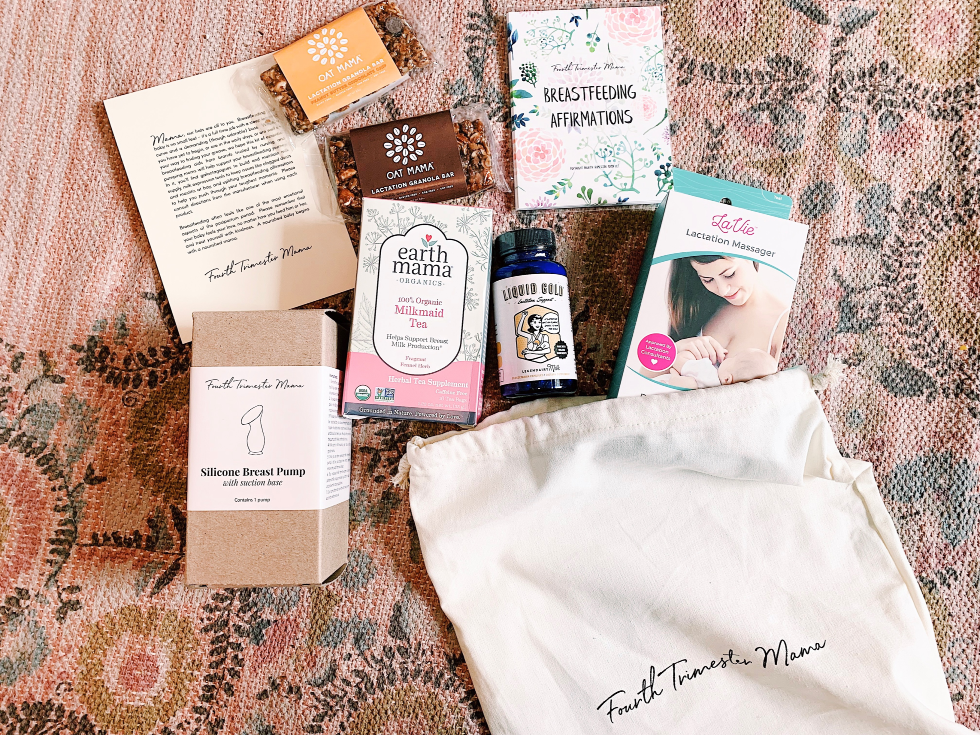 Fourth Trimester Mama
I absolutely LOVE this company and what they do! There are three boxes you can choose from, Postpartum Essentials Bundle for Vaginal Birth/C-Section or Breastfeeding Essentials Bundle– I received two of them. They are full of essential goodies for mama to help her through that most-important and special fourth trimester, after giving birth. This is a beautiful gift for a baby shower or for a new mama, with so much thought put into it!
I have a coupon code, too! 10% off with code KATIE10 at Fourth Trimester Mama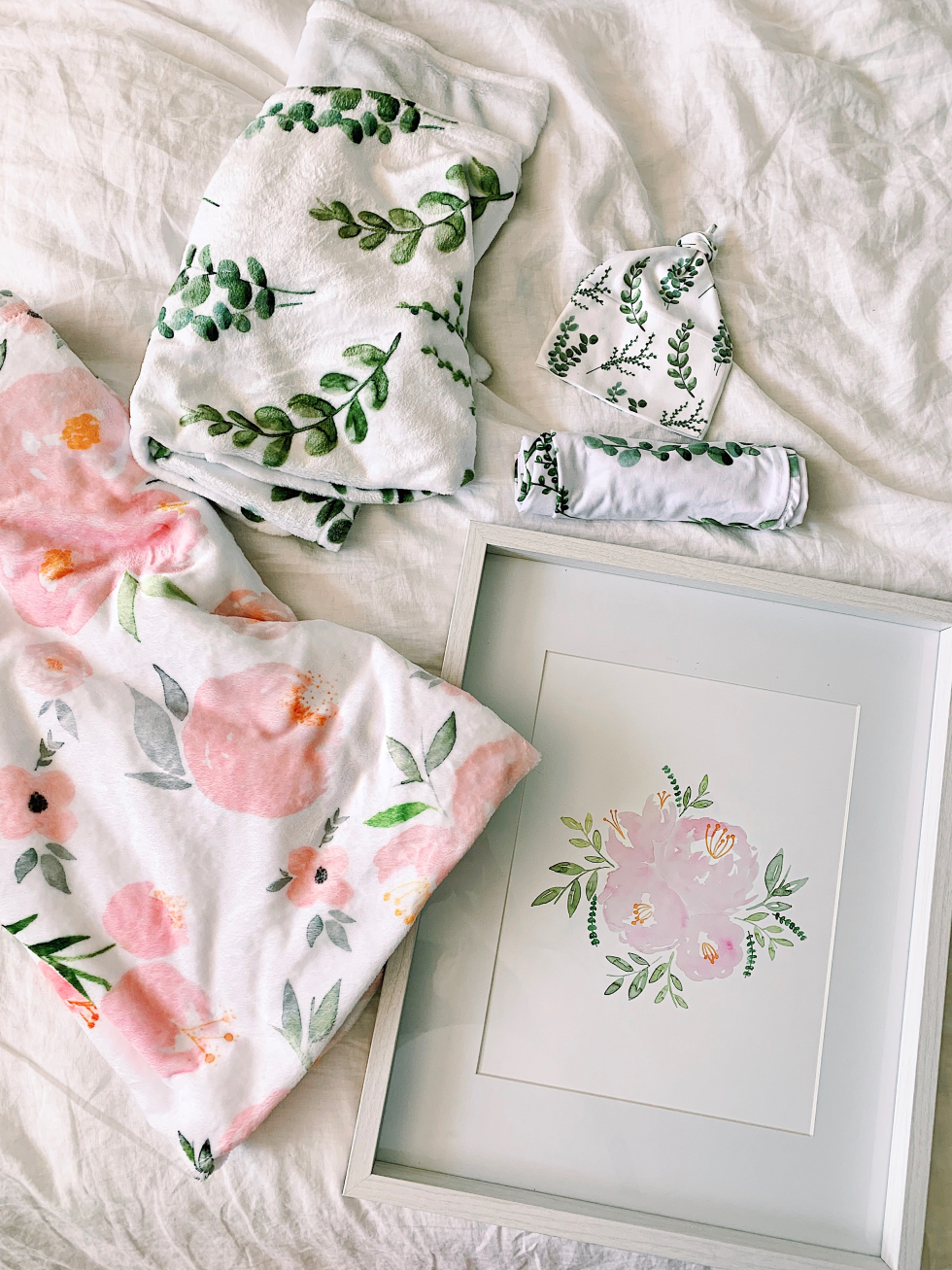 Hillary Proctor Studio
Another sweet shop, owned by the sweetest mama-to-be Hillary who I'm so lucky to call a friend through our partnership! She is a SUPER talented watercolor artist, and has the sweetest shop. We are fortunate to have quite a few beautiful items of hers, and I know you will love her, too!
Coupon code: KATIE25 for 25% off your order at Hillary Proctor Studio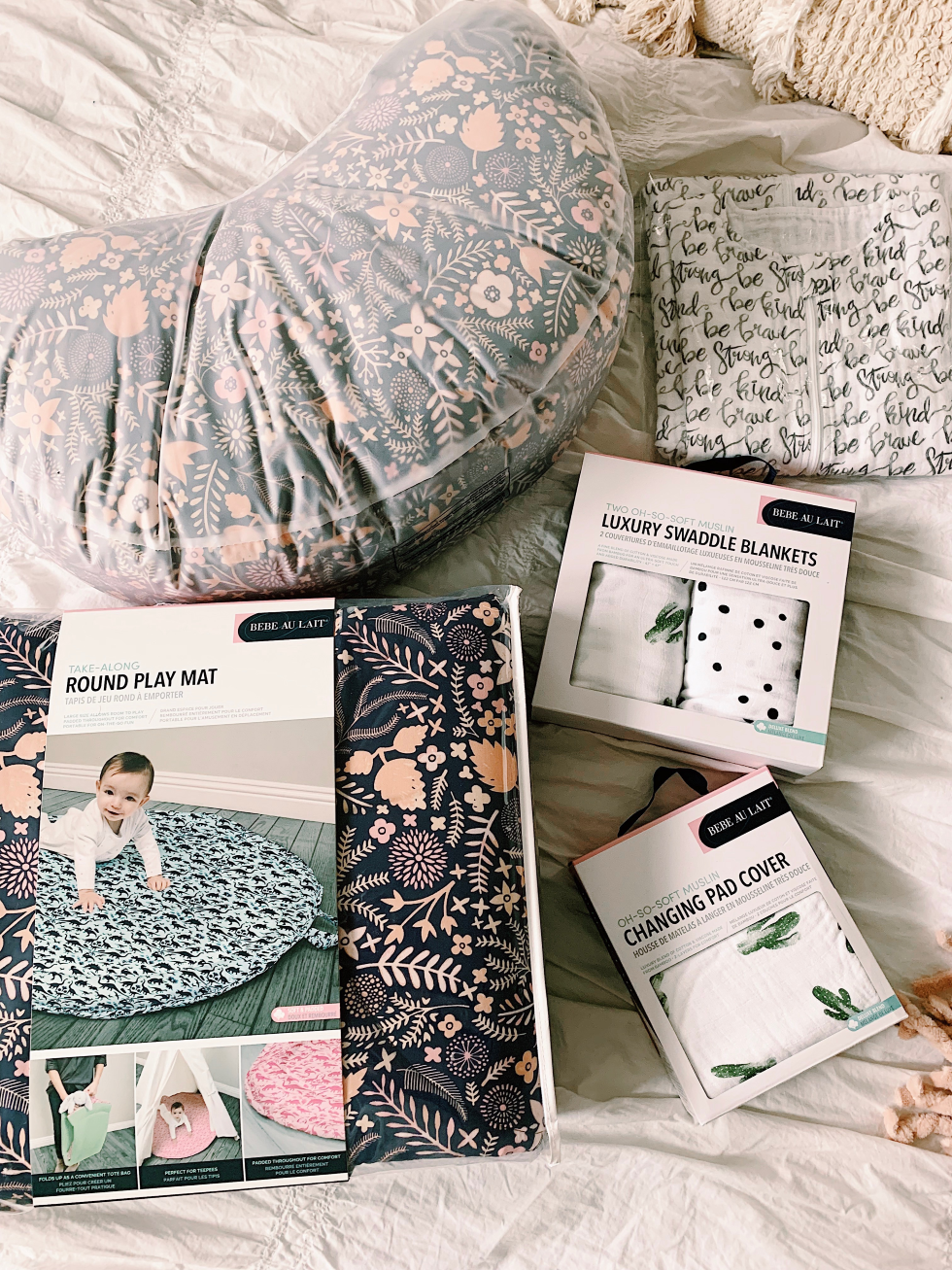 nursing pillow | changing pad cover | play mat | swaddle blankets
Bebe au Lait
Got the cuuuuutest bundle from Bebe au Lait (one of my favorite baby brands!) with so many sweet goodies for baby, and Sam and Sophie! I love their soft muslin fabric, and they have the cutest prints! They have our favorite hooded towels, too, for baby AND for toddler!
xo