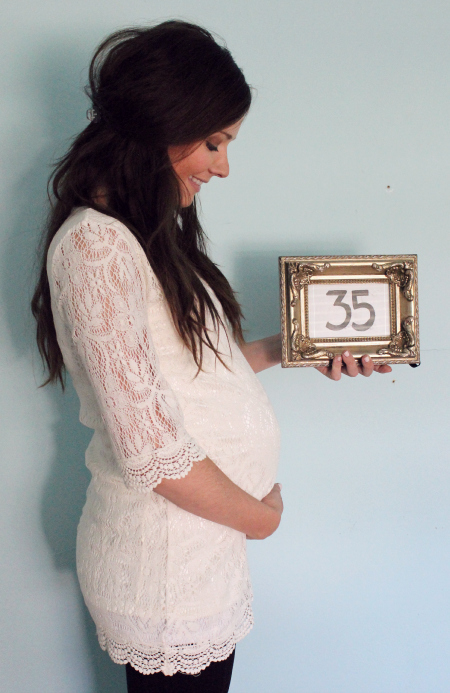 top: c/o persunmall (here)
We're literally 5 weeks from D Day. This is ridonkulous. No, that's not a word, but I'm using it anyway. Ri-DONK-u-lous. Here's some things from the past week.
Baby has been kicking even moooore lately. He is a mover and a shaker and it seemingly never stops! I'm actually being woken up by him a few times a night now (ha! Serious prep for the near future, go figure) and sometimes, juuuust sometimes, it's a bit painful, those little kicks and punches. He's just trying to get comfortable in his ever-closing space in there, but if he could just maybe be a little gentler whilst he moves himself around? No? Oh, okay then. That's fine.
Sometimes when he kicks, I can feel his tiny little foot and it is the COOLEST and also kind of scariest thing ever! Because I mean. It just feels so fragile and small and here I am pushing on it with my big hand and I don't know. It's crazy. And when he kicks me wayyyyy over on my right side? Well, it gets me every time.
So this is something that actually happened last week, but I forgot to mention it and I don't want to forget it, so. We were at Target and a lady said to me, "You look amazing! If more people looked like you pregnant, there would be a lot more people having babies!" And that just made me all sorts of happy. So thank you, kind stranger, for making my day.
My bff surprised me with news of a Baby Shower she's throwing me!!! She is just the best. This one will be more of a "Friends Baby Shower" since my other one was strictly family. And it's co-ed, so Zack will be there, too. I'm super excited for it! This Saturday can't come fast enough!
We have our maternity photos round two this weekend, also. So. Busy weekend. I'm making my own flower crown, and hoping it comes out well enough to maybe post a little tutorial on how I made it on here? We'll see. I'm not promising anything. I've never claimed to be one of those super artsy DIY-er types. I can try, though, right?
There's also this: Things are getting way closer, and my doctor told me last week that if Baby Did What came now, he would be fine! What! So. This made me slightly panic and also get very excited, and I'm working on my packing list for the hospital. Gotta be prepared, right?
What are the "hospital bag packing essentials," if you will? Any suggestions from all you mamas reading out there?
xo
p.s. Happy St. Patrick's Day! :) Have an Irish Car Bomb for me, why don't you? Or at the very least sneak some Bailey's in your morning coffee. I won't tell. ;) As for me? I'm celebrating with a green smoothie. #pregnant