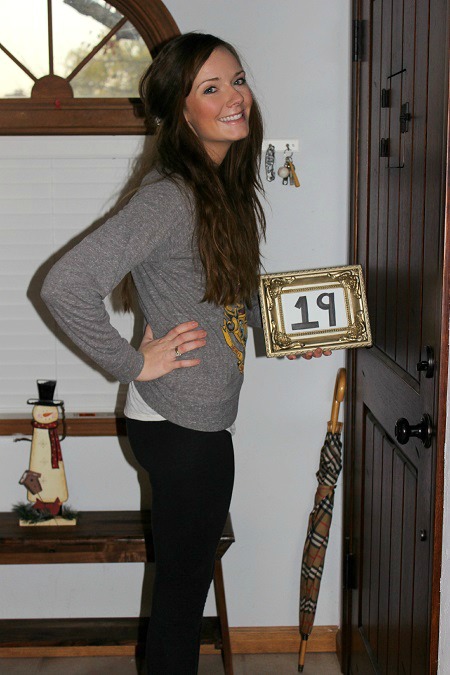 One more week and we have our gender ultrasound! Not that it really makes a difference, because we won't be finding out until the following Saturday at our Gender Reveal Party, but you know. Still exciting to see the little peanut! :) One more week and I'm halfway through being preggers! Whatttt. Crazy talk, right there.
This week, nothing much new to report, except that I am hungry all the time (still) and am ecstatic for Thanksgiving, because we are doing our usual two Thanksgivings, and this year I will be pregnant and thus get to eat to my heart's content. Which, you know, is pretty much the best thing to be on Thanksgiving, I would imagine. Pregnant, that is. I'm also really not looking forward to Thanksgiving because it's the first one without my mom, and I can't even process that or handle thinking about that at all right now, otherwise I'm just a big ball of mess, curled up in the fetal position or staring into nothingess with an empty look on my face. Like I was last night, when we brought out all of our Christmas decor. I try so hard to be positive and to be happy and excited, and it's just a lot of work, you know? So, those emotions of mine. They're all over the place. To be expected, I suppose.
That guy I married is a really good one, let me tell you. He handles the moods and the hormones and everything just beautifully. I know everything I'm feeling is amplified, and gosh, what a crazy time to be amplified. But like, for example, he surprised me with a Gap gift card because I've been talking about how great everyone says the maternity leggings from Gap are, and also their lounge pants (I'm really into lounge pants right now) and like. I mean, what. I think I'll keep him.
I still haven't felt any movement or anything, but I like to look at the pictures of Baby from our last ultrasound and that makes me smile. Just knowing that little tiny person (6 inches of person!) is inside my belly right now, it's a pretty crazy thought. And in two weeks we'll know the gender! Eek, I can't waiiiit!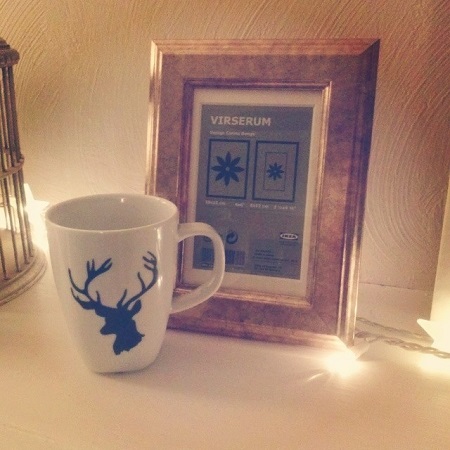 We went shopping on Saturday. Like, a lot of shopping. And as an avid proponent of "shopping 'til you drop" I have to say it's much harder to do whilst pregnant. Good thing I remembered to pack a snack. Also, Ikea is killing it right now. They have gold frames now! Gold frames!! I love gold frames! And then also that deer mug. And they were like $3.99 each, so you know. Yay for Ikea. Plus, we got a 6-pack of cinnamon buns, because that's just what you do when you go to Ikea, don't you know.
Annnd that's all I got.
xo
p.s. Come back tomorrow for my Gift Guide for Him! And in case you missed it, check out my Gift Guide for Her!
Read More on Katie Did What