Okay, so I've got weddings on the mind, mostly because one of my besties just got ENGAGED and is getting married in a month!!! And did I mention I'm in the wedding? Because I am, and I'm pretty darn excited about it. :) Anyway, with all of this talk of weddings, I thought it'd be fun (and helpful!) to share some wedding wear inspiration, for anyone else who's got a wedding (or two, or three…) coming up! Seems to be that fall is a pretty popular time for weddings! And I'm all about that, because I'm kind of a big fan of love. ;) Okay, sooooo what to wear to a fall wedding, you ask? Here are some of my favorite picks!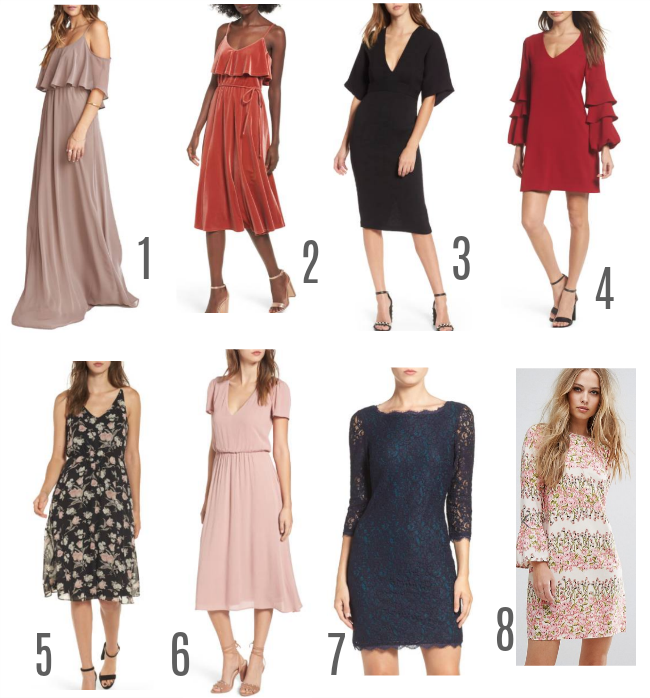 1 | 2 | 3 | 4 | 5 | 6 | 7 | 8
So, fall is tricky. It could be blustery and cool, or sunny and warm, all depending on where you are and what the weather feels like acting that day. So I've got a variety of options, for wherever the wedding may be! Also, you could always throw on a cute blazer like this one or a pretty coat like this! After all, fall is all about the layering!
The wedding that I'm attending, I'm actually a bridesmaid in, and I'm deciding on my dress now, but it's going to be one of these gorgeous dresses by Show Me Your Mumu. They have the prettiest variety of styles and colors, it's so hard to choose! Loving this one and this one in particular!
I immediately gravitate toward rust and burgundy or olive for fall, and it's no different when it comes to a fall wedding! This dress is a GORGEOUS rust color, and I'm obsessed with the velvet look too! You could always dress it up with accessories- a statement necklace like this or these pretty earrings would do the trick beautifully! I'm loving this olive green dress, too!
For shoes, I love this pair, these gorgeous heels, this pair (in nude or black!), these espadrilles, these stacked heels (so darling!), these booties for an edgier look, and these flats (more comfortable but just as cute)!
And for you preggo mamas, this one is seriously adorable!
I love classic black like this for a wedding- you just can't go wrong (go with a fun pair of heels like these!), it's just so classy and elegant. This fit is stunning!
Ummmm hello, the sleeves on this one are SO cute! Love the deep red color too. Perfection.
I love a good floral dress for a fall wedding. How fun is this dress, right? I'm also loving this one and this one.
A lighter floral is a good idea, too and a great way to wear white to a wedding without being rude. :)
I always think blush pink is a good idea, and no matter the season, it's perfect for a wedding. Just make sure the colors of the wedding aren't blush pink, as you don't want to be mistaken for a bridesmaid. ;) Love this one, this one and this one!
Lace is perfect for a wedding too (love the pink too)!
So there you go- some pretty dresses that would all be perfect for a fall wedding! Do you have any weddings coming up? What do you have your eye on?
xo