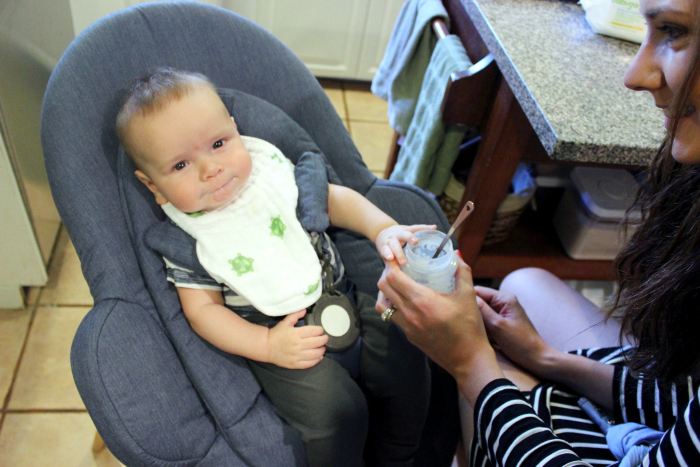 So things are getting messy around these parts. Why, you ask? Well, because Baby Sam is officially eating solids! At his 4 month appointment, his pediatrician gave us the go ahead to start solids, but I kind of felt like that was a little early. Yes, it could have possibly been more my not being ready than anything, but my number one rule as a mama is to listen to my own instincts. And those instincts were telling me, not yet. Well, Sam is now 6 months (I know, how is that even possible?!) and we've been discussing starting him on solids any day now, and then the other morning I was eating a donut (yes, my husband is awesome and totally surprised me with donuts! I'm keeping him!)- and I feel it's very important here to let you know that it wasn't just any old donut, it was a pretty pink frosted sprinkle donut. Basically, it was the perfect donut. Anyway, I was eating this beautiful donut while holding Sam (I know, how rude) and he reached for the donut and opened his mouth. As if to say, "Hey ma, that looks good! I want some!" That is when I knew, it was time. Time to start feeding this little boy more than just breast milk. Because he's ready! My baby is ready!
I don't think I have to tell you that trying to feed a baby semi-solid (I use that term very loosely, it is still extremely liquid-y) food for the very first time ever in his life, is quite the messy experience. We definitely welcomed all the help we could get to make it as easy as possible. We got him all ready, strapped in his high chair with his bib around his neck and armed with my arsenal of baby-safe cleaning supplies. Because a clean house is so important with a baby, and I need my cleaning products to be safe for him, too! Can I just say that the Babyganics face, hand & baby wipes are heaven-sent! They are so gentle and made my life so easy because I literally just had to wipe off his face and hands and he was good to go! They made clean up a breeze.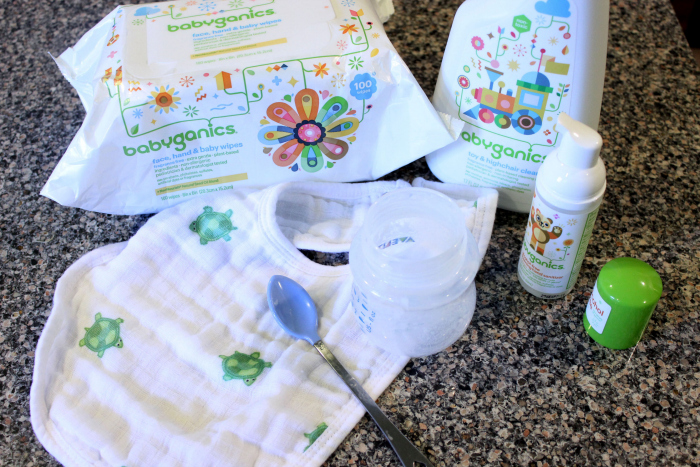 Before I started, I used the Babyganics foaming hand sanitizer for myself. The nice thing about this sanitizer is that is is non-alcohol based, which I felt good about since I was going to have my hands around my baby's mouth and food. Also handy was the toy & highchair cleaner spray, which I used to quickly and easily wipe off any rogue food- yes, there was rogue food. I told you it got messy! When it was all done, I cleaned his bottle and spoon with Babyganics dish & bottle soap. One thing I really like about these products is that the scent is very light and they are free of chemicals and toxins. I refuse to use any cleaning products that will be harmful for my baby, and I'm happy to say that I trust Babyganics products to be safe enough to use on all of Sam's things. Makes my life so much easier!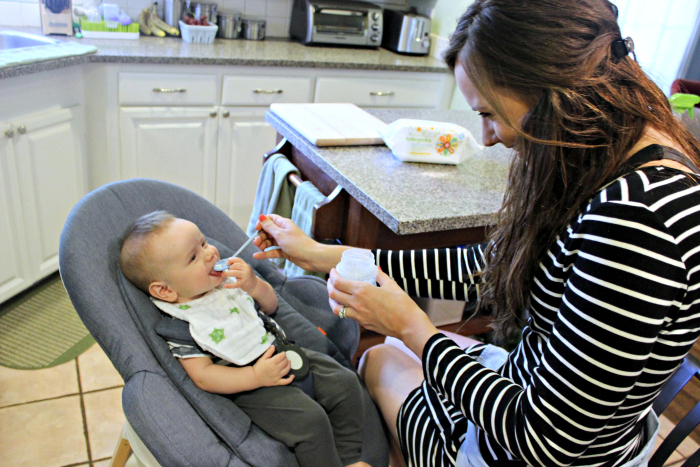 And now is the time I get slightly emotional. My sweet little babe, who has up until this point solely depended on me as his source of nutrients, is now getting to taste new things! And is exploring the world around us so much more each and every day. And as hard as it is sometimes for me to be okay with this and not have a tinge of sadness thinking about him growing up, I'm also so proud of him and loving each new moment that we get to experience, and each new adventure we get to go on. It is overwhelming, the amount of love I have for this tiny human, and I'm excited for each new day. Also, if I already feel this way when he's only 6 months, I cannot even imagine how much more I will feel it as the years go by. My sweet boy.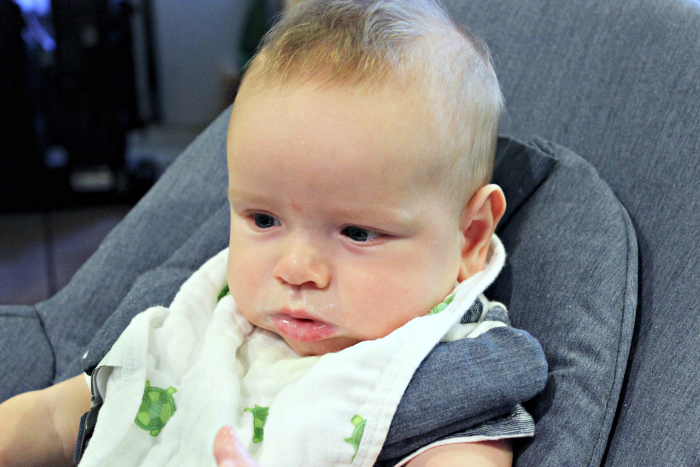 So if you've got a little one entering (or already in) the messy stage, I definitely recommend checking out the budget-friendly Babyganics product line. In addition to the cleaning products mentioned above, they also have some really great bath products and a deliciously subtle smelling Chamomile Verbena Moisturizing Daily Lotion for baby.
Want to win a $100 Visa gift card? Just leave a comment below with your answer to this question:
Have you ever used organic cleaning products?
[THIS GIVEAWAY IS NOW CLOSED]
xo
Sweepstakes Rules:
No duplicate comments.
You may receive (2) total entries by selecting from the following entry methods:
1. Leave a comment in response to the sweepstakes prompt on this post
2. Tweet (public message) about this promotion; including exactly the following unique term in your tweet message: "#SweepstakesEntry"; and leave the URL to that tweet in a comment on this post
3. Blog about this promotion, including a disclosure that you are receiving a sweepstakes entry in exchange for writing the blog post, and leave the URL to that post in a comment on this post
4. For those with no Twitter or blog, read the official rules to learn about an alternate form of entry.
This giveaway is open to US Residents age 18 or older. Winners will be selected via random draw, and will be notified by e-mail. The notification email will come directly from BlogHer via the sweeps@blogher email address. You will have 72 hours to respond; otherwise a new winner will be selected.
The Official Rules are available here.
This sweepstakes runs from 10/16/2014 – 11/15/2014.
Be sure to visit the Babyganics brand page on BlogHer.com where you can read other bloggers' posts!